This Week from AWAI …
Earn a Six-Figure Writing Income … with ZERO Clients? (Yes You Can!)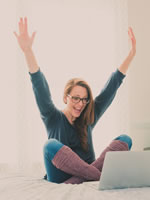 These days, there are so many ways to make money as a writer …
But none so fun, rewarding, and EASY, once you've implemented the "5-Word" plan every writer should know about. Created by a legendary copywriter, it lets you rack up a six-figure income — writing 30 minutes (or less) a day … about stuff you love … with ZERO clients.
And because the income you earn from this writing business is passive — you can do it in addition to other freelance writing and double or triple your income!
Get All The Details Here
LAST CHANCE:


Writer Flash Sale:
80% off (+ $297 FREE training)

We've made it SO easy to reach your goals this year …
A year's membership in the Barefoot Writer Club (80% off) …
And our brand-new "Over the Shoulder" Trainings for Digital Copywriters — a $297 value, FREE!
You'll get roadmaps, blueprints, and how-to trainings … inspiration, motivation, and endless success stories … emotional support, celebration, and friendship from a private community …
AND step-by-step guidance from a master copywriter, through the top three easiest projects for new writers!
Get it ALL for $49! [Expires at midnight!]
Jump to a Category:
Bestsellers
Copywriting
Niche Copywriting Markets
Business-to-Business
Web Writing
Publishing
Home Businesses
Business Building
Graphic Design
E-Books and Special Reports by AWAI