Writing B2B Websites:


Turn Yourself into the Website Expert B2B Companies Need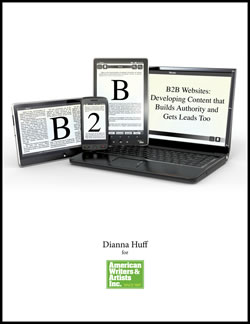 There are over 5 million different B2B companies operating in the U.S. and Canada, and most of them share the same problem.
Their websites are terrible.
They haven't been updated in years.
The copy is hard to read.
There's page after page of confusing content … jargon-packed descriptions a Ph.D. would be hard-pressed to figure out … no call to action … the contact information is hard to find or missing completely …
Big companies … small companies … they're all in the same boat.
They know they need to invest in a B2B website writer to fix their sites … and they're willing to pay top dollar for the help …
B2B companies often reserve thousands of dollars for their website projects — and they want a very specific kind of person to help them out.
Dianna Huff shows you how to be exactly the person they need in her program, B2B Websites: Developing Content that Builds Authority and Generates Leads, Too.
In 8 video training modules, you'll learn:
What you can expect as a B2B website—the variety in size, scope, and topic … you'll always have something new and exciting to work on.
The 6 kinds of research materials you need to ask your client for so you can tap into the soul of their business and make it come alive on their website.
The secret to writing Product and Services pages that are engaging and that leave readers knowing that the need your client.
The real role of the FAQ page on your client's website.
The quickest way to establish your client's authority and build trust with their website visitors.
How to write a home page that will absolutely knock your client's socks off.
How to segue your B2B website projects into a steady, lucrative relationship with your client.
And much more!
Dianna Huff shares more than 16 years of hard-won experience in B2B Websites: Developing Content that Builds Authority and Generates Leads, Too, but you can start applying it to your own business after just eight hours of training. Get started today!
B2B Websites: Developing Content that Builds Authority and Generates Leads, Too: $497.00
For More Information, click here …