How to Use AI to Turbocharge Your Copywriting Career…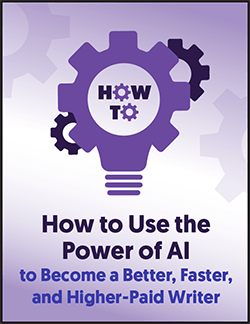 If you're a working copywriter or an aspiring one…
Let's make it official:
Artificial intelligence (AI)is NOT to be feared.
It's to be welcomed, with open arms!
That's because, properly used, AI can make your job easier… help you write faster, better, and more clearly… plus help you with high-level research not even top search engines can match.
In other words…
AI is the ultimate copywriter's assistant, researcher, editor…
That indispensable "by your side" genius you could never find or afford before…
Who's with you 24/7… will never leave you… and will only get smarter.
And best of all…
You can start putting AI to work for you TODAY!
And make no mistake…
The writers who understand AI…
Know how to use it…
Incorporate it into their writing businesses…
And can start harnessing its enormous potential to make their job as a writer easier, faster, and more profitable the soonest…
Are the copy and content writers who have the potential to outwrite and outperform all other writers in the marketplace…
And become even more indispensable to their clients.
That's why it's critical you get your hands on the tools, resources, and AI-writing strategies we've put together for you in our groundbreaking program — How to Use the Power of AI to Become a Better, Faster, and Higher-Paid Writer!
You'll learn how to…
extract deep-dive research from billions of resources using ChatGPT
banish writer's block by getting your copy started, no matter what you've been tasked to write…
slash hours off your writing projects by having ChatGPT take care of the more "rudimentary" copy, like short ads, titles, subject lines, and more…
turn copy you've already written into even more income by using AI to "spin" it…
and much more…
By the time you're done, you'll have the tools and templates, plus the understanding of the "best practices" to make a lot more money from your writing than ever before with the help of AI.
Plus…
After every lesson, you'll get a hands-on practice exercise, so you can start developing the tools, resources, and skills needed to transform ChatGPT into your very own writer's "profit center."
In short — this program is your ticket to taking advantage of what is without a doubt the biggest opportunity for writers since the internet and e-commerce!
How to Use the Power of AI to Become a Better, Faster, and Higher-Paid Writer: $995.00
For More Information, Click Here…