Don't Miss Out On Your Complete Guide to Launching and Running Your Profitable Freelance Writing Business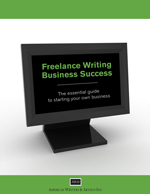 Launching your freelance writing business is one of the most exciting, scariest, most important things you will ever do. This step is one of the best you'll ever take. It will change your life for the better, setting you free to enjoy the lifestyle of your choosing.
But there's bound to be mistakes along the way. Setbacks. Frustrations. What if I told you there was a way to keep those to a minimum, to point you in the right direction and keep you there, to offer advice to those nagging questions that keep you up at night?
Well fortunately, there is. It's called Freelance Writing Business Success: The essential guide to starting your own business and it has everything you need to launch and run your business smoothly. You'll avoid the common traps and pitfalls that most freelancers stumble into and your business will succeed faster because of it.
Get answers to questions like …
Do I need a license of some sort to start my business?
What should the legal status of my new business be?
How will my tax situation change?
What about contracts?
What home-office equipment should I have?
What kind of records should I keep?
How do I handle copyright issues?
How do I negotiate my fees?
How should I manage my time to maximize my income?
You'll get specific answers to these and hundreds of other questions about starting and running your own $100k/year freelance business. Nothing is left in doubt.
Most importantly, all this advice comes straight from the best authorities in the world: Professional copywriters who've already built successful, highly lucrative freelance writing businesses.
Freelance Writing Business Success offers real peace of mind when it comes to being certain you're making the right decisions to start, run, and market your business. Order your copy today!
Freelance Writing Business Success: The essential guide to starting your own business : $297.00
For More Information, click here …