Build Your Writing Business In 3 Minutes (or Less!)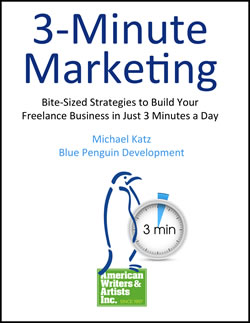 Reach your financial goals faster than ever! In just three minutes a day, three times a week, you can break through roadblocks, connect with dream clients, and learn to land all the assignments you want.
How is it possible? AWAI has teamed up with business-building expert Michael Katz to show you how to shift your focus to the high leverage tasks that help you overcome inertia, bust through roadblocks, and achieve the writer's life of your dreams.
Michael has a special knack for helping people uncover their unique strengths and then communicate those strengths in a natural, no-hype way that brings in tons of new business.
And because he's got decades of experience with this, he knows how to show you — FAST — where a few little changes will earn you the biggest personal and professional rewards.
In each one of his 36 short-but-powerful training videos, you'll learn a key marketing concept and exactly how to use it to build and market your writing business faster than you ever thought possible.
Check out some of the things you'll learn … in just 3 minutes …
Finding those ideal clients — Michael will show you how to quickly define your perfect client and how to get more great clients headed your way fast …
The hidden value of your personal expertise — plus, how you can quickly convert your unique background into a major competitive advantage …
What to do to ensure your clients and prospects open every email you send (and respond to you promptly!) …
Why it pays to stay in touch forever with your network … (Plus, he'll reveal how to make constantly staying in touch feel natural, painless, and fun.)
Prices — how to set them, where to publish them, and how to make it so clients don't care what you charge …
What to put in your social media updates … complete with fast secrets for finding great update material and proven examples of updates that work!
Capacity management and getting other people to help you market your services for free — you will be flat-out SHOCKED how easy this can be …
Why your relationships with your clients are so important … and the one thing you can do to dramatically improve them in just a few weeks …
How free content downloads boost your business — including the simple step-by-step guide for making a downloadable bonus in minutes …
The two tips that will get you awesome testimonials … and even help you vastly improve the client feedback you're getting now …
What makes packages so attractive to your prospects … Plus, how to make sure you're definitely getting every penny your skills are worth …
How to relax and be yourself around your clients with no danger of losing business — in fact, it may make them love you more than ever. (And here's a hint: It all comes down to how you talk to them!)
And much, much more — including everything from how to get clients to commit now to what to put in your holiday cards!
All told, Michael is packing the very best marketing and client-getting tips in the world into a program that adds up to less than 90 minutes — total! — of your precious, precious time.
Stop letting all those valuable little moments pass you by!
Register now for 3-Minute Marketing and see for yourself just how far a few well-directed moments can take you in just a few weeks.
3-Minute Marketing: Bite-Sized Strategies to Build Your Freelance Business in Just 3 Minutes a Day: $297.00
For More Information, click here …