The "missing link" to living the writer's life?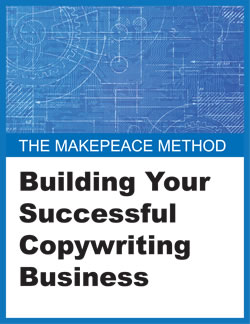 Ask any well-paid copywriter, and they'll tell you it's a large part of their success.
And, if you're still not living the writer's life, it's the "missing link" to a life of freedom, fun, and flexibility.
What is this "missing link?"
Learning the "business" half of your copywriting business!
There's no question: Learning your craft and providing great value to your clients is essential … but it's only HALF of the freelancing success equation.
If you truly want to live life on your terms, it's critical you learn how to build a successful copywriting business.
And to help you do just that, we've brought in the best in the business: Clayton Makepeace.
He's created The Makepeace Method: Building Your Successful Copywriting Business.
This comprehensive training program is designed to help you take the copywriting skills you're learning — and give you a blueprint for transforming them into the financial freedom that will help you live the writer's life.
Over the course of seven easy-to-follow video modules, you get a complete soup-to-nuts crash course on how to successfully start living the writer's life.
… He starts off by making sure you get the building blocks you need to write copy that can compete with the best copywriters out there (and how to get fast and productive at doing it) …
… You get the same strategies Clayton uses to land clients who will respect you and pay you every penny you deserve …
… You get the nitty-gritty of how to set up profitable, win-win deals with your clients and how to get it all in writing (inside information from the highest-paid copywriter around) …
… You get Clayton's "mindset" strategies that ensure you have the confidence to TAKE ACTION and actually IMPLEMENT the strategies he'll hand you on a silver platter …
… And you get the exact tips and tricks he uses to ramp up his income and make more money with every new client he takes on.
PLUS —
You also get $1,094 in powerful business-building bonuses:
Clayton's How to Build a Six-Figure Copywriting Business and The Makepeace Business System …
Every single strategy, tactic, and secret you pick up could easily put thousands of dollars … tens of thousands … maybe even $100,000 or more into your pocket. Plus, the faster you get started, the faster you'll build your copywriting business and be on your way to living your version of the writer's life!
The Makepeace Method: Building Your Successful Copywriting Business : $995.00
For More Information, click here …