Learn How to Think Like Clayton Makepeace


Set Yourself Up for Bigger Paydays… and More of Them When You Apply His Secrets for Writing Strong Copy, Faster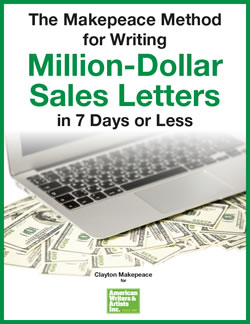 One of things about Clayton Makepeace that gets even his most talented Copy Cubs scratching their heads is how he turns out blockbuster copy — the kind that generates millions of dollars in sales — so fast.
Who else do you know who can write a sales letter in as little as a week that goes on to generate $15 million in revenues?
For Clayton, this is routine.
For him, writing isn't stressful. It comes easy. But it comes easy because of tricks and systems he's developed and fine-tuned over the years.
But Clayton's secrets aren't just about writing great copy. They're about writing great copy FAST.
Or as Clayton puts it, "Writing better copy faster is the secret to getting bigger winners more often."
This is all good news for you. It means you can replicate what Clayton does to write stronger copy in less time.
Your copy will get better results, you'll be able to take on more projects, and as word gets around, you'll be able to increase your fees. (So you'll get paid more!)
But first, you have to learn how Clayton does it. And that's exactly what he reveals in The Makepeace Method for Writing Million-Dollar Sales Letters in 7 Days or Less
In this incredible program, Clayton shares his own systems for preparing and writing unbeatable copy in an unbelievably short amount of time.
With The Makepeace Method for Writing Million-Dollar Sales Letters in 7 Days or Less, you'll gain access to Clayton's main training webinars, where he outlines every step of his successful process, including —
His system for quickly analyzing a product to uncover what will make it irresistible to your buyers. He outlines the 10 key questions you must answer before you write a single word of copy… and much more.
The 14 questions you have to ask to really know your prospect, from his objections and how to overcome them to his overriding desires… how to instantly establish yourself as trustworthy to your prospect… what you must say to make this purchase mandatory in his mind… and much more.
How to use what you learn about the product and prospect to create a research document that you'll transform into an outline and then into a draft and then into a final, strong sales package. This is the key to turning out control-busting copy in a matter of days.
Plus, you'll get to put what you learn to the test… and under the microscope, as Clayton goes on to review what you and your peers have written.
You'll also hear from top "A-list" copywriters like Richard Armstrong, Jedd Canty, David Deutsch, and Patrick Bove to round out your training and provide you additional insights to strengthen your copy… and to take the stress out of writing it.
The secrets and systems you learn within take most copywriters years, if not decades, to discover and to master. These are the secrets that pave the surest path to a reliable six-figure income. Just follow Clayton's lead and you'll be amazed at how fast and easily you'll finish your copy. And more than that: You'll ramp up the quality… persuasiveness… and the selling power. And, you'll write with far less stress, and have much happier clients — and bigger winners more often!
Your investment in The Makepeace Method for Writing Million-Dollar Sales Letters in 7 Days or Less: $2495.00
For More Information, click here…