Learn the Secrets to Becoming a Publicist and Start an Exciting and Satisfying Career this Year!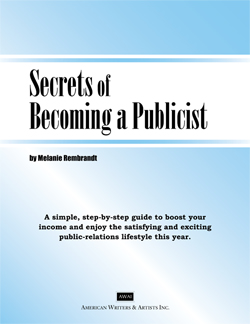 More businesses and organizations are turning to public relations to build their credibility. Traditional advertising methods just aren't enough anymore. Businesses want buzz about their company, about their products, and about their industry. To get these kinds of benefits—to generate this kind of buzz—businesses turn to publicists and public relations experts.
A report by the Bureau of Labor Statistics has this to say: "Employment of public relations specialists is expected to grow by 18 percent from 2006 to 2016, faster than average for all occupations."
Now you can take advantage of this hot opportunity!
In Secrets of Becoming a Publicist, you'll join AWAI success story and PR expert, Melanie Rembrandt, as she reveals the secrets behind succeeding in of this in-demand career. In easy-to-follow steps, you'll learn:
How to write a press release in 7 simple steps and start making money right away from your new skill!
How to get your first client in one week;
Where to post a press release and earn extra income in the process;
How to create media kits, PR Plans, online newsrooms, and more;
How to pitch media members to build buzz for you and your clients;
Marketing tips to get more clients than you can handle;
Must-have tips to build strong client relationships;
Simple steps to start and protect your new publicity business; and
Secrets to skyrocket your PR success!
Plus, you'll receive two bonus reports absolutely free … "The Top Five Things You Should Never Say to a Reporter and Why" and "How to Write an Event Press Release in 30 Minutes or Less."
This program is your one-of-a-kind ticket to a new and exciting life packed with fun, fame, and fortune!
Secrets of Becoming a Publicist: A simple, step-by-step guide to boost your income and enjoy the satisfying and exciting, public-relations lifestyle this year: $199.00
For More Information, click here …