This Week from AWAI …
LAST CHANCE:
Infinity Lifetime Membership
For nearly 20 years, Infinity has been by far the best VALUE DEAL that AWAI members can own:
Lifetime access to over 120 learning and business-building resources — over $60,000 worth and MORE being added all the time — for a one-time fee that's a fraction of what you'd normally pay…
Now Infinity changing… improving… to offer you even MORE tools and resources… making it a MUST-HAVE for any serious copywriter.
Now is your LAST CHANCE to
Gain full lifetime membership at current lowest pricing…
Take advantage of lowest-ever monthly payment plans…
Apply your FULL YEAR of AWAI spending credits before they expire…
And get all the benefits of what will become the "new and improved" Infinity in the days ahead!
Warning: This Offer WILL NOT Be Repeated!
Go here for full details on this Infinity offer…
Launch Your Writing Career THIS YEAR!
Our Writer's Launch Party has proven itself over and over to be the No. 1 way to launch a well-paid writing career FAST.
How fast?
FIVE days fast!
Now it's YOUR turn!
Enroll in our final Launch Party of 2023 today…
Click Here to RSVP.
Free Training:
BIG Money Writing for Nonprofits and Other Good Causes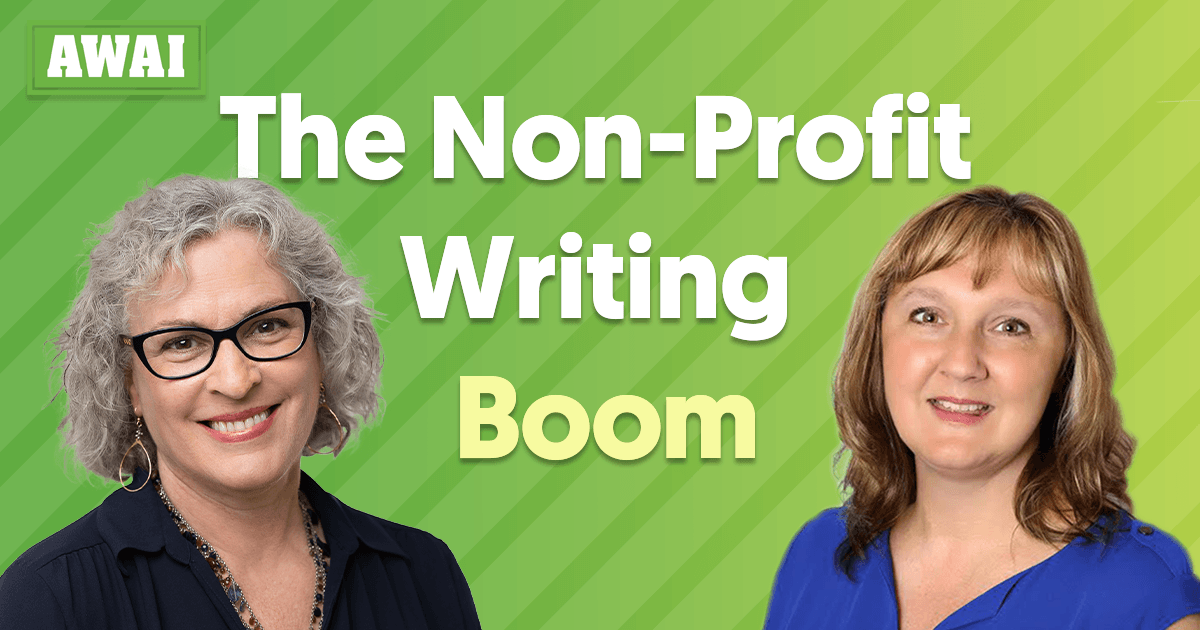 Thursday, December 7, at 2 p.m. ET 👇
Access Instructions Here
Browse Recent News
Take advantage of this incredible offer, AWAI's most popular value membership — the most cost-efficient way to get access to ALL our self-paced training and business-building programs…
Do you want to LAUNCH your writing career in just 5 days? Then join our LAST Launch Party of 2023!
The Professional Writers' Alliance is where to get the skills- and career-building resources you need to take your freelance career to the next level. Don't miss out on this special deal!
There's a big misconception that there's no money in writing for nonprofits and other good causes. But when you pull back the curtain — the opportunity is absolutely massive. And only growing from here! Find out why …
Just released, the December issue of Barefoot Writer!
Save $200 on our exclusive writers club membership—and receive $363 in bonus writing career launching resources—if you join today.
Our "ULTIMATE FREEDOM" LIVE EVENT is happening at noon today! If you haven't signed up yet, you still have time!
Today you can save up to 90% on our most popular training programs! But hurry! Our Holiday Sale ends tonight!
This is your last chance to get in on our BRAND-NEW zero-client writing training before enrollment closes tonight at midnight.
Are you ready for the writer's lifestyle? Here's your first step!
Barefoot Writer magazine is the key that unlocks all the doors to paid writing. Grab a subscription to Barefoot Writer magazine today for just $11.
We 100% believe every new or aspiring writer should build a "clientless" business. Why? Find out here!
Huge sale! Save up to 90% on our most popular training programs!
Claim your freedom and kick off your writing career right now by grabbing a subscription to Barefoot Writer.
Today is the last day you can join B2B Writers International for just a dollar.
Though Rob Gramer was on his way to a safe and reliable career in the world of engineering, a goofy trick played on a classmate wound up introducing him to the world of freedom through paid writing. Once he'd gotten a taste for it, he couldn't shake it, and today his life looks every bit as fun, profitable, and relaxing as the best writer success stories. Enjoy Rob's entertaining and inspirational journey.
Today's the LAST DAY to claim your Black Friday special: Grab our very best writing and business-building resources for only $49! (You'll save $200!)
We're just a few hours away from pulling the plug on our insane Black Friday deal (where you save 90% on our Email Mentorship & Certification training). Make sure you don't miss out on this incredible offer.
This Black Friday, let's help you set up your writing business FAST. Like over-the-weekend fast. How? With a full 80% off our best-selling Writer's Starter Kit!
This could be — without a doubt — the BIGGEST deal we've ever offered: Your chance to SAVE 90% on one of our most popular trainings… and gain industry recognition for a skill clients could pay you up to $5,000 per month for. Learn more here!