This Week from AWAI …
LAST DAY

to Claim Lifetime Infinity Membership…
Before Credits Expire!

The cost to gain lifetime access to the best "value deal" AWAI offers will never be lower than it is today.

This is your LAST CHANCE DAY to
Gain full lifetime membership in Infinity at current lowest pricing… with immediate access to over 120 resources every copywriter needs…
Take advantage of lowest-ever monthly payment plans…
Apply your FULL YEAR of AWAI spending credits before they expire forever…
And still be entitled to all the NEW benefits coming in the days ahead.
Warning:
This Offer ENDS at Midnight Tonight!
Go here for full details on this Infinity offer…
Now Accepting New Writers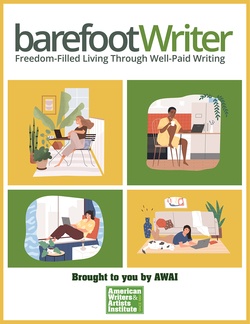 If you want…
high-paying gigs,
predictable writing income,
greater flexibility…
AND the satisfaction that comes with LOVING what you do for a living…
Then getting accepted into our influential club of Barefoot Writers can set you up for everything you're looking for in a writing career.
NOTE: Your acceptance window will be closing soon!
Apply Now
Free Training:


How to Start Making Money FAST as an Email Copywriter

Join top email copywriting expert Guillermo Rubio, this Friday, June 9 at noon ET.

Click Here for Details
Browse Recent News
Exclusive community for writers is now open to new members—for a limited time.
Today is your LAST CHANCE to grab The Writer's Starter Kit for only $49! It includes all the tools, templates, resource lists, guides, and fee schedules you'll need to launch and run a successful writing business.
Get a chance to claim FULL CREDIT for everything you've spent with AWAI over the past 12 months!
Save $1,496 on our bestselling training GUARANTEED to transform your writing aspirations into a professional moneymaking writing business.
Join Rebecca Matter, president of AWAI, and legendary "client-less copywriter" Ben Settle, for an exclusive look at how to build a profitable writing business, with income that grows month after month, without a single client.
The Professional Writers' Alliance is where to get the skills- and career-building resources you need to take your freelance career to the next level. Don't miss out on this special deal!
Join us for this exclusive event with one of the top email writers around… and discover what you need to get started.
Don't forget to join us today at noon Eastern for a free event we're calling "Show Me the Money!"
If you want to get up and running as a writer in just a weekend, then grab The Writer's Starter Kit today. It includes all the tools, templates, resource lists, guides, and fee schedules you'll need to launch and run a successful writing business.
Today is the last chance for you to get our most popular training on the clearest path to the pinnacle of the copywriting industry. (Writing sales letters!)
Barefoot Writer magazine is the key that unlocks all the doors to paid writing. Grab a subscription to Barefoot Writer magazine today for just $11.
We're closing down 2023 Bootcamp super-early-bird pricing TONIGHT AT MIDNIGHT.
Claim your freedom and kick off your writing career right now by grabbing a subscription to Barefoot Writer.
If you want to earn high writing fees with huge royalty checks… there's no better way to do it than by writing sales letters.
Save 80% on our exclusive writers club membership—and receive $363 in bonus writing career launching resources—if you join today.
Today you can save up to 90% on our most popular training programs! But hurry! Our Memorial Day Sale ends tonight!
Today is the last day you can join B2B Writers International for just a dollar.
Barefoot Writer gives you the roadmap… as well as training AND support from writers who are already making great money… so you can start getting paid to write. And we've laid out the path forward, in just four simple steps.
Join us on Friday, June 2, at noon Eastern for a free event we're calling "Show Me the Money!"