Bob Bly says, "Online information publishing should be every freelance copywriter's second business" … and he shows you how to do it in this information publishing course.
Here's How to Generate a Second Income Fast, Using Your "95% Advantage"
When it comes to info publishing, writers (i.e. YOU!) have something critical to success that most people lack: the ability to write.
Bob calls it the "The Writer's 95% Advantage". Using the skills you already have, you can:
Write once. Get paid again, and again, even while you sleep (or do anything else).
Stop the feast-or-famine cycle of freelancing forever
Help others solve their problems (while creating an impactful business for yourself, too)
Start in under 5 hours!
And, you won't have to quit copywriting for clients either.
In only an hour a day (over the next 12-24 months), you can realistically create a second, annual income stream of $50,000-$100,000 — or even more!
That's what this information publishing course is all about!
Now, that may seem quick. But with your writer's advantage and Bob's guidance, it's completely possible to launch your own successful (and profitable) info publishing business in that amount of time.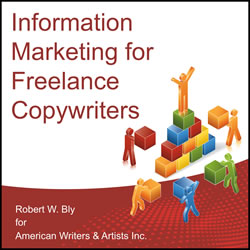 The key is Bob's new program, Information Marketing for Freelance Copywriters. While you probably know that Bob's a copywriter. He's been writing sales copy for nearly four decades and earns between $500,000 to $700,000 a year.
You may not know, however, that he's also a successful info publisher.
Now, for the first time in this information publishing course, he'll take you through each of his four steps for generating a six-figure income from info publishing — giving you the details of what to do and how to do it.
It's like having a proven blueprint to follow. So, you know exactly what to expect every step of the way. And, it's all laid out in an easy-to-follow manner. So, you can achieve the level of success you desire … from an extra $50,000 a year … $100,000 a year … or even up to $200,000 a year.
Let Bob will show you exactly how to turn your advantage into a second income … just like he's done. You'll discover:
How to put your "95% Advantage" into action so you can quickly (and confidently) succeed
5 critical things you must have to make $50,000 to $100,000+ a year online in passive income, in your spare time. (Use this as a checklist when you're finished)
16 different info product ideas. Not sure which info product to publish next? Try starting with one of these products to build out your business
Bob's personal "Hub and Spoke" model for reaching as much as $500,000/year with info publishing
And much, much more!
And that's not all.
In this information publishing course …
You'll also get to listen in on a series of "never-before-released to the public" recorded conversations with Bob. He'll take you behind the scenes of what it's like to have your own info publishing mini-empire, including answering the kind of questions many writers have when first getting started.
Bob Bly's Information Marketing for Freelance Copywriters is a complete walkthrough of Bob's personal info publishing business.
You'll get step-by-step guidance, examples, and even see and study Bob's own profitable info products. In short, you'll have everything you need to easily replicate Bob's process and keep your info publishing business simple — and your success predictable.
Bob Bly's Information Marketing for Freelance Copywriters: $497.00
For More Information, click here …