Mastering these persuasion techniques to make all your ambitions more achievable …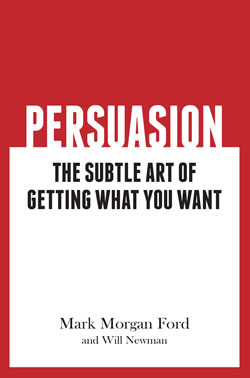 No matter what your goals are in life, it will take persuading someone to achieve them.
Whether it's convincing a customer to buy from you … your spouse to support your ideas … an agent to pick up your novel … or a client to see things your way … the opportunities to persuade are endless.
And the ability to persuade effectively every time is a crucial cornerstone to your success in life.
If you're a writer, speaker, teacher, public official, business owner, marketer, salesman, nonprofit administrator, preacher, coach, parent, lawyer, doctor, an advisor of any kind, or authority in your particular niche, mastering persuasion is probably one of the best investments you could ever make in yourself.
You may not have all the answers, but you'll always know how to get people to take action or embrace your way of thinking.
It's a powerful skill worth its weight in gold …
And Mark Ford is, hands-down, one of the masters.
In this book from Mark Ford, Persuasion: The Subtle Art of Getting What You Want, Ford makes understanding (and applying) persuasion techniques surprisingly simple, thoroughly explaining each with published examples, stories, and hands-on exercises that train your persuasive "muscles."
Inside he reveals:
The one counterintuitive rule that best-selling authors and marketing masters constantly use to inspire more action and better results …
How to conclude your persuasive argument so you close the sale with success every single time …
The three-word phrase that helps you grab your audience's attention and keep it for the duration of your message …
How to make the formula work for you, time and again, regardless of the situation or party being persuaded …
And MUCH more.
Order your copy of Persuasion and start mastering this powerful, valuable life skill today …
Persuasion: The Subtle Art of Getting What You Want: $12.95
For More Information, click here …