Experience the power of this world-class step-by-step copywriting course
This ONE WRITING PATH Has Created
MORE MILLION-DOLLAR COPYWRITERS
Than Any Other, Bar None …
Now, the Legendary Program that Introduced an Entire Generation to This Lucrative Artform Has Been Transformed for Today's Digital Era …
Where Even More Opportunity (and Bigger Fortunes) Await Those Ready to "Step Up" and Master This Skill!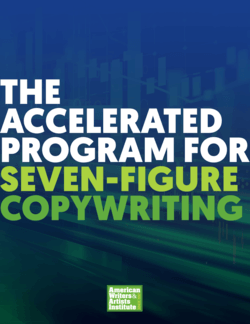 Not every writer who comes to AWAI is looking for it. But if it's big money and ultimate freedom you want … what you're about to discover here, today, could change your life forever.
Because of all the writing paths you can follow in today's opportunity-rich digital copywriting world …
Only ONE will take you to the PINNACLE of our industry.
Where the top copywriters live and work …
Where high fees and huge royalty checks are the norm …
Where you can sink your teeth into one big project for a few weeks …
… and earn far more money than if you were to take on dozens, even hundreds of smaller assignments instead.
Where you don't have to look for clients, because they not only find you … but will pay you for the privilege of reserving a spot on your calendar for them months in advance.
Here are 10 great reasons you should consider The Accelerated Program for Seven-Figure Copywriting:
It's jam-packed with proven secrets, tips, and techniques that have sold billions of dollars' worth of products.
It introduces you to all aspects of the direct-response industry — from what you need to know about the copywriting business … to writing powerful sales letters … to launching your new career.
Our Board of Copy Advisors is made up of some of the most successful copywriters, marketers, and direct-response company owners in the country. You couldn't be guided by a better group of people for sales-letter success.
The AWAI program is entirely hands-on. You actually "write while you learn" … so you can begin building a body of work you can use to break into the business quickly.
You can complete the program entirely at your own pace. You can take a year or finish in six weeks or less!
The $10,000 challenge! Everyone who takes the program has an opportunity to win a contract for $10,000 from us. At least one $10,000 contract is awarded each year to an AWAI-trained writer.
Our reputation for producing top-notch writers is unsurpassed. That's why so many of the biggest direct marketing companies in the world are constantly coming to us looking for sales-letter writers.
Everything we do is geared toward helping you succeed. Because when you succeed — we succeed.
Even if you're not interested in becoming a professional sales-letter copywriter, the selling and marketing knowledge you'll gain from this program will help you in any business you happen to be in.
A 100%, no-nonsense, no-quibble guarantee. If you happen to decide copywriting is not for you, just let us know within 30 days. We'll refund every dime you've paid us.
AWAI's Accelerated Program is the only copywriting training program responsible for launching thousands of successful writing careers.
Since its launch in 1997, it remains "mandatory training" for new writers at dozens of top companies, and is cited as the "career launching pad" for some of the most successful million-dollar sales-letter copywriters writing for some of the biggest direct-response organizations in the world.
Now, with its biggest update in the program's quarter-century history, we've made the learning even more immersive — with more focus on long-form copywriting, more feedback and direction on your writing, more modern-day samples from which to learn, and more of what we know works in today's digital marketing era.
If you're ready to see what this program can do for your copywriting career … jump in now!
The Accelerated Program for Seven-Figure Copywriting: $497.00
For More Information, Click Here …