What Is Freelance Copywriting? (And Why Writers Love It)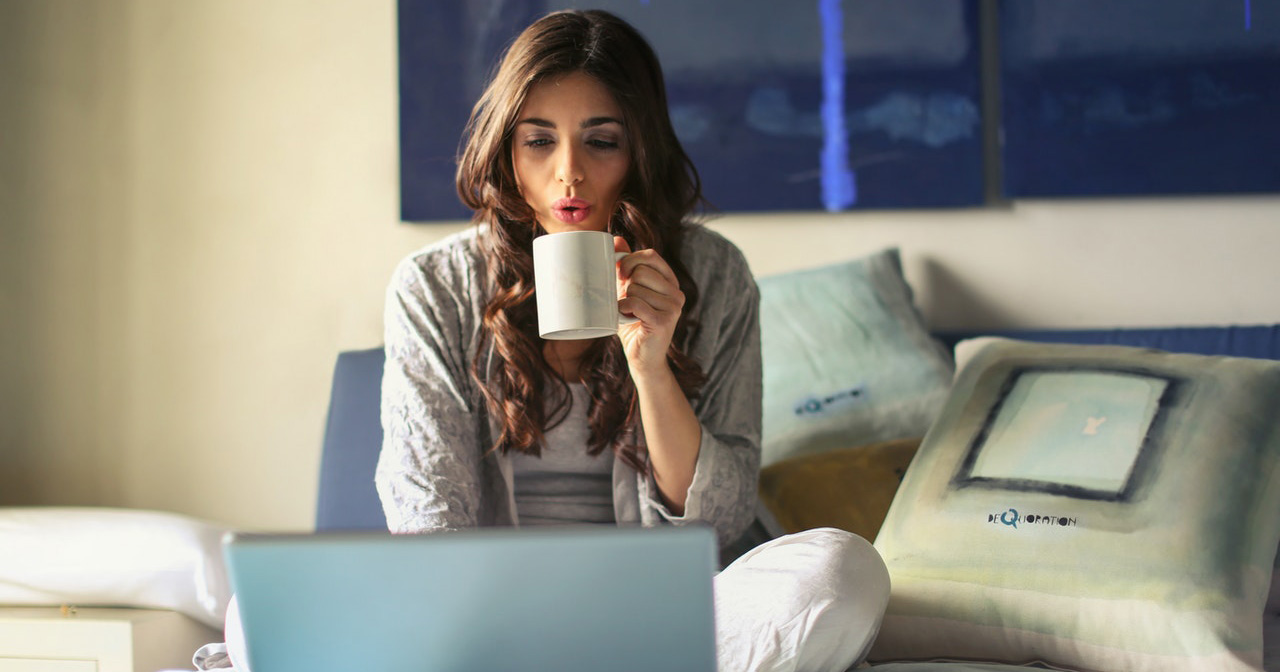 Do you like to write to friends and family? Do you like to help them solve problems with new information or products and services? Do you write "conversationally" … meaning how you talk? And … the last question … are you interested in working for yourself?
If you answered yes to any or all of those questions, a career in freelance copywriting could be perfect for you!
A freelance copywriter writes copy for businesses and organizations on a contract basis — meaning you set your own hours and rates, and decide where and how often you work.
Read on to find out about freelance copywriting!
What Does a Freelance Copywriter Do?
A freelance copywriter writes content for businesses that is designed to motivate the reader to take action, such as making a purchase, clicking a link, scheduling a consultation, or donating to a cause.
The types of copywriting you can do vary and can include digital copy such as sales copy on a website, email campaigns, social media posts, and online advertisements … or print copy like space ads, sales letters you get in the mail, catalogs, and more.
It also includes spoken content, such as speeches, talking points, and scripts for anything from TV commercials to business presentations to YouTube videos. A copywriter wrote nearly all of the sales content you see in print or online each and every day!
Freelance Copywriting Rates
Salaries for freelance copywriters vary widely, depending on several factors, such as whether you do it part or full time, how many hours you want to work, your experience level, your niche, and your hourly copywriting rate.
Some clients have set rates, which can be per word, per hour, or per project. (We recommend you work on a per-project basis.) But part of being your own boss means learning how to hone your negotiating skills and knowing what you need to earn for your business to succeed.
Keep in mind that as an independent contractor, you're responsible for your payroll taxes and any state and federal taxes. You'll want to make enough money to take time off, whether for vacations, sick days, or holidays … so make sure you have a clear idea of how much you need to make to survive (and thrive!).
Advantages of Freelance Copywriting
If you like freedom and flexibility, and you've got the drive and self-discipline to be your own boss … you can earn a lucrative income and work from anywhere.
You can also set the amount of time you spend working or not working, and live the life you want, whether that's writing from the beach or from a coffee shop in Europe.
As you'll read below, there are many benefits to living the writer's life.
Travel When and Where You Want
Perhaps the greatest advantage for many freelance copywriters is the freedom to work from home or to travel and work from anywhere you want.
Live in a cold and snowy climate? You can avoid commuting in the cold and snow but can also leave for a week, a month, or the entire winter to work from a warmer climate. Your clients won't know, and your invoices are usually paid online!
You can also take to the road, visiting the places you've always dreamed of … as long as you have a laptop, reliable Wi-Fi, and cell phone reception for when you work.
Be Your Own Boss
As a freelancer, you're the boss! And once you have a solid copywriting portfolio to back up your writing skills, you'll be in a fantastic position to take on only the clients that you want to work with and that pay you well for your services.
If you like setting your own schedule and having the flexibility to choose the projects you work on, and have the confidence to promote yourself … nothing's stopping you from succeeding as a freelance copywriter!
Work/Life Balance
One of the most compelling reasons to choose freelancing is the flexibility to balance work, leisure time, and family in the most ideal way for you.
You know when you're the most productive, so you can schedule work during those hours.
Not only that, but when you eliminate your morning and evening commutes, you save money and time.
By not having to travel to and from work, you'll have more time to exercise, meditate, prepare a healthy meal, or spend time enjoying your partner, kids, or pets.
Take On Projects You're Passionate About
Do you have an area of expertise or a topic you're passionate about? Perhaps you've worked in health care or information technology, or love learning about nature or cooking. Chances are there's a business or organization in that field that needs a copywriter.
Anyone with the skills and determination can succeed — you may even be able to market yourself as a subject matter expert if you have degrees or years of experience in a particular field.
Plus, getting to write about the topics that inspire you enables you to help others, on top of having fun researching and learning about your interests.
Check out our list of copywriting niches to see if there's one that catches your interest.
Constantly Learn New Things
Another perk of freelance copywriting is that as you branch out and take on new clients, you may be asked to write anything from product briefs to email campaigns to how-to posts. Along the way, you'll learn about any number of fascinating topics.
If you get a thrill from research or just love the challenge of writing about a new topic, freelance copywriting is guaranteed to bring you joy and personal fulfillment.
What's Holding You Back?
Like any business, finding freelance copywriting work can be competitive at times, but as long as companies want to sell their products or services, they'll need skilled copywriters.
Still, making a career shift is scary … especially without support! We're here to coach you through it, just like we have thousands of successful freelance copywriters in our community over the last 25 years.
If You Lack Experience — Learn from the Experts!
If you're just starting to think about copywriting as a career, it's easy to get overwhelmed when you read about niches, rates, and portfolios.
This is when an established and well-recognized copywriting program can help keep you focused on your goal of living the writer's life.
For over two decades, our experts have helped people become successful, in-demand copywriters with The AWAI Method™. You can complete it in four weeks and have polished, portfolio-ready samples.
No Clients? How to Grow Your Client List
Perhaps the aspect of freelancing that intimidates new writers the most is how to find copywriting clients.
The great news is it's so much easier now than it's ever been, because of LinkedIn and job boards.
And those are just two of 26 ways we've seen writers build their freelance writing businesses. There's something for you whether you're an introvert, an extrovert, or somewhere in between.
Freelance Copywriting Can Be Lonely — Join a Supportive Community!
If you're used to going into the office every day and enjoy socializing with co-workers and colleagues, venturing into freelance copywriting may feel lonely at first.
Rest assured, there are plenty of online communities to meet your needs for socializing and networking. Head over to our member forum, where you can join our community of freelance copywriters. It's a place for you to inspire and be inspired, and gather and connect with like-minded AWAIers looking to live the writer's life.
Freelance copywriting can give you freedom and flexibility, improve your work/life balance, bring joy and personal fulfillment, and be a lucrative career choice that fits into any schedule you choose.
And if you're unsure where to start, The AWAI Method™ is an excellent place to begin.

The AWAI Method™ for Becoming a Skilled, In-Demand Copywriter
The AWAI Method™ combines the most up-to-date strategies, insights, and teaching methods with the tried-and-true copywriting fundamentals so you can take on ANY project — not just sales letters. Learn More »

Published: July 13, 2022