Breaking Into Video Script Writing
Good at writing stories? Want to get paid for it?
With the pandemic driving so many more people online, companies have been forced to make digital marketing channels work for them.
Video has turned out to be one of the most effective, creating a HUGE demand for creative writers who are good storytellers.
In fact, Wyzowl's State of Video Marketing 2021 report found that 86% of businesses used video marketing in 2021 … and 93% of marketers who use video say it's a vital part of their marketing efforts.
Wyzowl also discovered that …
people watch 18 hours of online video per week on average, compared with only 10.5 hours per week just three years ago;
84% of people said they've been persuaded to buy a product or service by watching a brand's video; and
people are twice as likely to share video content with their friends than any other type of content.
These statistics all show that videos are rising in popularity fast.
They also show that people are actively using video to research potential products and services, and helping businesses make sales.
This is why marketers plan to spend a combined $21 billion in 2022 on video production. That's in addition to other forms of digital marketing they plan to do!
Video script writing is a massive opportunity that is growing exponentially right now.
It pays amazingly well …
It's simple enough for even beginners to learn …
And the window of opportunity is open for writers right now.
Ready to get started as a professional video script writer?
Types of Videos
Online video is definitely booming … but what types of videos actually need video scripts written for them?
It's easy to assume that many of the videos you see online are done "off the cuff" without any planning. But that's rarely the case.
Similar to writing good copy, good videos are carefully planned and written long before the cameras roll.
Before we get into the details of exactly how video scripts are written, let's quickly review the types of video scripts you might be writing as a professional script writer.
1. How-To Videos
This is the most basic kind of video, and nearly all companies need them.
You've likely watched a few how-to videos yourself if you've ever researched how to do something online.
A how-to video simply walks the viewer through steps to complete a certain task. The task could be anything from fixing a leaky tap to installing software on your computer to learning how to play the guitar.
How-to videos are excellent for a company's customer support because they can easily show a customer how to use the business's products or services in a fun and engaging way.
They can also help attract potential customers by showing how easy to use the company's products are, as well as their high quality.
How-to videos are in high demand because they're widely used and can be a major asset to any company. And this is why video script writers who can write top-notch how-to videos have a wealth of potential opportunities.
2. Video Ads
Video ads are general product or service promotions that are similar to television commercials.
They can be anywhere from 30 seconds to a few minutes long, and they're typically published directly on a company's website, as well as on YouTube or other online channels.
A video ad will often show a brief demonstration of the product or service. It might also include some additional details about the product, or testimonials from satisfied customers.
Writing a script for a video ad is a fairly straightforward project. Your client can usually provide lots of information about their product or service being featured in the video. Then, you'll just need to tie it into a cohesive, engaging script.
One thing to note here is that video ads are not the same thing as video sales letters (VSLs).
VSLs are essentially full-length sales letters made into video sales presentations. They can easily be 40 minutes to an hour long and are far more complicated to make.
Writing video sales letters is an opportunity in itself, but keep in mind that writing a script for a video ad is much shorter and easier than a VSL project.
If you're interested in learning more about writing video sales letters, you might want to check out Clayton Makepeace's course The Makepeace Method for Making a Fortune Writing Video Sales Letters.
3. Vlogging
The term "vlog" is short for a video blog. Its content is similar to that of a traditional blog post; it's just presented in a video format.
The person presenting the vlog may speak about their personal experiences, share interesting information, or discuss their business.
Vloggers typically have some kind of business they're promoting, but the focus of the vlog is to provide useful, informative content that's engaging to the viewer.
By publishing regular vlogs, they can position themselves as an authority or thought leader in their field. And video can complement other types of content they produce.
For example, author and speaker Andrew Davis publishes a regular vlog on his personal website here.
This is one of his recent posts:
As you watch the video, you'll see that it has been clearly planned.
The scenes were all determined before they started filming the video so it would flow well. And the story that Andrew tells in the video was thoroughly researched ahead of time to make sure it included all the right details.
And do you want to know the craziest part?
Andrew Davis didn't even write the script. He has a professional video script writer who helps him with his vlogs because he simply doesn't have time to write all his own content.
And many companies are in the same situation today — they know the importance of publishing regular content on their websites, but they're short on time.
That's why they're willing to pay a skilled video script writer to help them produce regular vlogs.
4. Video Case Studies and Testimonials
Case studies and testimonial videos are often the most difficult video scripts to write, which is also why they typically pay the highest.
You've likely seen a case study video before, where a customer shares their experience with a company's product or service.
This is a powerful way for a company to show, not tell, a potential customer about their products. It also adds real-life credibility for the company's claims and has the potential to inspire people to take the next step on their buyer's journey.
At first glance, case study videos may seem fairly easy to create because they're just telling a story. But, to be engaging, a customer story needs all the traditional elements that make a good story, such as …
an engaging hero,
a basic plot,
conflict and drama,
a story theme or big idea, and
an overall tone or style that makes it unique.
All these elements are easily learned. And once you've gotten them down, you should have no problem building a career exclusively writing case study video scripts.
We'll talk about these elements a bit more later in this article. But if you're interested in learning how to write case study and other video scripts in more depth, check out our Video Scriptwriting Mastery & Certification Mentorship. In this four-week course, Andrew Davis takes you step-by-step through writing a real case study video script and provides live feedback along the way.
5. Explainer Videos
These are videos that explain complicated concepts using simple language and animation.
This is an example of an explainer video from Arbex, a financial service for buying and selling cryptocurrency:
Buying and selling cryptocurrency can be a complicated process. But Arbex's video clearly explains what the company does, and it takes only one minute and 13 seconds.
It also includes simple animation to help illustrate the concepts explained in the video.
Explainer videos like these are much more fun and engaging to watch than an interview of a person explaining the process.
And don't be deterred by the idea of doing animation in a video. Your client would have a professional animator do that step.
As a video script writer, you would be responsible for writing the words in the video and making some suggestions for possible animation. But the final animation process is up to your client.
This is often a great opportunity for everyone involved. Animators typically do not write scripts, so they sincerely need your help to create a well-written video with clear explanations.
An effective video script is an essential part of creating a high-quality explainer video.
6. Social Media Videos
Videos made for social media will need the same elements as any other videos to be successful. In other words, they'll need to be relevant to your audience and share useful information that's presented in an engaging way.
But each social media platform has its own peculiarities when it comes to video. And being able to work within these specifications will make you a stand-out social media video script writer.
For example, many social media sites have a specific set of video formats that work best on their platform. And they also tend to have specific video length requirements. For example, a video on Instagram Stories can't be longer than 15 seconds, whereas IGTV allows videos up to 60 minutes long.
Each social media platform also has a unique type of audience, which needs to be taken into account when choosing your video content.
Knowing these details (which can be found on each platform's site) can help you craft effective video scripts for social media.
Many video script writers also create social media video scripts as an "add-on" to larger script projects.
As an example, let's say that a video script writer is writing a script for a 14-minute video on time management. Once that script is completed, the writer can offer to create a few shorter "sub-videos" of that longer video to post on social media.
In that case, the writer can charge their client for the main video script, as well as for the shorter social media scripts.
This also makes video production easier because the company will be able to film all the parts needed for the longer video and the social media videos at the same time.
What Does a Video Script Writer Do?
Now that we've identified some of the main types of videos you might be writing scripts for, let's take a closer look at what you would be doing as a professional video script writer.
When you write a video script, you're essentially creating a recipe for a video.
Your script needs to include all the ingredients and instructions your client will need to make the final video.
The final video script consists of three things you'll need to deliver to your client: the main video script itself, a list of interview questions, and a shot list.
What follows is a description of each of these parts.
1. The Main Script
This is the most important part of your video script. The main script is where you describe the dialogue and action that takes place in the video.
As an example of a video script, this is the first page of the video script for one of Andrew Davis' weekly vlogs: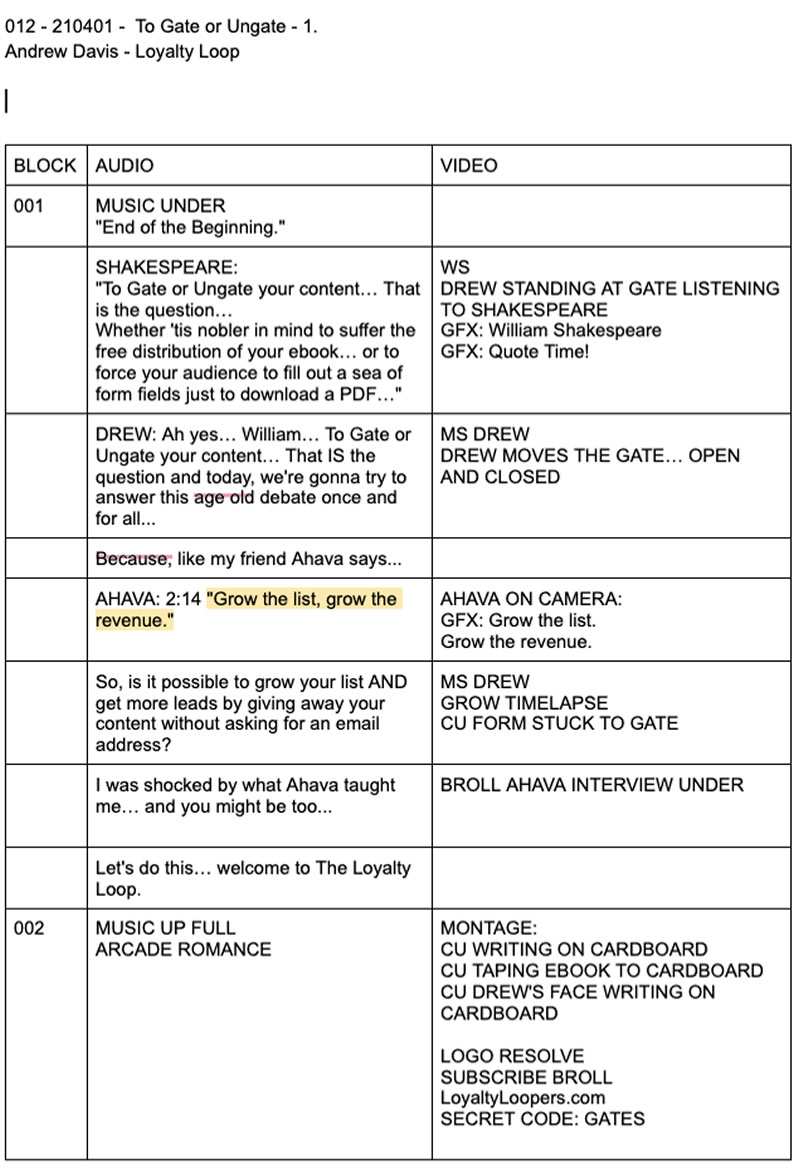 If you're curious to see the final video made from this script, you can find it here or watch it below:
You can see in the script example above that a main video script is divided into three columns — one for the block or shot number, one for the audio elements of the video, and one for the visual elements of the video.
The audio and visual elements are the core of your script, so let's delve into those in a bit more detail.
a. Audio Elements
In the "audio" column of your script, you'll include any dialogue, or words that people speak, as well as any sound effects or other sounds, like background music.
When it comes to writing the dialogue for your script, it's important to always write like people talk. If you've taken any of AWAI's copywriting training, you'll know we emphasize this point for all types of copywriting. And video script writing is no exception.
You'll want to research the audience who will be watching your final video, and use language appropriate for them. Pay attention to how your client currently addresses their audience, and whether this is effective.
Also consider the industry you're writing for. They may use specific terminology that you'll need to include in the video.
This is another example of a video script from Andrew Davis' vlog that shows how a part of his dialogue is written: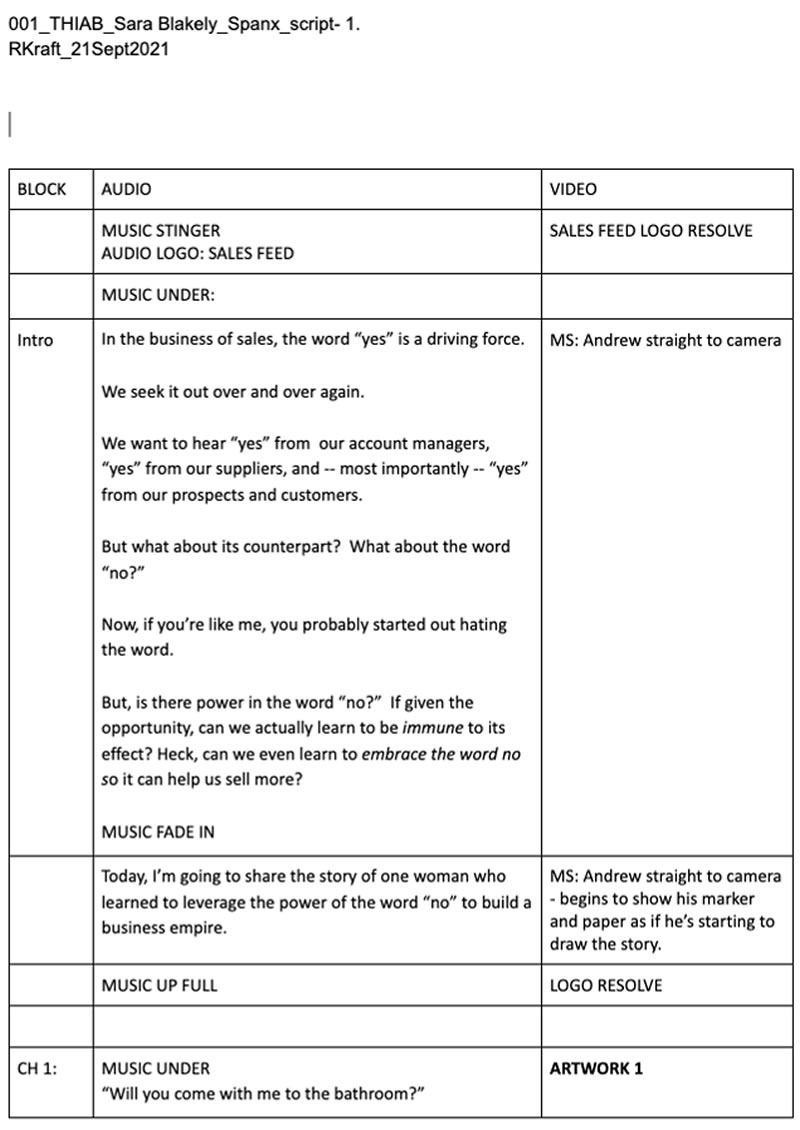 Notice how his dialogue is written in short sentences, using simple, conversational language. He's also clearly addressing the listener by asking questions and talking about issues important to them.
You can also see how writing dialogue like this is quite straightforward. You can learn the basics of video script writing and move on to finding work as a professional video script writer fairly quickly.
Well-written dialogue also helps to streamline the actual production of the video. You'll be able to make sure the speakers in the video cover all the points you want to include, which makes it more effective overall.
And it makes the video easier to film, because everyone knows what they need to say and do up front, rather than needing to go back and make multiple edits afterward.
Listing the sound effects and music in the script also saves the production crew a lot of time. You can search for royalty-free music and sound effects online if needed. Many websites, such as Epidemic Sound, offer a range of different sound options you can include in your videos.
It can be a lot of fun choosing the background music and sounds for your video, so don't hesitate to explore what's out there!
b. Video Elements
The "video" column of your main script is where you detail all the visual elements of your video, such as the location of each shot, the camera angle, or any additional photos or animation to include.
This is another fun part of creating a script. Feel free to let your mind wander and brainstorm different ideas for how to present your video.
And don't limit yourself to what you think your client would want or can afford.
If you think an overhead shot taken from a helicopter would be perfect for the video, include it as a suggestion. If your client says that's not possible, maybe you could explore getting a drone shot, or using some stock footage instead.
Your client will likely be working with a professional video production company to make the actual video, and production companies typically have drones and other resources for making video magic come alive. So let your imagination run wild when considering the visual part of your video.
Similar to music and sound effects, you can also find royalty-free stock images or video clips from sites such as Storyblocks to potentially add to your video.
Including video elements in your script that are well thought out and well written will save your client a lot of time and money when it comes to producing the final video.
2. List of Interview Questions
You might assume that an interview in a video is fairly spontaneous.
But, in fact, even interviews are typically guided by the video script.
If any interviews are required as part of a video script you're working on, the final package you give your client will usually include a list of interview questions.
These questions will be designed to elicit certain answers that would work well in the video.
This is most common in videos like case studies or testimonials, where an interview with a customer is the focus of the video.
In this case, the video script writer would write dialogue in the script — before the interview takes place — that would help create an interesting plot or story in the video.
We'll talk about how to craft the story in a video later in the article, but for now, just know that this is done before your client does an actual customer interview.
So, you'll give your client a video script with the types of quotes, or soundbites, you want them to get in their interview. And you'll also give them a list of questions they can ask their customer to help get those quotes.
You're working backward, in a way, but writing a list of interview questions ahead of time makes it much faster and easier for your client to conduct the final interview. They'll also be able to get more appropriate and relevant quotes.
3. Shot List
The third and last item you'll typically include in a video script package is a shot list.
A shot list describes each individual shot, or scene, in your video in more detail.
This is an example of a shot list: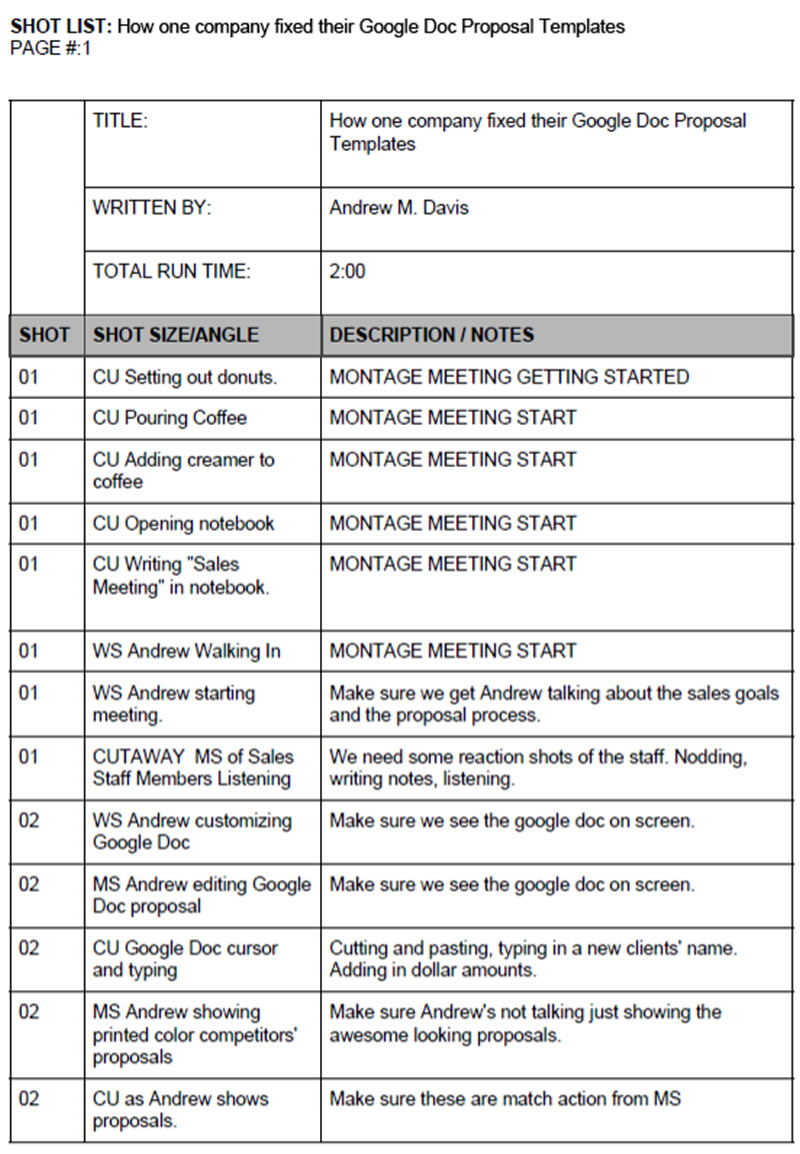 You can see that the shot list has columns for the shot number, the shot size or angle, and the description or notes.
The shot size or angle column details whether it's a wide shot, a close-up, or any other camera angle, as well as the basic scene.
And the description or notes column is where you can provide any additional instructions for the shot that you have in mind, such as the types of images you want to include, or what individual people should be doing in each shot.
A shot list also greatly simplifies the final video production. The video director can take the shot list and make sure they get all the shots needed for the video at one time, rather than trying to make it without clear direction.
What Does a Video Script Writer NOT Do?
As a video script writer, your responsibility is to provide your client with a video script, a shot list, and a list of interview questions if needed.
And that's where your responsibility ends. You do not need to deal with any sort of video production.
Your client will most likely hire a professional video production company for the actual filming and creation of the video. Most production companies have all the equipment and other elements that go into making a video, and they will be using your video script as a guide.
So, you should keep the final video production in mind as you're crafting the script to make it as helpful as possible for the video production team. But as a video script writer, you're being paid only to write the script.
Is Video Script Writing Similar to Screenwriting?
Video scripts and movie scripts have one thing in common — the writer needs to create the audio and video elements for each script.
But that's where their similarity ends. Video scripts and screenplays both have very distinct formats, and the final products look quite different.
In general, a video script is less complicated than a movie script. A video script is like a recipe, whereas a movie script needs more direction and interpretation by the production crew.
A video script is typically much faster and easier to write than a screenplay.
Also, screenplay writing can be a fairly competitive industry that's hard to break into as a new writer.
On the other hand, video scripts are in much higher demand because so many more short videos are made by a huge range of companies, compared with full-length movies.
How to Structure the Story in a Video Script
Writing an engaging video script is similar to writing a fictional story.
As we mentioned earlier in this article, a good video script needs to include a hero, a basic plot, conflict and drama, a big idea or theme, and a unique style.
So where do you even start?
It's best to map out the overall plot of your video before you start writing. This is a typical story arc that you can follow:
Set the scene — show the problem your audience may have, or if this is a case study, the problem a customer had before using your product.
Rising action — show how this problem can be affecting the life of your prospect. Perhaps show a couple of times they've tried to solve their problem and failed.
Climax — show what happens when your prospect finds your product (this will be toward the end of the video).
Falling action — show how your product can help solve the issues your prospect is facing.
Resolution — show how your prospect's life might have changed or improved after using your product.
Like any good story, it's important to feature a hero your audience can relate to on an emotional level. And constructing your story with a clear story arc will help build tension and suspense as your hero progresses on their journey.
Andrew Davis uses what he calls a mystery box diagram to help plot out all the action points of his videos before he writes the actual script. He details how to use his mystery box process in his Video Scriptwriting Mastery & Certification Mentorship program.
Michele Peterson also has some great tips on how to write a compelling story in her article here.
It's vital that your video be able to hold your audience's attention so they'll watch to the end. And using a compelling story structure is typically the best way to do this.
If your viewer is emotionally involved in your video, and watches to the end, they're far more likely to take the action you're asking them to take, such as booking an appointment or signing up to receive more information.
Your video doesn't have to be a specific length to do this. Some videos may be less than a minute; others may be over an hour. It doesn't really matter how long a video is, as long as it holds your viewer's attention and prompts them to take action.
How Much Money Can You Make Writing Video Scripts?
It's estimated that online marketers will spend around $21 billion on video production in 2022.
As we've pointed out in this article, video is skyrocketing in popularity among businesses and consumers, and it's become a very effective marketing method.
This is why companies around the world are planning to spend generously on video in 2022.
What does that mean to you as a video script writer?
First, consider that a video script writer typically earns between 10 and 20 percent of the total production costs of a video.
So, of the $21 billion that marketers are expected to spend on video production next year, roughly $2 billion to $4 billion of that sum will go to video script writers.
To look at it on a smaller scale … on average, it costs approximately $1,000–$2,000 to produce one minute of video.
That means a lower-cost, five-minute video would cost around $5,000 to produce. As a video script writer, you should quote a fee of around $500–$1,000 for your script for that five-minute video.
Also keep in mind that one page of a video script represents about one minute of the final video. A five-minute video, for example, would be around a five-page script. Depending on the individual project, this may take you only a few hours to complete.
Your video script writing fees can start adding up quickly and have the potential to create a very good full-time or side income.
How to Find Video Script Writing Clients
We know the demand is high for video scripts, and the industry is growing.
This creates an ideal situation for finding video script writing clients.
But where are all these clients?
The following steps will help you determine which potential clients you might want to work with, and how to start connecting with them.
1. Define Your Ideal Client
If you're an established copywriter, you may already have chosen a niche or industry to specialize in. If you're not, feel free to check out Pam Foster's free webinar on How to Choose a Copywriting Niche.
Pam explains the benefits of focusing your writing work on a single field or industry as a copywriter, and how to choose a niche that's a good fit for your skills and personal interests. Some examples of niche industries would be writing for the pet care, financial, or vitamin and supplement industries.
If you specialize in a niche, this is the first place to start your client search. But if you don't, that's fine too. You can simply write down a few ideas of industries you're naturally interested in and start there.
The next thing to do is start researching potential companies you might want to work with. Do an online search for companies in your niche or area of interest and see which ones include videos on their websites.
And this is an important point — your ideal client is one who has already made a few videos and recognizes their value.
The last thing you want to do is try to persuade a company to start making videos when they never have before. You're setting yourself up for a tough sell, which is unnecessary when so much demand exists elsewhere.
You simply need to find the companies who are already using video and show them how a professional video script writer (that's you!) could help improve their video campaign results.
2. Watch a Lot of Videos
Once you've found some companies you'd like to target, watch all of their available videos.
This includes videos on their main website, on their social media accounts, on YouTube, or anywhere else they might be posting videos.
Take note of what you think is working well in their videos, and what could use some improvement.
What sort of language do they use in their videos?
What types of videos do they produce?
Do you think their videos are engaging? Why or why not?
Getting to know a company's video content will help prepare you to take the next step …
3. Start Emailing Potential Clients
For each company you'd like to approach, try to find the email address of either the marketing director, human resources manager, or someone else who would be involved in hiring freelance writers. If you can't find anyone appropriate, simply use the company's general contact email.
Next, write each company a short, personalized email with the following elements:
Introduce yourself and what you do.
Describe what you like about their company and their current videos.
Offer one or two suggestions for something that might help improve the effectiveness of their videos.
Say that you would be happy to discuss your ideas further if they're interested in getting together for a quick phone call.
Politely close with your contact information.
Have the notes you made on their videos handy as you craft your email, and try to keep your message positive and helpful.
As a general rule, avoid making specific claims or promises in your emails, such as saying you can help them increase their sales in the next three months.
You could never deliver on promises like this, because you can't know or control the rest of their marketing campaign. There are too many variables.
So, instead, stay focused on how a professional script writer can help make their videos higher quality, more relevant to their target audience, and easier and cheaper to produce.
4. Approach Production Companies
We mentioned video production companies earlier in this article. These are companies that specialize in the physical production of videos.
They're responsible for filming all the parts of a video, as well as working in any other visual elements, such as still images or graphics. They also handle the final audio editing of voices, music, or sound effects as needed.
Video production companies can also be great sources of leads for video script writers.
Most production companies do not write video scripts. They specialize in production, and leave the majority of script writing up to their client.
And that's where you come in.
If you get to know a few production companies, they'll likely be happy to give your name to any of their clients who need a video script written.
This is a great situation for everyone involved. The production company appreciates having a professional video script because it makes production much easier.
Their client also benefits, because working with a professional script writer will help them create a higher-quality final video.
And, of course, you will benefit if the project goes well, because the production company will be more likely to refer you again, which means more potential clients.
To find a video production company near you, simply do an online search. There's almost certainly a video production company in your local area. But if there isn't, just try a broader search. You can work with production companies almost anywhere.
Get in touch with a few production companies and introduce yourself and what you do. Politely ask if they work with freelance video script writers, and let them know you're available if they ever have a client who needs a script written.
It could be the beginning of an amazing partnership.
Final Thoughts
This is a great time to consider becoming a video script writer.
The demand for online video has never been higher, and companies are discovering just how much an effective video campaign can boost their bottom line.
Luckily, the fundamentals of video script writing can be learned fairly quickly. And perhaps best of all, video scripts are fun to write.
Few other writing projects allow you to work with both sounds and pictures. Your creativity can shift into high gear as you brainstorm what to include in your video scripts.
Remember, a video script is like a recipe for producing a video. It needs to contain the ingredients and directions for making a final video. But once you've included the key ingredients, the sky's the limit in terms of what you can create.
If you're interested in learning more about breaking into the video script writing industry, check out Andrew Davis' Video Scriptwriting Mastery & Certification Mentorship. This four-week program will take you from writing your first script to getting your first client and building a successful career as a professional video script writer.
Webinar Materials
Access the Inside AWAI archives here.