How to Get Paid to Write: How to Land the Best-Paying Writing Jobs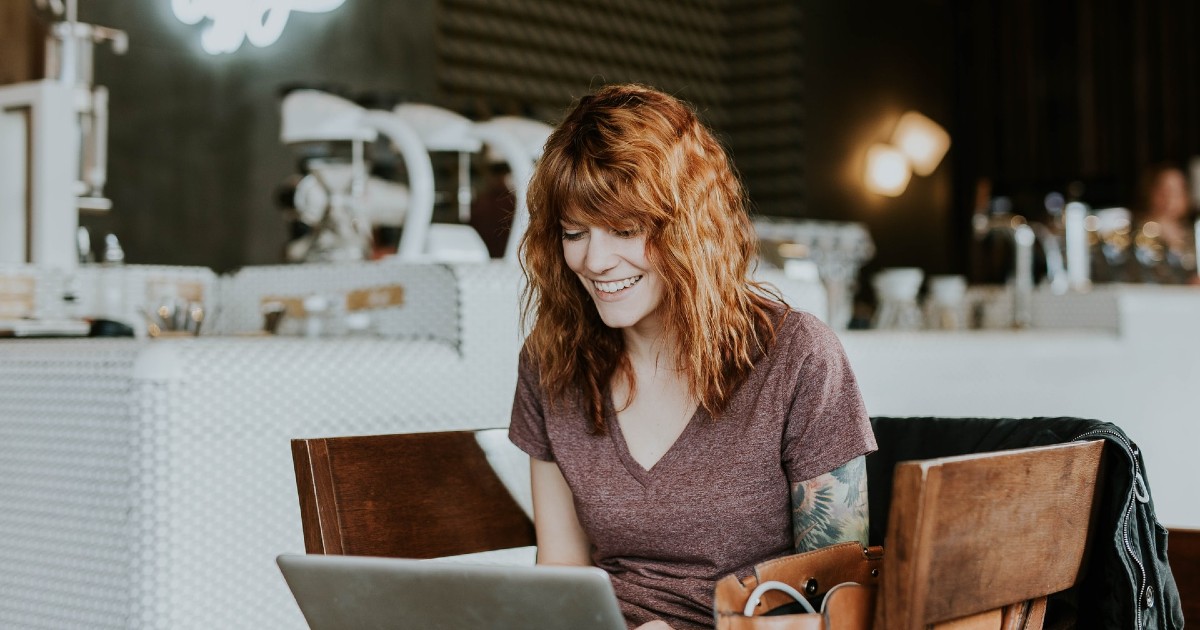 Do you want to get paid to write and join the ranks of freelancers living and working from anywhere they choose?
Then here's some fantastic news …
It's easier than ever to find writing jobs online. This article alone includes a list of eight sites to find paid writing gigs, and that's a tiny fraction of the multimillion-dollar market for freelance writers.
Businesses need your copy expertise, and they're willing to pay top dollar for talented writers who can attract leads, create persuasive copy, and increase their bottom line.
If you're wondering, Are copywriters paid well? the answer is YES!
We see it every day in our copywriting success stories. Engineers, project managers, corporate escapees, ex-teachers … you name it … are earning more, working less, and, most importantly … working on their own terms.
They've built flexible, rewarding, and lucrative careers by leveraging their skills and experience into copywriting businesses.
Getting Paid to Write: A Quick-Start Beginner's Guide
Ready to find out how to get paid for your writing? Let's dive in with some proven tips!
Step 1: Choose Projects You Can Learn Quickly
Deciding which services to offer as a beginner copywriter? Keep it simple. You want to start earning money quickly to build your momentum (and your client list). As you continue to develop your portfolio, you'll expand your copywriting expertise.
When it comes to copywriting, you don't need a college degree or even a high school diploma to get hired.
What you do need is the ambition, resources, and determination to learn.
The right copywriting course will teach you the skills needed to land high-paying projects faster than the trial-and-error approach. Plus, you'll have repeatable processes and templates to help you save time when writing.
Here are a few copywriting courses you can tackle in the evening or on weekends:
Find out more about how to get paid for your writing with these copywriting side hustles that you can complete in just a few hours.
Step 2: Select a Profitable Niche
Once you have the skills to get paid for one or more types of writing projects, it's time to choose your copywriting niche. Although some specialties are more profitable than others, you can increase your earning potential if you position yourself as an expert in whichever niche you choose.
Having a niche will increase your value as a copywriter. You'll become an expert in your field — and clients are always willing to pay higher fees for a specialist who understands the needs of their unique market.
You'll become a more efficient and effective writer, marketing yourself will become easier, and you'll get to focus your creative energy on writing you actually enjoy.
So how do you know which niche is the best fit for you? Start with this guide to choosing copywriting niches. You'll discover popular and profitable industries for copywriters.
Step 3: Build Your Writing Portfolio
One of the many questions we get from writers just starting out is what to do when potential clients ask for writing samples.
If you don't have one yet, don't let this slow you down or stress you out. What the client is really asking is Do you have the chops for the job?
And although samples are one way of showing that, there are others too.
But, let's start with samples …
First, you don't need a lot of samples in your copywriter portfolio. Your potential clients want to
see that you understand copywriting principles and
assess if your writing style will be a good fit for their project.
One easy strategy to build your portfolio is to showcase practice pieces you created during your copywriting training.
The best copywriting courses always include hands-on assignments with instructor feedback. For example, upon completing The AWAI Method™, you'll graduate with five polished and professional writing samples for your copywriter portfolio — plenty to attract clients so you can kick off your writing career and get paid to write.
And, as far as the "other" ways, you can write …
– a personal email to the potential client that shows you understand their business and have ideas to help them connect with new or existing customers,
– thoughtful responses and feedback on their social media sites that again show you can relate to their customers, and
– blog or e-letter articles that answer a question or solve a problem.
These are examples of your writing and show you've done your research.
Step 4: Set Your Income Goal
The first three steps are enough to start getting paid copywriting jobs. But if you stop there, you're leaving a lot of money on the table!
A thriving copywriting business is possible for the average freelance writer. However, to get there, you need a goal to work toward.
Learn how much copywriters can make to see what's possible when you get serious about building your business.
Calculate how much you need to earn per month and decide:
Do you have enough money to cover your expenses?
Would you like to earn extra to travel or do more activities?
If you're happy at your current income level, write that down as your goal.
However, if you'd like to improve your quality of life, determine what you would need to earn and write that number down as your goal.
Focus on a few lucrative projects over countless smaller ones, and if you'd like to know more, check out our report on copywriter rates.
Step 5: Increase Your Productivity
Here's where most freelance copywriters hit a wall when it comes to their earnings …
If you want to dramatically increase the amount you're getting paid to write, you need to value your time. The more efficient and productive you are, the more money you'll make.
If you want to earn more as a copywriter, develop habits that help you write more in less time!
Many writers find they're most productive early in the morning before interruptions begin. What matters most is finding a writing schedule that works for you. Track your time to get a realistic idea of how long certain projects take — you might be surprised by the results!
Here are a few tips to increase your writing productivity, so you not only get paid, but get paid well:
Write first, edit later.
Get accountability from a professional writers' community.
Set daily goals.
Use focus apps that limit distractions across the web.
For more ideas, check out this list of productivity-boosting tips for copywriters.
Step 6: Promote Your Writing Services
Now that you've got the basics covered and completed a few paid writing jobs, you need a steady stream of well-paying clients!
Start with our no-stress method for getting freelance clients. You'll discover 26 ways to attract high-paying dream jobs — even as a new copywriter.
Remember, every business needs effective copywriting. The key is to connect with the right clients at the right time. Here are a few ways to start:
These steps have helped countless aspiring writers establish thriving freelance careers, and they can help you do the same.
Now that you know how to get paid for your writing, we have one more essential resource to share with you …
8 Sites to Get Paid to Write
You'll find thousands of high-quality writing jobs online — if you know where to look. Let's explore some of the best websites where you can find paid writing opportunities.
WritersWanted: Best for High-Quality Curated Copywriting Opportunities
Brought to you by AWAI, WritersWanted matches skilled copywriters with prominent brands across various industries. Our team personally curates and vets every online copywriting job. Avoid the wrong fits and undervalued assignments with our extensive list of high-quality writing opportunities, suitable for seasoned pros and beginner copywriters alike.
Listverse: Good for Small Jobs to Gain Experience
Sometimes you want to hone your writing skills while still making decent money. Listverse is a great way to do precisely that. Write an interesting or unusual list and submit it to the editors. If they publish it, they'll send you $100.
Unemploymentville: A Place for Unemployed People to Get and Share Advice
Since you're starting a writing business, why not tell tales of your (mis)adventures along the way? Unemploymentville pays for guest article submissions related to job search techniques, side hustles, and the emotional and financial challenges of being out of work. Response times can be slow, and pay is between $25 and $75 per article. However, you'll get paid to write about your freelance writing journey as you inspire others.
Contena: Membership Site for Remote Writing Gigs
Contena is a paid membership site that lists many remote writing gigs. Search the job board or peruse a database of companies seeking location-independent freelancers. Rates vary, depending on the paid writing opportunity and the business.
iWriter: A Place Where You Choose the Topics You Write About
Are you a writer who wants to craft content that connects businesses to ideal buyers? iWriter advertises "any type of custom content" to its clients. Depending on your writing skills, you can earn up to $80 per 500 words. Write as much or as little as you want on the topics that interest you most.
nDash: You Set Your Rates and Leverage Expertise
You're a skilled copywriter ready to take your online writing seriously. Try nDash, where elite writers go for six-figure earning potential. nDash seeks talented and experienced writers — and pays accordingly. Set your rates, leverage your expertise, and get paid to write for esteemed brands and companies that value your copywriting skills.
International Living: Where Expats Share Stories of Traveling the World
Do you dream of living overseas and getting paid to write while exploring exotic locales? Do you have helpful tips for expat living, either part or full time? International Living wants to hear from you. The online publication accepts pitches related to global travel, living, retiring, and investing; pay is $225 for 900 words and $350 for 1,600 words.
Tuts+ WP: Ideal for WordPress Experts to Share Their Knowledge
If you're an expert in WordPress, Wptuts+ might be the paid writing job for you. Write at least one article per month on any WordPress-related topic, with special consideration given to tutorials, development tips and tricks, and code snippets. Pay starts at $150 per article.
So, are you ready to get paid to write?
Check out The AWAI Method™. Learn the core skills of copywriting and persuasion, and keep up to date with strategies and insights to ensure your writing stands out.
With the right skills, resources, and support, you'll be living the writer's life in no time.

The AWAI Method™ for Becoming a Skilled, In-Demand Copywriter
The AWAI Method™ combines the most up-to-date strategies, insights, and teaching methods with the tried-and-true copywriting fundamentals so you can take on ANY project — not just sales letters. Learn More »

Published: July 26, 2022