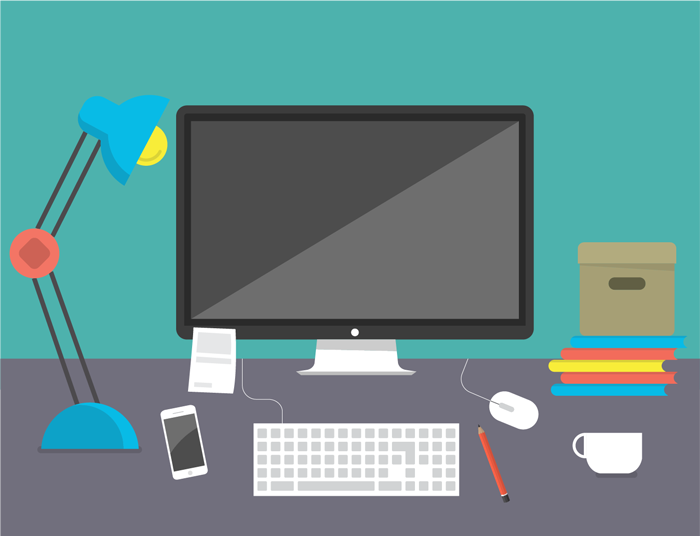 Types of Copywriting
In the introduction to this guide, we defined what copywriting is and looked at the copywriting industry in general.
You're likely getting a better idea of just how big the copywriting industry is and the opportunities it holds for writers.
In this section, we'll go into more detail on the most common areas of copywriting and the different types of copywriting they use.
11 Types of Copywriting
Copywriting is the process of writing persuasive marketing materials.
These materials will clearly be used to sell products and services, but the amount of "selling" that's done in copywritten materials is variable.
Some types of copywriting are very sales focused, such as obvious advertisements you see online or in newspapers. Whereas, other types are more information-based and involve very little "salesy" language, such as product brochures.
Most businesses use both of these approaches in their marketing materials, which is good news for copywriters.
It means you have a choice as to how much direct selling you want to do in your writing. If you're not comfortable with sales writing, you can choose to write information-based projects instead.
Let's take a closer look at the different approaches to copywriting, and you can see which one is better suited for you.
1. Direct Response
What is direct-response copywriting?
Direct-response copywriting is a type of copywriting that aims to get an immediate, measurable response from the reader.
As the name suggests, this type of copywriting is typically very direct. It will clearly be a promotional piece of writing that directly asks you to take action right now, such as buy the company's product or service or sign up for a free newsletter.
This is opposed to what's known as "image advertising" or "brand advertising," such as glossy magazine ads, that only inform or remind potential customers of a brand or product.
Another key component of direct-response marketing is that it's measurable. Whether it's an online or print campaign, the results of that campaign can be easily tracked.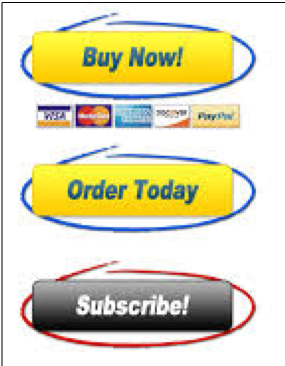 Because a direct-response campaign asks for immediate action, a company will be able to know how effective the campaign is by tracking how many responses they get. This is also known as the response rate.
On the other hand, image or brand advertising can't be tracked. How would a company know how effective its magazine ads were?
That's what makes direct-response advertising so valuable. Companies can see how well their marketing materials are working, and they can adjust them accordingly.
This also creates an enormous demand for copywriters who can write persuasive copy that moves readers to take action. And companies will know if your copy is working because they can track the results.
One common type of direct-response marketing is long-form sales copy, either in print or online.
Have you ever gotten a long letter in the mail describing a product or asking for a donation to a charity? Or have you seen a long sales page for a product online? These are examples of long-form direct-response copywriting.
We use a lot of long-form sales copy at AWAI, such as our "Can You Write a Letter Like This One?" sales letter that promotes our Accelerated Program for Six-Figure Copywriting. That letter clocks in at 33 pages, but it's not uncommon to see long-form copy that runs over 50, or even 60, pages long.
Some other examples of direct-response copywriting projects include:
Video sales letters (VSLs)
Catalogs
Fundraising letters
Magalogs (printed magazine-style promotions)
Online sales pages and landing pages
Pay-per-click ads
Online or print advertorials (article-style promotions)
Sales emails
If you're a results-driven person who enjoys crafting arguments and developing sales messages and ideas, you would likely enjoy direct-response copywriting.
2. Business-to-Consumer (B2C)
B2C companies sell directly to consumers. Examples would be most of the companies you deal with on a regular basis, including supermarkets and most other brick-and-mortar stores, as well as many online businesses, such as Amazon, Zappos, or Dell.
The B2C industry uses a full range of copywritten materials, including direct response and content marketing, both in print and online.
For example, imagine you want to buy a new water filter. You'd likely start with an online search for water filters and read some reviews like this one: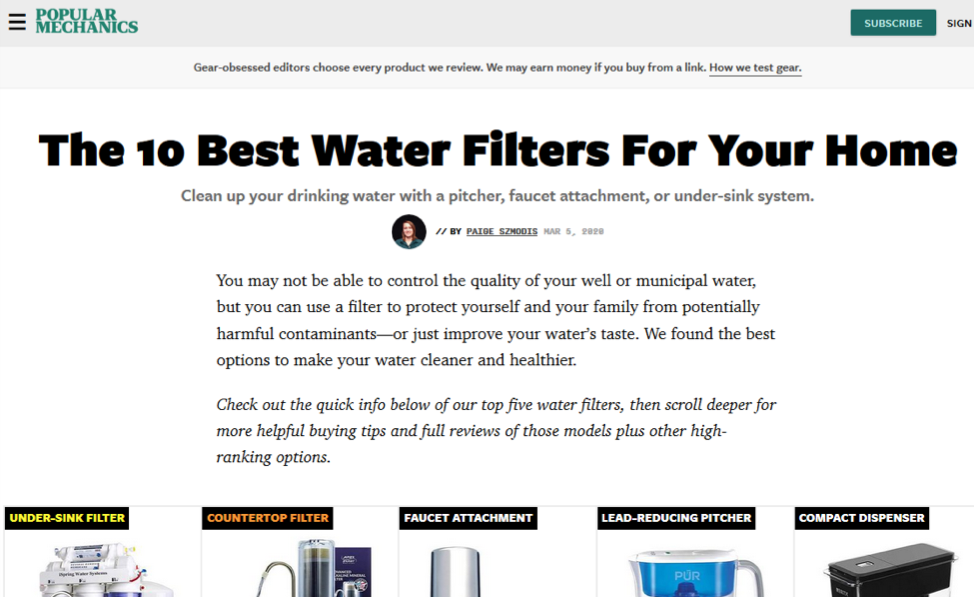 Your search page may also prompt you with ads you can click on for more information: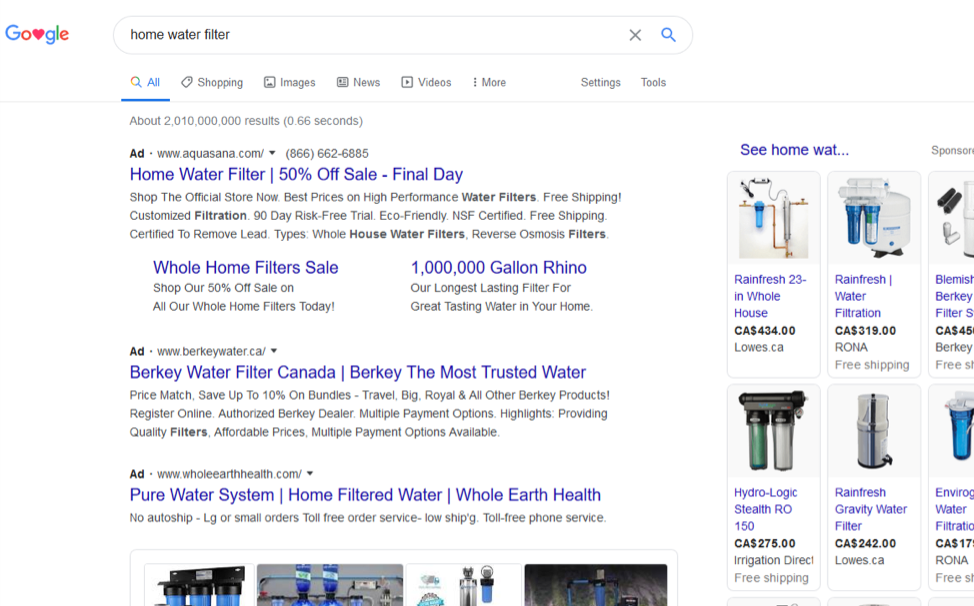 Once you've finished your research, you may eventually decide to order a filter online, or visit a local store to buy one.
But you can see how this process has involved a lot of copy. Any reviews, product descriptions, or other informational sources you read were all part of content marketing.
The ads you may have clicked on, or offers you were presented with, were direct-response marketing in action.
And if you go to a store to buy your filter, you may also see some printed marketing materials, such as brochures, product sheets, or coupons and special promotions.
This is all part of B2C copywriting, and writing projects like these are used throughout every business you can imagine that sells directly to consumers.
3. Business-to-Business (B2B)
B2B businesses sell directly to other businesses, instead of consumers.
For example, most heavy-equipment manufacturers will sell their equipment directly to warehouses, factories, and other industrial businesses. They don't sell to the public.
Many service providers also only deal directly with other businesses, such as staffing services, logistics consulting, or in-house training.
These are the types of businesses you would work with as a B2B copywriter. And there are a lot of them — the B2B market is currently a $6.5 trillion industry.
B2B companies also tend to use even more written sales materials than their B2C counterparts. Their products and services are often very high-ticket purchases that other businesses need to consider carefully.
For example, if a hospital is considering buying a new MRI machine, they can easily cost over $300,000 each. And many people at the hospital will be involved in that purchasing decision, from managers, to health and safety advisors, to clinical staff who will be using the machine.
It can be a long process, and companies who sell MRI machines need to have extensive marketing materials to support potential customers as they make their decision whether or not to buy.
The screenshot below is from the division of Philips that produces healthcare equipment. You can see their webpage includes an extensive menu of additional information, including all their products and services, education and resources, specialties, new innovations, and even financial assistance.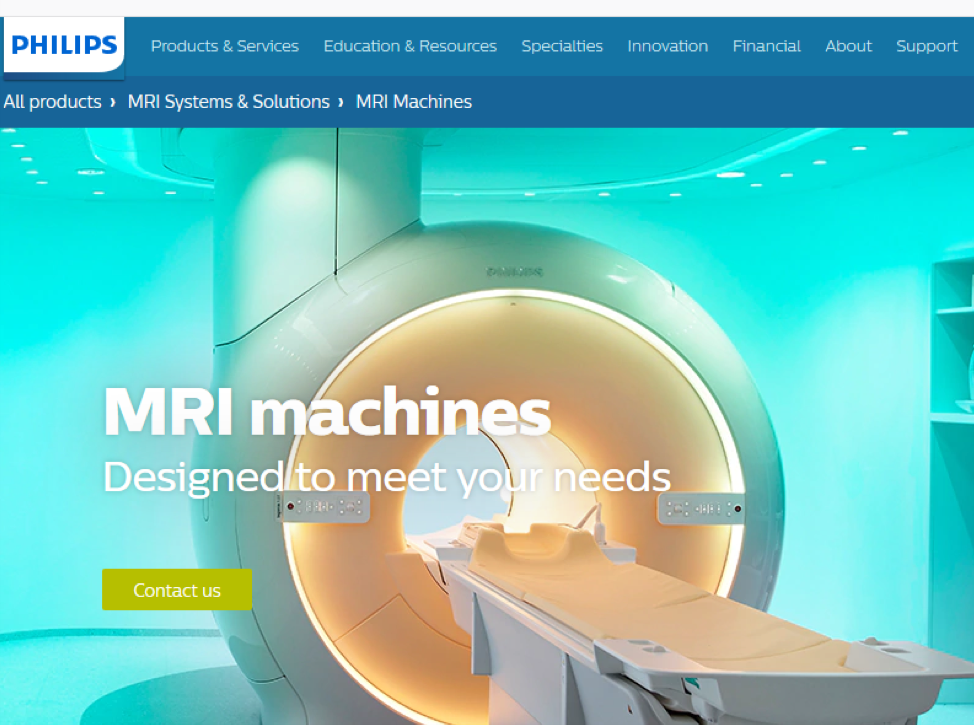 And within each of those menu items, you can find increasingly more detailed information about the types of healthcare equipment made by Philips, such as MRI machines.
Many B2B companies need an equally large volume of information to sell their products or services. Some common B2B marketing materials include:
White papers
Case studies
Sales brochures and product sheets
E-books
Online and print newsletters
Infographics
Press releases
Webpages
Social media content
Email sequences
Scripts for videos, webinars, and podcasts
The number of copywriting projects B2B companies use creates a huge opportunity for copywriters.
But there are many other reasons to consider this industry.
The fact that B2B products and services are typically used "behind the scenes" means a lot of people simply don't know about them.
This lack of visibility has created a shortage of B2B copywriters, and skilled B2B copywriters are now highly sought after, and usually paid very well.
Because B2B writers are in such high demand, B2B copywriting can be one of the easiest areas to break into as a new copywriter.
Another benefit of the B2B market is that the majority of B2B writing projects are very straight forward and not as "salesy" as B2C marketing can be. If you don't like the idea of writing a lot of sales copy, B2B is often a great option.
Check out our page on B2B copywriting to find out how you can get started in this booming industry.
Expert training, resources and support for aspiring and professional writers.
Your 9-Step Blueprint to Becoming a Well-Paid Copywriter
Sign up below and get instant access to your FREE 9-step blueprint for making good money as a writer
4. Content Marketing
The term 'content" typically refers to informational or editorial pages on websites, such as blog posts, article pages, or product pages.
Content will include some elements of persuasion, but its main purpose is to educate or inform the reader about a product or topic.
The term 'content marketing" refers to using informational content to attract and build relationships with prospects in the short term, with the long-term goal of converting them into future buyers.
The majority of content marketing is done online, but there is some done in print. And certain materials may be available in both formats. For example, an online company will have product descriptions on their website, but they may also print brochures with the same information to hand out at trade shows or other events.
That said, most content marketing is done online. And it's a massive industry.
In a survey of companies throughout North America, The Content Marketing Institute found that, on average, each company had an annual content-marketing budget of $207,500.
Naturally, not all companies will spend that much on content each year. Some will spend more, and some will spend less. But considering the fact there are over 18 million businesses in the U.S. alone, you can see the potential opportunity for content writers.
A few common types of content-marketing materials are:
Blog posts
Article pages
Homepages
Order pages
Product pages
Social media posts
Special reports and other "lead magnets"
Email autoresponder sequences
Case studies
E-books
White papers
News releases
E-newsletters
Informational video scripts
Another benefit of writing content-marketing materials is the fact many of them are repeating.
For example, if you get hired by a website to write blog posts, they won't want just one. They'll likely want you to write multiple posts every week or month.
Many content-marketing projects are like this. And once you get started with a website, they may also want you to write multiple different types of content, which can easily result in a full workload from just one client.
You can also choose to specialize in one area of content marketing, such as writing case studies or e-newsletters. Copywriters who specialize can also command top fees because they become the "go-to" writers for those projects.
If you're interested in learning more about content marketing, check out our program Content Mastery: Your Step-By-Step Guide to Becoming a Highly Paid Content Marketing Strategist.
5. Social Media Copywriting
The social media industry has billions of users.
And each year it adds to that number as it evolves. Social media outlets have tripled their user base in the last decade!
What does that mean for social media copywriters?
Opportunity!
Since 2008, businesses have been expanding their reach on social media channels. What started as short Facebook posts has grown.
Today social media copywriters are responsible for a variety of content, such as writing posts for Instagram, Twitter, and Tik Tok, publishing articles on sites like Medium and LinkedIn, and writing scripts for video channels.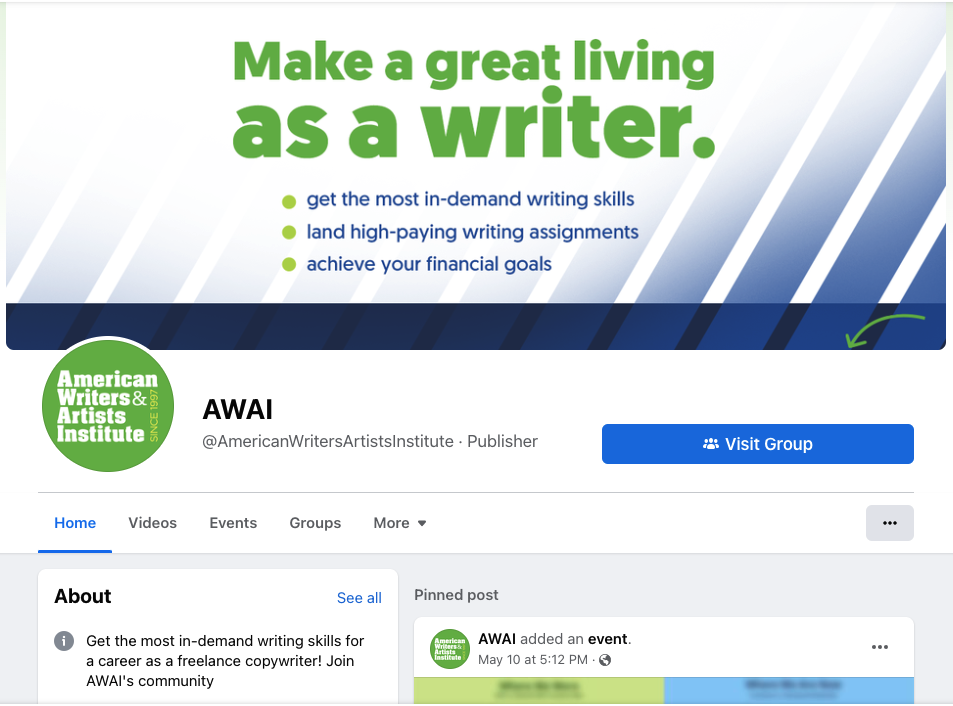 Most businesses use more than one social media channel to reach their customers.
Facebook is consumer and video-focused.
Twitter is used for short, catchy, and sharable content, making it great for digital marketing firms and PR professionals.
Instagram is focused on brand awareness and audience engagement.
YouTube, the second largest search engine, is video-focused.
LinkedIn is used by job seekers and brands for networking, sharing trends, and finding employees and contractors.
As an experienced social media copywriter, you can specialize in one or two platforms or focus on deliverables across several platforms. The choice is yours!
The earning potential is fantastic. Copywriters can earn $1,200 to $1,500 per client per month, with more experienced ones earning as much as $5,000. If your content gets results for your clients, you'll likely get repeat business and earn even more.
Social media marketing shows no signs of slowing and is a great place to grow your copywriting business.
Check out how to become a social media copywriter expert to find out more.
6. Ad Copywriting
Ad copywriters want readers to take a specific action, such as: subscribing to a list, downloading a white paper, or purchasing a product. The copy is succinct, informative, and in demand.
Ads are typically shorter form content but can garner big results for you and your clients. If you understand a brand voice and the specific problem being addressed, being an ad copywriter might be the perfect fit for you.
If you can answer these questions, you can write effective ad copy:
Who is the target audience?
What is the problem being addressed?
How does the service or product solve the problem?
What action should be taken?
Mastering this style of copywriting can grow your client list and of course, your earnings.
7. Creative Copywriting
A creative copywriter contributes fun, clever, witty, engaging catchphrases that help build a brand, sell a product or service, or add to the customer experience.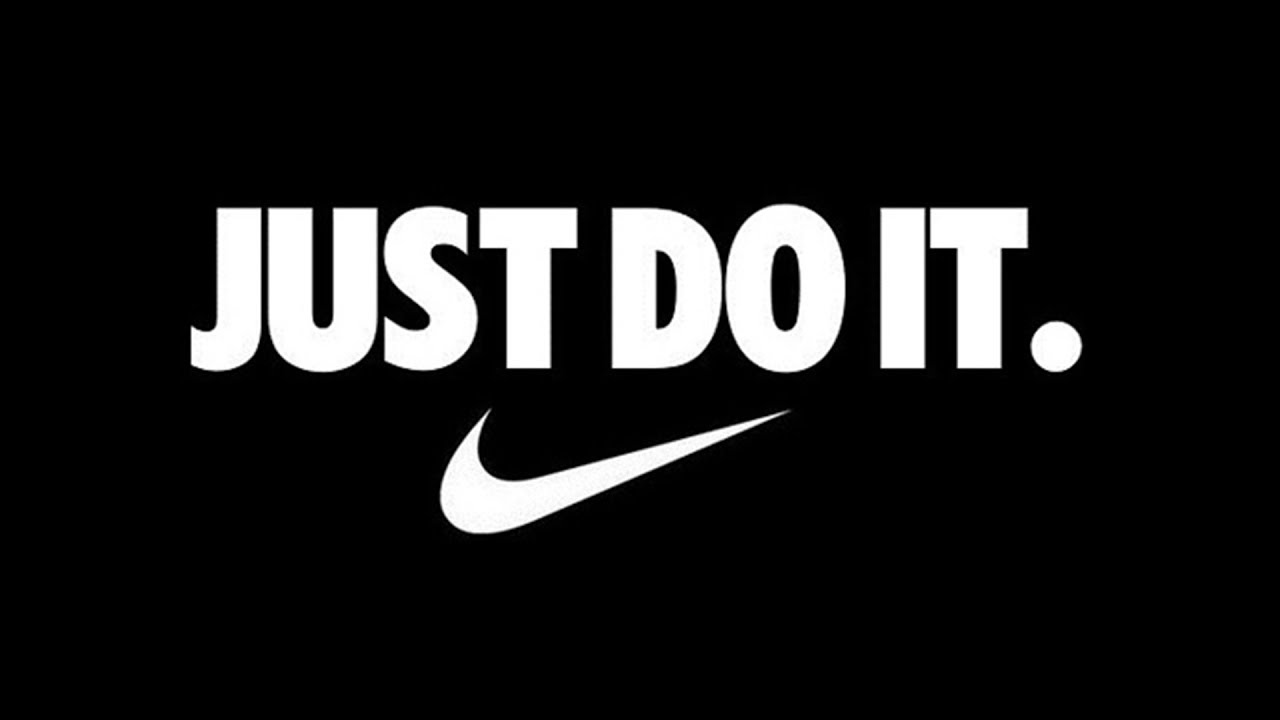 A perfect example of creative copywriting.
From t-shirts to bumper stickers to giant billboards in city centers, this catchphrase is known globally. Even though it's only three words, everyone knows what brand it represents and what products are associated with it.
Creative copywriters help increase brand awareness, but they can also craft the perfect newsletter or product packaging.
Finding unique ways to describe a product or brand through words is the top skill of a creative copywriter. This means you'll spend a lot of time brainstorming to come up with the perfect combination of words to get an audience's attention.
Coming up with new and creative ideas is a big part of your job. The better you understand your client's product or service and the intended audience, the better the odds you'll craft copy that's just right.
8. Digital Copywriting
Digital copywriters create content for web pages. A writer may be asked to write for a new website, revise existing pages, or write additional pages. Often this copy is paired with an SEO strategy so understanding the use of keywords is important to clients.
In addition to website pages, digital copywriters may be asked to write:
Short-form copywriting of less than 500 words
Video and chatbot scripts for the user experience
Web3.0 which is related to crypto and blockchain
Blogging for brands to raise awareness and educate
Social media posts to share information
Ads to run on social media channels
While each of these styles is a bit different, as a website copywriter, search engines and user experience will always be top of mind. How search engines index websites, and how users find and interact or use the content are the focus of digital copywriting.
9. Marketing Copywriting
As a marketing copywriter, the goal of your writing is to connect with the target audience and lead them down the marketing funnel.
From awareness to consideration to conversion to loyalty and finally, advocacy for the client's brand.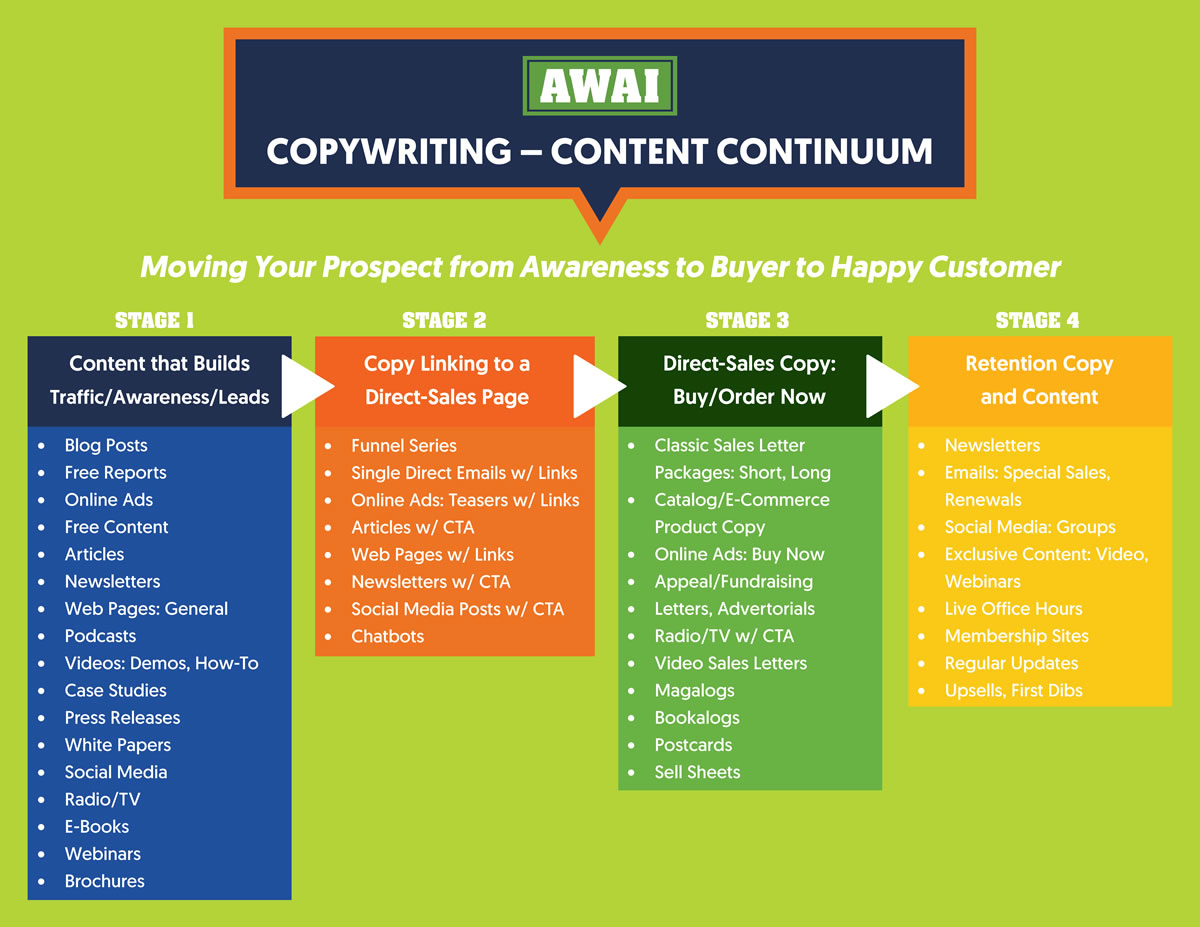 Awareness - Customers aren't ready to buy but they know where to find the products or services
Consideration - Customers are learning more about the business but are not quite ready to buy
Conversion - Customers make a purchase.
Loyalty - Customers continue to purchase from the client and not the competition.
Advocacy - Customers tell others about the brand, products, and services.
You'll learn about your client's ideal customer and how the product or service solves a problem for them. What makes a prospect want to buy Product A over Product B? What is the market differentiator? Then create content throughout the funnel around what makes the product unique.
10. SEO Copywriting
SEO copywriters create content designed to attract organic search traffic, using keywords and metrics to select topics and optimize content for search engines.
In some cases, clients will provide the keyword research to you and in others, you will have to perform it on your own.
You want to ensure you're using the right words and phrases associated with the content your client is aiming to rank for.
Whatever the industry, it's important to not only understand how the client wants to be searched but how people are actually searching.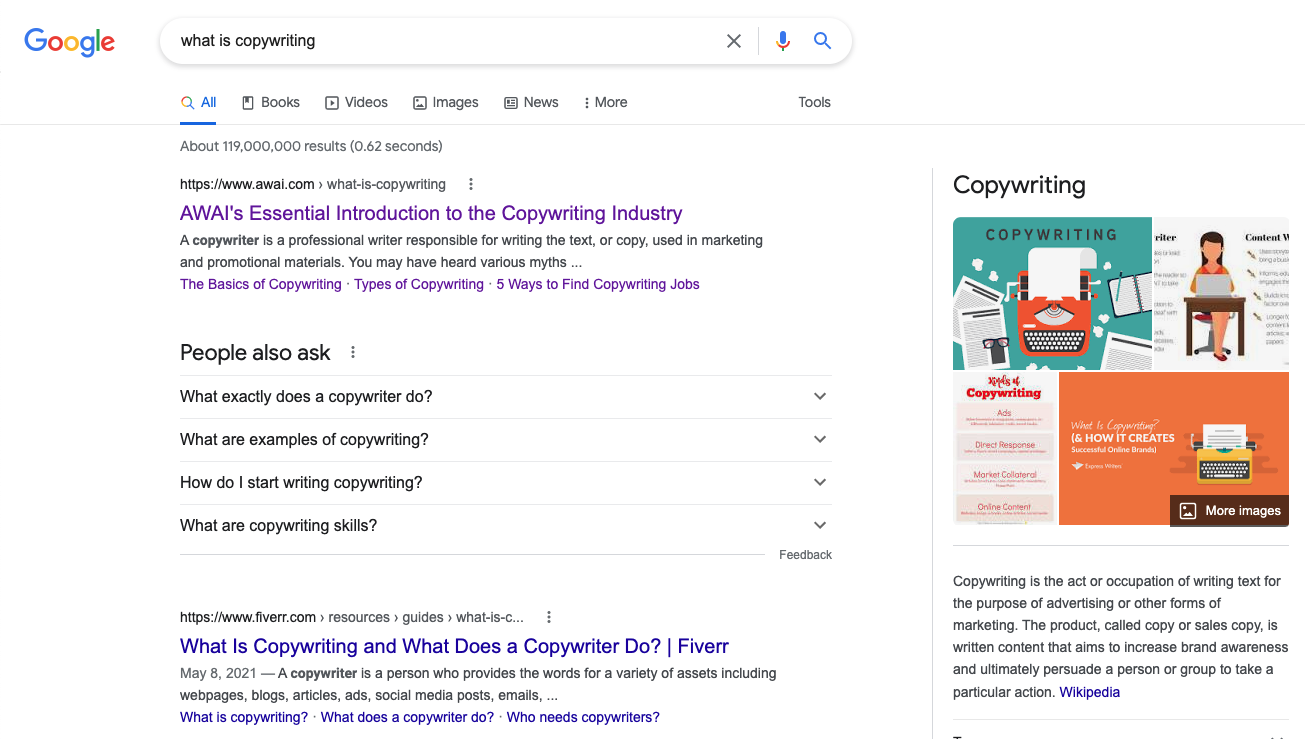 For example, the term content writer may not be as widely known as the term freelance writer. As an SEO copywriter looking for clients, you may create content optimized for both of those terms… but which one will bring more potential clients to your website?
With the increase in people using online services, the need for SEO copywriters has surged over the years and shows no signs of slowing.
This is because the blending of copywriting with SEO knowledge makes the content you craft ideal for businesses that want to attract "ready-to-buy" customers.
If you can write persuasive copy that blends SEO with copywriting to get the right message in front of the right person at the right time, you can have a very lucrative career as an SEO copywriter.
11. Technical Writing
Technical writers create process and procedure manuals as well as white papers, ebooks, and website content.
You're writing technical content for those who may be in the same field but require content in an easier-to-read style. That's where you work with your client to find the voice they want to use to sound authoritative but not too technical for their audience.
The ability to weed out jargon or technical terms that cause readers to stumble is essential to being a successful copywriter.
And technical writing is always in demand.
Indeed has more than 5,700 technical writer jobs available in the U.S. alone. Because you're working in the tech sector, there are a lot of opportunities to earn a substantial living.
Top Copywriting Industries
We're going to talk more about writing for niche industries in how to become a copywriter.
But for now, we want to give you an overview of some of the top industries that tend to use a lot of copy, and have helped many new copywriters launch their careers.
You'll get an idea of the types of copywriting these industries use, and which ones you might be interested in writing for.
All of these broad industries include both B2C and B2B companies. They also use a full range of direct-response copywriting and content marketing.
1. Financial
In the financial industry, print and online newsletters about financial and wealth-building topics are a hot commodity. So are financial-planning services, investment courses, and other finance-related products.
And the companies who promote these products have a nearly bottomless demand for copywriters to write their marketing materials.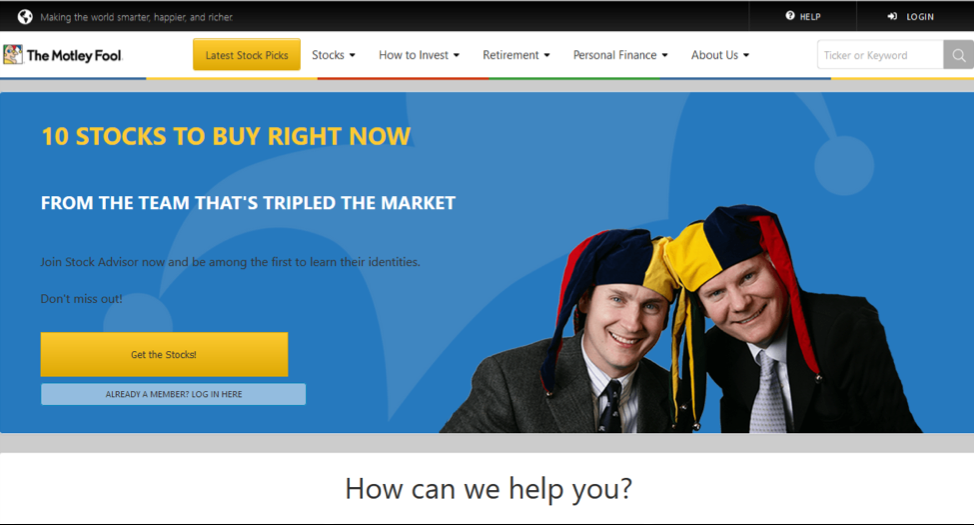 In addition, the financial industry has created more millionaire copywriters than any other industry. This is because many companies in the financial industry earn so much themselves, they can afford to pay their copywriters handsomely.
If you're interested in exploring this industry further, check out our tips on breaking into financial copywriting, or consider taking our course Secrets of Writing Blockbuster Financial Market Controls.
2. Health
Health-related companies also typically use a lot of copy. You've probably seen numerous sales promotions for everything from vitamins to exercise machines, both online and offline.
You've also likely seen a great deal of informational content about a huge range of health-related topics, such as weight loss, nutrition, or specific health conditions.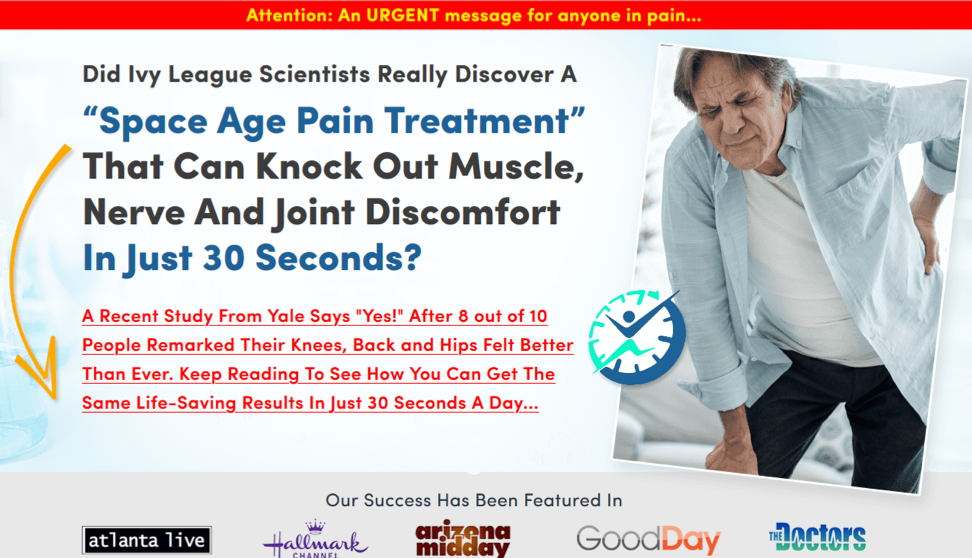 Writing for the health industry often involves a significant amount of research to understand the science behind the products and services being offered.
You need to have a fairly thorough understanding of a health product or issue before you can write about it effectively. You'll also need to know how to use the most appropriate language to express sometimes complicated medical or health concepts.
But, if you're naturally interested in health, or have previous work experience in the field, this can be a very rewarding industry to write for.
Our Secrets of Writing for the Health Market program provides much more detail on what it takes to succeed in this industry.
3. Fundraising
In the United States alone, there are a staggering 1.8 million charities that raise funds for a host of different causes. And all these charities use persuasive copy to help them raise the funds they need to make a difference in the world.
Many nonprofit organizations use direct mail to reach potential donors, but online fundraising is becoming much more common. This includes fundraising emails, as well as webpages, social media presence, and online ads.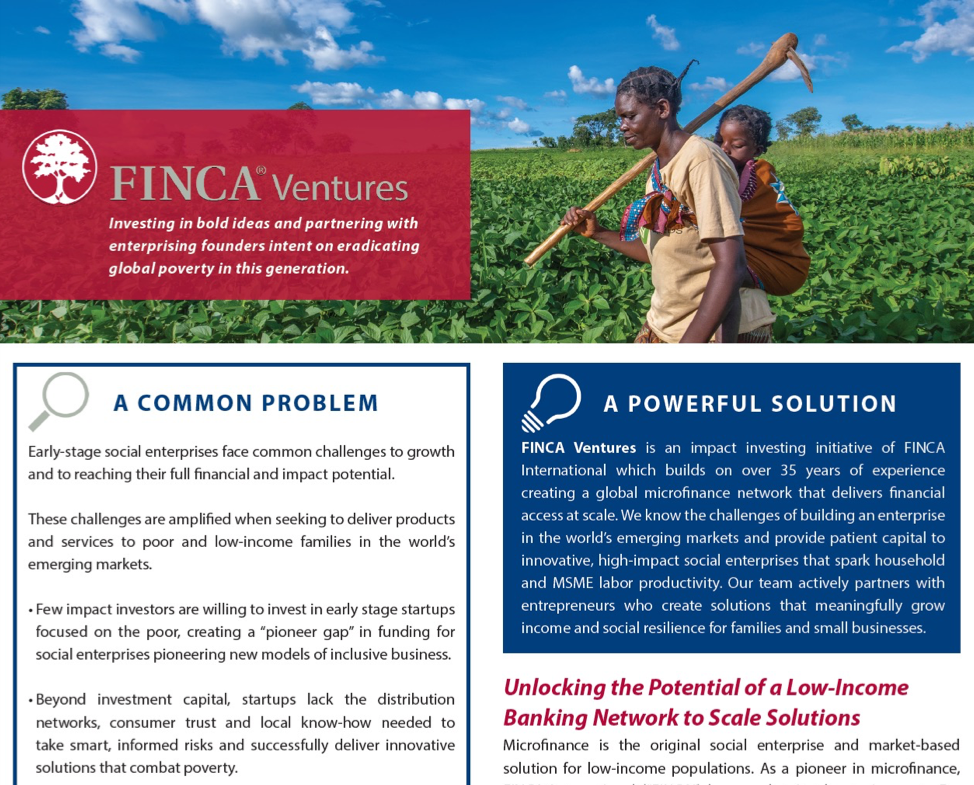 To find out more about this opportunity, check out our course Copywriting for Nonprofits: How to write inspiring copy for the fundraising market.
4. Self-Improvement
MarketData Enterprises defines the self-improvement market as "one focused on products and services that seek to improve a person mentally, spiritually, physically, or financially."
Self-improvement companies may focus on weight loss, leadership, sales skills, memory improvement, speed reading, dating and relationships, meditation, law of attraction, and a huge range of other topics and categories.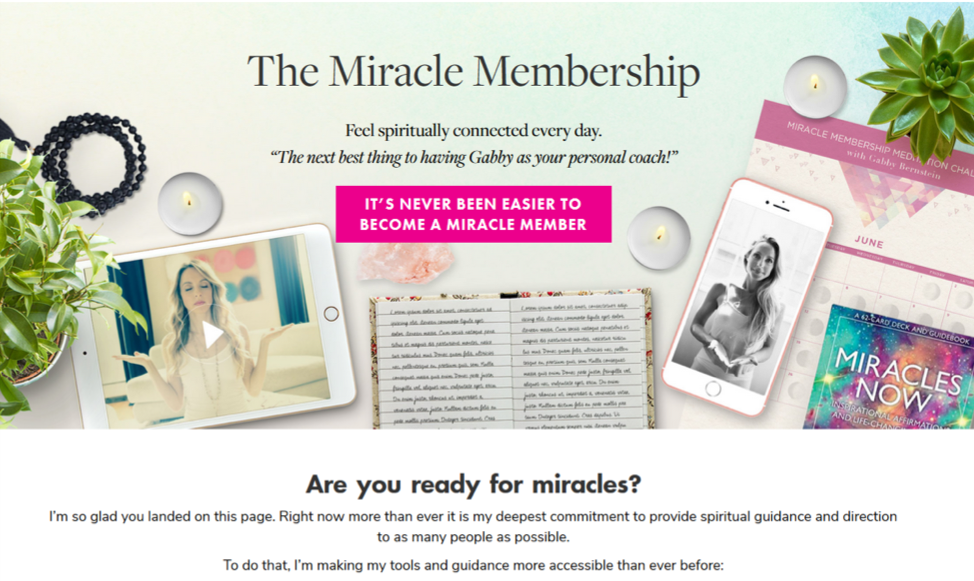 This is an excellent area to work in as a copywriter if you have a personal interest in a self-improvement topic and already use related products. Many self-improvement companies need copywriters who can really understand their audience and the benefits of the products or services they're offering in order to write effective sales copy or web content.
We offer an online course that covers everything you'll need to know about writing for this industry called Secrets of Writing for the Self-Improvement Market: Creating a Path to Personal Success.
Clientless Copywriting: For the Copywriters Who Run Their Own Online Businesses
We've covered the different types of copywriting used by all kinds of businesses. But there's another type of copywriting we can't overlook.
It's what we call clientless copywriting — for the type of copywriters that make money without taking on clients.
As a copywriter, you don't have to work for clients to have a good income. Another option is to start your own clientless copywriting business by creating what are known as information products and promoting these yourself.
This can be done as your only copywriting work, or in addition to regular client work.
What exactly are information products?
The defining aspect of an information product or service is the fact it contains nothing but information.
Some examples of information products include:
Membership websites
E-books
Printed books
Money-making websites
Audio programs (digital or CDs)
Online or offline courses
Newsletters
Coaching services
Seminars and live events
Webinars
Creating and selling information products like these is known as information publishing or information marketing.
And it's a rapidly growing industry — most likely because of how easy it is to start an information publishing business, particularly online.
All you need to get started is an information product and the marketing skills to promote it. Many information products require very little overhead, which means a large portion of the money you make is profit.
In fact, master copywriter Bob Bly recommends that information publishing should be every copywriter's second business. It's perfectly suited to a copywriter's skill set.
If you're interested in starting an information publishing business, our How to Write Your Own Money-Making Websites and Information Marketing for Freelance Copywriters courses both provide step-by-step instructions on how to build and market your own information products.
As an alternative, you can also work for established information marketers. Many solopreneurs and larger companies publish information products, both in the B2C and B2B industries.
If you'd like to explore writing for information marketers, you can look into Dan Kennedy's Writing for Info-Marketers Training and Certification Program.
Summary
At a high level, the different types of copywriting can be grouped into two categories: direct-response copywriting and content marketing.
Both of these areas offer a huge variety of projects, with ample opportunities for those who enjoy writing direct-response sales copy, as well as for those who prefer writing informational content.
B2C and B2B companies use their own unique blends of direct-response copywriting and content marketing. And knowing the differences between these industries can help you decide which one may suit you better as a copywriter.
A final type of copywriting is what we call clientless copywriting, where you create and promote your own information products.
As a copywriter, you can pick and choose the types of copywriting you want to write. Your biggest problem will be narrowing down the options!
If you haven't already, make sure you download our free report, 75 In-Demand Copywriting Projects to Fire Up Your Six-Figure Success.

The AWAI Method™ for Becoming a Skilled, In-Demand Copywriter
The AWAI Method™ combines the most up-to-date strategies, insights, and teaching methods with the tried-and-true copywriting fundamentals so you can take on ANY project — not just sales letters. Learn More »