How to Start a Copywriting Business that Attracts High-Paying Clients in 10 Easy Steps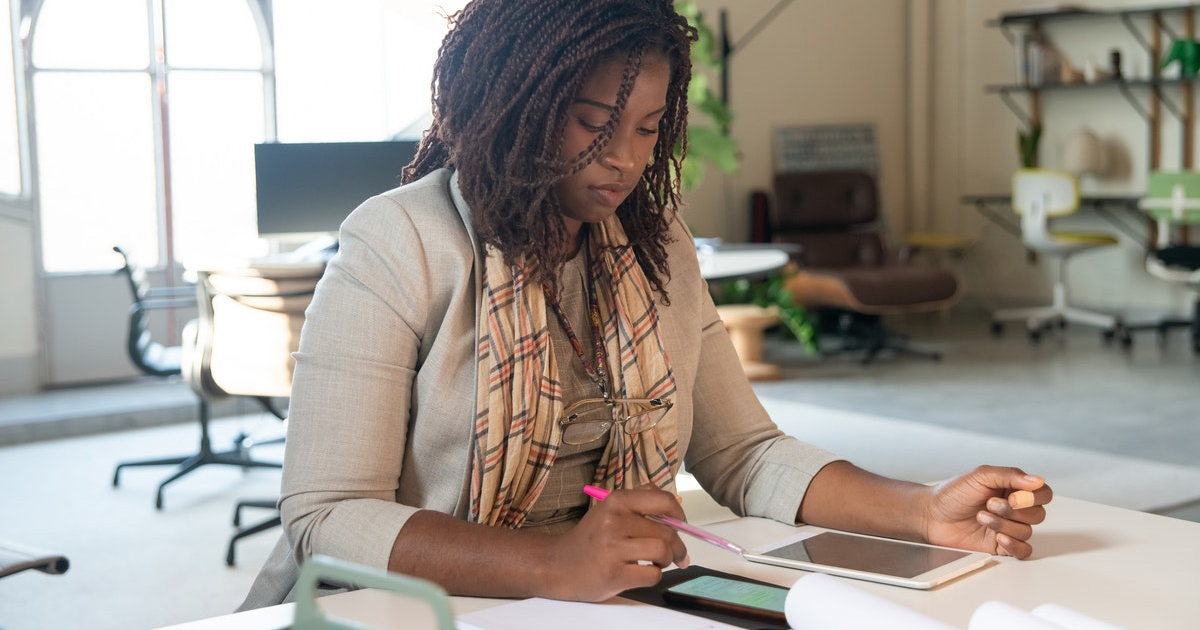 Great news! There's never been a better time to start a copywriting business than right now. Although freelance writers were already in huge demand a few years ago, the pandemic significantly increased the need for quality copy and content as marketing dollars shifted to digital marketing channels.
In fact, it's opened a floodgate of writing opportunities …
That's because businesses across every industry, from financial and health care to technology and entertainment, require the kind of compelling copy that attracts prospects, builds relationships, and ultimately influences them to become buyers. And companies are willing to pay top dollar for skilled copywriters who know how to create persuasive landing pages, emails, blog posts, articles, sales letters, and much more.
Once you learn the fundamentals of copywriting combined with writing techniques and know-how to craft engaging and compelling copy and content, you can set up your freelance copywriting business and start landing copywriting jobs in virtually no time at all.
AWAI, with over 25 years of helping people transform their lives through copywriting, knows exactly what it takes to be successful as a freelance writer.
You can use this 10-step guide on how to start a copywriting business, and be up and running on your journey to living the writer's life with confidence, faster than you even think possible.
Start-Up Step 1: Create a Roadmap for Your Copywriting Business
Imagine you want to take a road trip. Would you hop into your car and just start driving, hoping you arrive at your desired destination? Probably not. Instead, you'd likely plan ahead and use a GPS to guide you.
Your journey to becoming a well-paid copywriter is no different. You need a roadmap — a well-structured plan to achieve your writing goals.
One of the benefits of starting a copywriting business is the ability to work in any industry on a wide array of writing projects.
However, if you don't have a plan of action, it can become all too easy to suffer from decision fatigue and "shiny object syndrome."
For example, say you want to specialize in direct-sales copy for finance companies. You start by researching the industry, finding the companies you'd like to write for, and the types of projects available. This could be as simple as writing much-needed blog posts, a landing page, or a few emails.
The good news here is that there's an endless variety of writing projects to pick from.
Narrowing down the industry you'd like to write for, and the projects you'd like to do, keeps you focused on building your freelance copywriting career.
If you want to succeed in your copywriting business, you need to build momentum — to know when to make the right decisions at the right time confidently.
And that's why you need a roadmap.
Get a proven five-step framework to build your dream writer's roadmap here to ensure your success.
Start-Up Step 2: Get in the Right Mindset to Run a Business
"Success in life is 80% psychology. Only 20% is mechanics — what you do doesn't matter if you aren't in the right mindset."
When it comes to starting a copywriting business, mindset matters.
There may be days when you're frustrated — when, even if you have a passion for copy, you'll question if a copywriting business is right for you.
This is totally normal, and that's why it's essential to nurture a growth mindset on your journey to achieving the writer's life. Your attitude is what will keep you digging until you reach diamonds.
Are you asking yourself, What is a growth mindset?
Well, it's a great thing to work on and have when starting a business …
You speak to yourself like a best friend, with statements like these:
"I'm confident and capable."
"Success is inevitable if I put in the hard work."
"I can do this."
"I can learn the skills I need along the way."
You'll identify negative thought patterns that aren't helpful and look for opportunities to grow every day as you cultivate the belief that you, too, can work through any challenge and build the life you want.
For more insights and tips to develop and maintain the best mindset for starting your copywriting business, watch this video.
Start-Up Step 3: Choose a Copywriting Niche that Resonates with You
A copywriting niche is a specific industry, market, or field that you specialize in writing for.
Many beginning copywriters have a hard time choosing what to write about.
After all, it's easy to think, Won't I lose clients and money if I limit my scope of work?
Not exactly …
Choosing a niche is a proven way to become a more efficient and effective copywriter. You'll become an expert in your industry — and your clients will pay more for your expertise.
When considering where you should focus your energies, think of profitable industries, your passions, and topics you're already knowledgeable about.
There's a market for just about any writing niche you can imagine, so take the time to explore all the possibilities before deciding on yours.
Selecting your niche can be challenging, but it's one of the biggest hurdles we help copywriters overcome. We use a simple approach to help you choose a profitable copywriting niche and then explain how you can use it to promote yourself and appeal to ideal freelance writing clients.
Just remember, it pays to specialize when you're starting a copywriting business.
Start-Up Step 4: Build Your Copywriting Brand
What comes to mind when you think about branding?
Logos
Color Palettes
Typography
All of this works together to create a company's brand … the thing it wants to be known for. Something that speaks to potential customers and arouses their curiosity.
When starting a copywriting business, I want you to remember that you are your brand.
Even if you're brand new to copywriting, you have a wealth of experience to draw on, unique perspectives, and differentiators that will make you the perfect fit for certain clients. It's your job to home in on those factors and put them front and center as you create your copywriting brand.
How you position yourself as a copywriting professional is an essential element of your branding. Aside from your skills, values, and passions, consider these questions:
What do you want to stand for?
What would you like to be known for?
What kind of impact do you want to have on the world?
Don't worry about nailing your branding from the get-go. As your copywriting business scales, continue to focus on what sets you apart from others — and you'll stand out and attract the high-value clients you want.
Start-Up Step 5: Create Your Copywriter Portfolio
In some instances, potential new clients will want to see examples of your writing.
But don't let that scare you away from launching your copywriting business. Because you don't need dozens of samples from big-name companies to fill your copywriting portfolio. All clients want and need to see are writing examples that really showcase your knowledge of effective copywriting principles.
Okay — but how do you create a portfolio of writing samples without any clients, and how do you find clients without a portfolio?
This is a common concern when people start thinking about how to start freelance copywriting.
One strategy is to showcase practice pieces you wrote during a copywriting course. The AWAI Method™ — the gold standard in copywriting training — features professional feedback from working copywriters on every assignment. You'll learn the accumulated best practices of writers with more than two decades in the copywriting industry.
In just a few weeks, you'll have the confidence and skills you need to attract high-paying copywriting clients — and a portfolio of polished samples.
Another way to build your portfolio is to rewrite existing web copy. When you find a website, make sure to ask the owner for permission to reproduce the content. Then, create a "Before and After" page, and you now have another sample you can add to your portfolio.
Don't forget to consider related writing samples that showcase similar skills.
Finally, I want you to remember that any writing you do can double as a sample, including your personal website copy, blog posts, or other content you create to market your business.
This brings us to the next step of how to start a copywriting business …
Start-Up Step 6: Market Your Business to the Right Audience
After you're all set up, it's time to let everyone know you're ready to accept clients and start writing fantastic copy for them.
This is where you'll need to learn how to market your copywriting business so you can land your first clients and build up from there.
Marketing your copywriting business doesn't have to be daunting or confusing (even if you're an introvert!). Start with our no-stress method for getting clients and uncover 26 proven ways to attract your dream clients today.
Now, you don't need to do everything on this list all at once. Choose one or two ways that work for you when it comes to marketing your business, then grow from there. You'll avoid getting overwhelmed while still making significant progress.
Here are a few additional marketing ideas to get your copywriting business started:
Optimize your LinkedIn profile.
Publish content on social media.
Write blog posts and articles relevant to your niche.
Ask for referrals.
Build your email list — and regularly communicate with subscribers.
Send cold emails to potential clients in your niche.
Start-Up Step 7: Learn the Logistics of Running a Business
Contracts, invoices, accounting, skill-building …
All behind-the-scenes things that are necessary to run a successful freelance business.
You didn't start copywriting to specialize in numbers and legalese. However, don't underestimate the necessity of mastering the "business" end of your business.
But even that side of your business can be done with ease and confidence. It's why we've created The Writer's Starter Kit — the most comprehensive resource for starting a successful copywriting business that you can go through in one weekend!
Get the exact tools, checklists, and forms you need to become a professional copywriter from the get-go. Here's just a small sample of what you can expect inside:
The nuts and bolts of any six-figure writing business — and how to easily keep track of all your writing income
How to maximize your productivity and output as a writer (Whatever you think you can do now … double it!)
Take control of your projects by understanding common freelance writing terms, arrangements, and agreements
And more!
Pretty handy, right?
As you continue to learn how to start a copywriting business and refine your niche, you'll become more efficient — which means you'll earn more without working harder.
When in doubt, browse our library of essential copywriting templates for inspiration. You'll find the exact framework you need for all your administrative and marketing tasks.
Start-Up Step 8: Create a Pricing Guide
When you're a beginning copywriter, you might be grateful for any experience that helps you build your portfolio. But as you develop your expertise, a pricing guide for your professional copywriting services will ensure your business is profitable.
Clients will give you a timeline they'd like a project to be completed on, but what they care about most is the quality of the finished piece.
The key is to understand your target market, know your value, then charge what you're worth. Don't forget to consider the time you spend on administrative duties, too!
"Talking numbers" might not come naturally if you're new to freelancing. Or, you might doubt that anyone will actually pay what you want to charge.
But if you know your niche and have practiced your skills so they're outstanding, people will pay!
Start by downloading our FREE AWAI Pricing Guide. It's a comprehensive resource on setting rates, including up-to-date copywriter fees for the top 80 marketing projects.
You'll get a realistic idea of going rates for various copywriting projects so that you can provide quotes to clients with confidence.
Start-Up Step 9: Join a Community of Copywriters for Guidance and Support
A professional copywriting community is the support system you need as you establish your new business.
Sure, you could embark on your copywriting journey alone, but why struggle when countless other copywriters have blazed the trail before you — writers who can help you efficiently achieve your dream writer's life?
Building a copywriting business is rewarding, but it's not always easy. When you need expert guidance or just a friendly boost, your professional community will be there to support you and offer advice.
So, how do you connect with other copywriters? Here are a few ideas to get you started:
Go to copywriting seminars and events (virtual or in-person).
Join a copywriting mastermind group.
Participate in copywriting Facebook groups and online forums.
Invest in a copywriting training program that includes exclusive community access.
Start-Up Step 10: Never Stop Learning: Invest in Ongoing Copywriting Education
Keeping up with copywriting trends is your secret weapon to a long, lucrative career.
The most successful copywriters commit to continuously learning and advancing their skill set. They realize that although the fundamentals of excellent copy remain the same, industries and technologies are constantly changing.
Advancing your copywriting knowledge gives you an edge as you learn how to start a copywriting business. Whether it's becoming more familiar with your industry or discovering a new copywriting skill, there's no shortage of information. Even just three minutes a day adds up.
The best books for copywriters, blogs, and newsletters are excellent resources. You'll also find a gold mine of helpful information from reputable online copywriting courses and mentors.
What matters is that you use what's available to you. Make a plan for how you'll invest in ongoing education.
So, are you ready to command premium rates from dream clients while working from anywhere you like?
Then check out The AWAI Method™ and our full catalog of training programs. You can find all the resources you need to start a profitable copywriting business.
Remember, there's no better time than now to live your dream writer's life.

The AWAI Method™ for Becoming a Skilled, In-Demand Copywriter
The AWAI Method™ combines the most up-to-date strategies, insights, and teaching methods with the tried-and-true copywriting fundamentals so you can take on ANY project — not just sales letters. Learn More »

Published: April 8, 2022