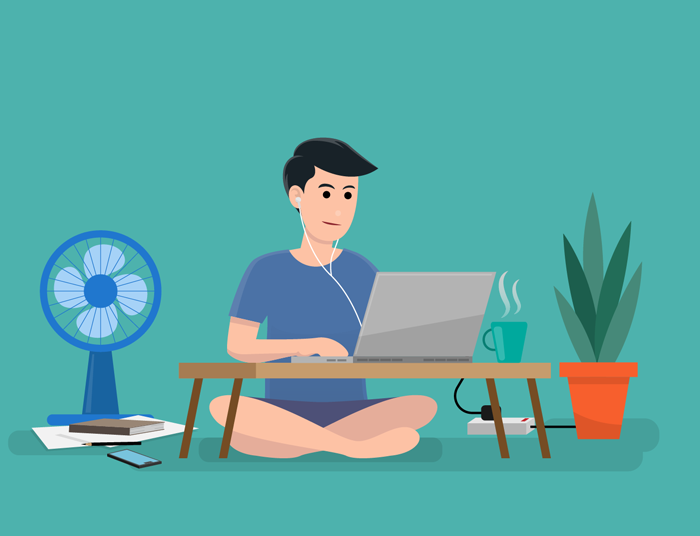 5 Ways to Find Copywriting Jobs
In this guide, we've established that you can make a good income in copywriting, and we've detailed the essential steps to set yourself up as a professional copywriter.
But, to quote digital-marketing expert Russ Henneberry, you are not in business until you have a customer.
No matter how well-informed you are, or how many preparations you make before you launch your copywriting business, you can't call yourself a copywriter until you actually have a client or employer.
This section will walk you through the best ways to make this final leap and find high-quality copywriting jobs and clients.
1. Job Boards
If you're new to copywriting, online job boards can be an easy place to start looking for work.
The downside to job boards is the fact you may find a fair number of content mills and other low-paying businesses advertising for copywriters.
But these aren't the only businesses advertising on copywriting job boards. Many AWAI members have found high-paying clients through job boards.
And even members who have taken lower-paying work when they were first starting out gained valuable experience through these jobs. Some of them also led to additional referrals, built writing samples and client testimonials, and turned into long-term work.
The secret to finding quality jobs through job boards is to start by doing all the background steps we've discussed in this guide.
Learn the basic skills of copywriting, determine the niche you're going to serve, and write your marketing USP. Then put all of these elements to work when you apply for online job postings.
To start with, only search for job postings that relate to your niche. Don't do a "general" search for copywriting positions. A focused search will save you a lot of time, so you can quickly find postings that are best suited for your skill set.
Next, choose the postings you apply to carefully. Research the companies advertising and see if it's the type of copywriting you want to do, as well as if you could realistically do it.
Don't be afraid to apply to jobs that seem a bit beyond your skills — it's always good to push yourself out of your comfort zone. But don't get into something you know you simply won't be able to complete.
Lastly, use your USP when you apply to a job posting. Depending on the job posting, you may need to apply with an email, a formal cover letter, resume, or portfolio of your work samples.
You should incorporate your USP into any of these materials and clearly express the benefits you can offer a potential client or employer.
To kick off your job search, check out our page on the top sources for freelance and staff writing jobs and take a look at the following job boards.
WritersWanted.com is one of the fastest and easiest ways to connect with direct-response marketers needing to hire AWAI-trained copywriters. You can freelance and full-time writing jobs in a variety of niches.
SimplyHired.com and Indeed.com
These job boards have thousands of copywriting jobs listed. You can search for copywriting jobs by using the search box and typing in "copywriter," "editor," "social media," "web content," "SEO," etc.
FlexJobs.com
A site for those working part-time, telecommuting, freelance, and more.
Upwork.com
This site allows people to bid on jobs. After you set up your profile, you can search for jobs and then bid on any that interest you.
Write for AWAI
AWAI has ongoing freelance marketing copywriter and content writer jobs. We're always looking for new writers.
2. LinkedIn
Another great place to search for jobs online is LinkedIn.
If you're not familiar with LinkedIn, it's a business-oriented social media website.
It's mainly used for professional networking, and both employers and job seekers can create personal profiles on the site.
LinkedIn has job postings you can search, but you can also directly invite other professionals to connect with you.
We recommend using the following steps to find and connect with potential employers through LinkedIn.
a) Set Up Your Profile
Your LinkedIn profile is like your resume online.
The key items you'll need on your profile include:
A clear photo
Your headline or title
A background image
Your contact information
A summary of what you do
Your work experience
This is an example of copywriting coach Jay White's LinkedIn profile header: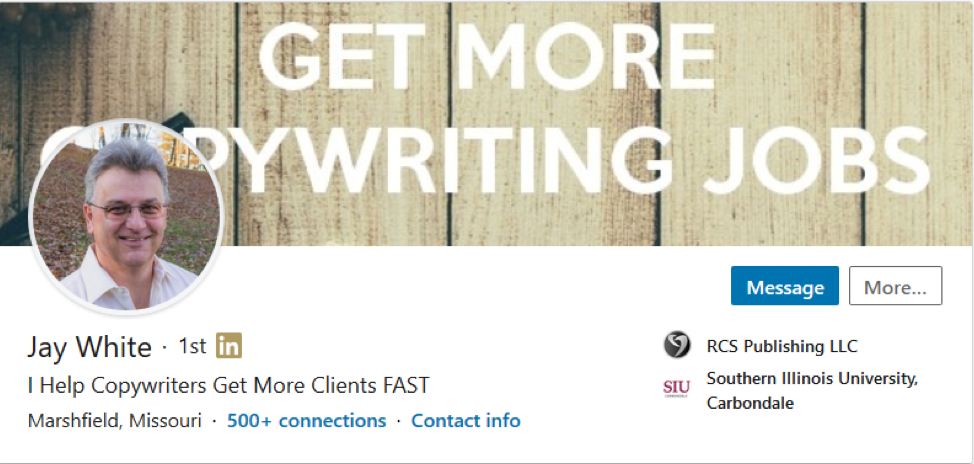 You can see that Jay has a good headshot photo, and his headline and background image make it clear what he does. He's also provided a link to his full contact information.
Below this header, Jay has provided a brief, compelling summary of what he does and his work experience.
This doesn't have to take a long time, but all these elements will help create an attention-grabbing profile on LinkedIn.
b) Search for Potential Clients in Your Niche
You can search for other professionals on LinkedIn by their industry, company, job title, or name.
Try searching for all of these items and see who comes up. For example, if your niche is food service companies, you could look for marketing managers within the food service industry, or other professionals you think may need a copywriter in your field.
Take note of the people you find in preparation for the next step.
c) Contact Potential Clients
Once you've found a person you'd like to connect with, send them an invitation to connect via LinkedIn.
There's usually a button near their profile picture that says "Connect."
Click on that, and a window will pop up where you can write a personal note to that person. Always remember to write a note! But don't send a long sales pitch, simply say a few friendly words to introduce yourself and why you'd like to connect.
Remember that LinkedIn is a social media platform, so it's all about building social relationships with other professionals, the same as you would in person.
You may not find any job opportunities right away, but keeping in touch with your LinkedIn network over time can pay off in the long run.
For more details on making LinkedIn work for you, check out our Inside AWAI webinar Get Great Clients via LinkedIn.
Expert training, resources and support for aspiring and professional writers.
Your 9-Step Blueprint to Becoming a Well-Paid Copywriter
Sign up below and get instant access to your FREE 9-step blueprint for making good money as a writer
3. Networking
As we've mentioned previously, cultivating relationships with other copywriters and professionals in your niche comes with many personal and professional benefits.
One of these benefits is the potential to find jobs.
In fact, most of our members would say that networking has been their most effective way of finding quality copywriting work.
If you're not naturally a social person, rest assured that you don't have to attend networking events and talk to lots of strangers to have an effective network.
Simply knowing a small circle of other copywriters and professionals can lead to great things.
Try the following steps to start building your network as a copywriter.
a) Get Involved
Where do you find people to connect with?
Depending on how outgoing you are, these are some places you can start meeting people:
Local groups on com related to copywriting or your chosen niche
Meetings at your local Chamber of Commerce
Events and conferences on copywriting or your niche
Social groups in your area, like sports teams or volunteer groups
Classes on copywriting or topics related to your niche
Professional associations
Online forums and social media
If you join an online or in-person group, make sure it's one you're really interested in and will enjoy being part of.
If you're just there to promote yourself, it will show and it won't be a good experience for anyone.
b) Let People Know What You Do
This is another opportunity to use the USP statement you created in how to become a copywriter about what you do and who you serve.
If you're networking with people who aren't familiar with copywriting, you may also want to prepare a few words to explain what copywriting is.
But if you're speaking to other copywriters, they'll understand your USP right away and will be happy to talk about theirs as well.
Letting others know what you do is good for general conversation, but it's also helpful to cultivate referrals. If someone knows exactly what you do, they'll be better able to refer related work to you in the future.
c) Cultivate Your Connections
As you make connections and build your network, make sure you keep in touch.
Schedule time each week to send a brief note to one or more of your connections just to touch base and see how they're doing.
If you hear of any opportunities you think someone in your network would be interested in, pass them on.
You can also share interesting news or blog posts you come across with your network.
These small steps will go a long way toward building life-long relationships with those in your network.
For more suggestions, check out Hayley Michaels's article on networking tips that work.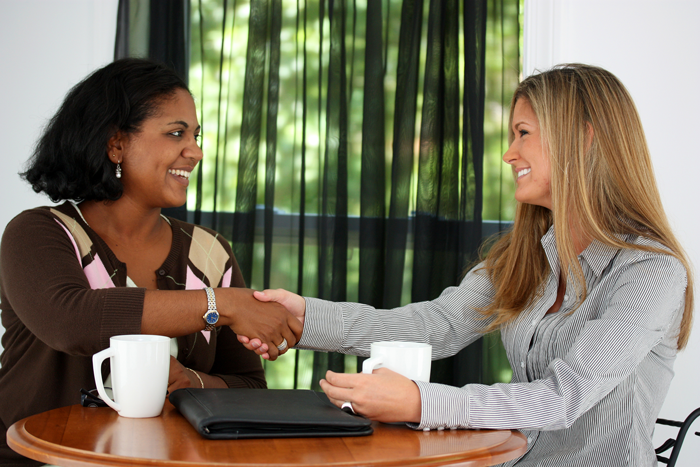 4. Warm Email Prospecting
Warm email prospecting is an excellent way to approach potential clients you've never met before.
According to B2B copywriter and business-building coach Ed Gandia:
"Warm email prospecting involves sending out very customized, personalized, and properly timed emails to a carefully handpicked list of prospects."
It's a fairly straight-forward process, and one of the reasons it works so well is because it's so simple.
The first step of warm email prospecting is doing some research to find out who you might want to approach.
For example, if you write for the software industry, you might want to research marketing directors or senior copywriters at software development companies.
You can do this by searching LinkedIn. Or you can simply do an online search for companies in your niche. Then see if the companies' sites list who you can contact for marketing or employment inquiries.
If you're going to target advertising agencies, you can also research these online and find their contact information.
Joshua Boswell gives you more tips in his free video on how to find quality clients to target as a copywriter.
Once you've found the email address for a prospect, you'll need to craft the warm email you're going to send them.
Ed Gandia shares two warm email samples you can use here.
When you're happy with your email, the final step is to send it! This can be the hardest part, but always keep track of who you've emailed. If you don't hear back from them in a few weeks, you can send them a quick follow-up email.
If you get in the habit of sending a few warm emails to prospective clients every week, it's simply a matter of time before you find clients who need a copywriter with your skill set.
5. Inbound Marketing
All the methods for finding copywriting jobs we've discussed so far fall under what's known as "outbound marketing," which is when you actively reach out to prospective clients or employers through job postings, networking, email prospecting, or other means.
But, there's another way of looking for copywriting clients known as "inbound marketing."
Inbound marketing is a way of getting potential customers to come directly to you, without approaching them first.
Inbound marketing methods include strategies like:
Developing your copywriter's website
Posting articles or blog posts to your site regularly
SEO-optimizing your website
Writing guest posts on other websites relevant to your niche
Speaking at conferences or other events in your niche
Writing an e-book or print book related to your niche
Posting on social media, both on your own feed and in relevant groups
All of these methods never involve asking someone for work.
You're simply presenting yourself to your niche and hoping potential clients will notice you.
When it's done well, inbound marketing can be very powerful.
It can establish you as an expert in your field. Especially if you regularly publish high-quality information or commentary on topics important to your niche market, potential customers will start taking notice and contacting you to write more of the same for them.
When this starts to happen, it puts you in a better position for negotiating fees. Once you've reached expert status, you can start naming your price, rather than charging less simply to get your foot in the door.
Inbound marketing is an excellent long-term strategy because it's the best way to establish yourself as an expert.
But the reality of inbound marketing is that it will take time before you see any significant results. So, if you're a new copywriter, it's best to use a mix of outbound marketing, like the methods we described above, as well as inbound marketing.
Using a mix of both these strategies will set you up for a consistent stream of high-quality clients for years to come.
For more suggestions on both inbound- and outbound-marketing strategies, check out our program Your No-Stress Method for Getting Clients: 26 Field-Tested Strategies for Introverts, Extroverts, and Everyone In-Between.
Summary
We hope this Essential Introduction to the Copywriting Industry has given you a good understanding of the copywriting industry and the full range of opportunities it holds for copywriters.
Copywriting is a rapidly growing industry and an in-demand skill.
If you like writing and you're thinking seriously about taking the leap, contact us today to let us know how we can help you on your journey.
All it really takes to become a successful copywriter is believing in yourself and taking the steps we've laid out in this guide to start your copywriting career off right.
We know it's possible because thousands of our members have done it before you. They now have the freedom, flexibility, and incomes that, years before, they had only dreamed of.
The same is waiting for you. You just have to take the first step.
And when you do, we'll be right behind you cheering you on.

The AWAI Method™ for Becoming a Skilled, In-Demand Copywriter
The AWAI Method™ combines the most up-to-date strategies, insights, and teaching methods with the tried-and-true copywriting fundamentals so you can take on ANY project — not just sales letters. Learn More »