14 Power-Packed Writing Styles and Techniques To Dramatically Improve Your Writing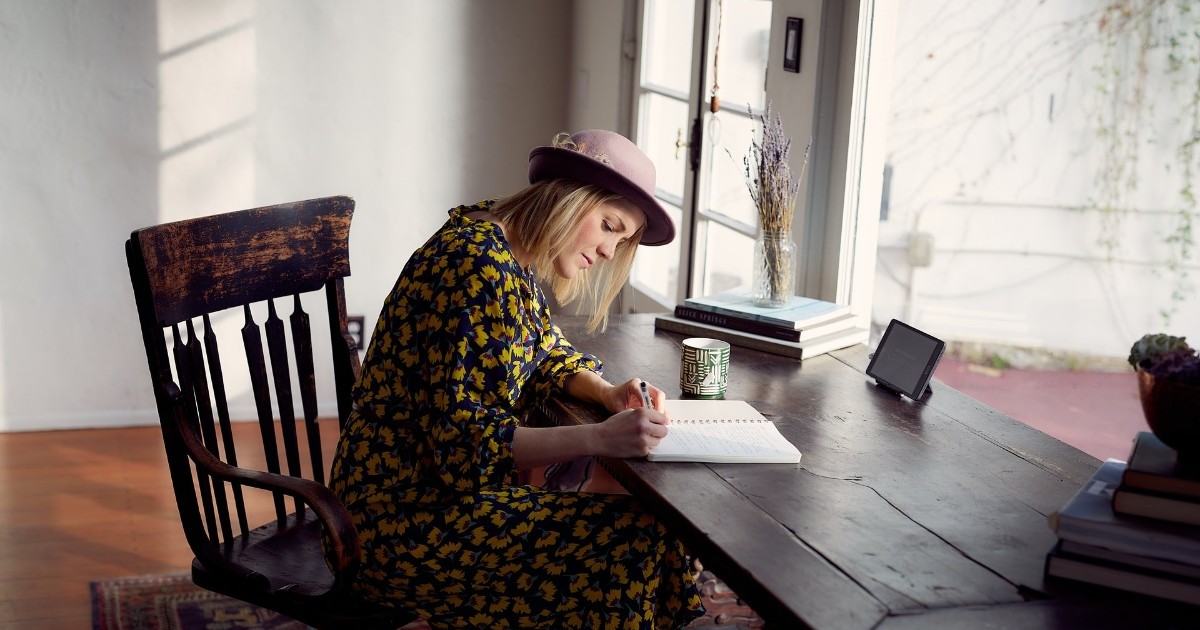 Using the right writing techniques and styles can take your content from good to great — and lock in your reader's attention from the get-go.
Powerful writers identify their audience and deliberately choose a writing style. They carefully select writing techniques to convey ideas efficiently and effectively, whether they're writing a book, a blog post or a sales letter.
So, if you're ready to engage your readers with every word you write, let's review the sharpest writing techniques and styles in a writer's toolbox.
Use these tips, and your writing will be compelling and your message clear.
The 4 Essential Writing Styles with Examples
There are four primary writing styles: descriptive, narrative, persuasive, and expository. Depending on your goals, you might use more than one writing style in a single piece of copy.
Let's explore the purpose of each so you can select the best writing style for your objective.
Descriptive Writing Style
Have you heard the popular writing dictum "Show, don't tell"?
Well, the descriptive writing style is exactly that – writing concrete details to create a vivid picture in the reader's mind.
Descriptive writing layers in figurative language like metaphors, similes, and symbolism; it speaks to the reader's senses, breathing life into each sentence and paragraph.
Descriptive writing doesn't mean using every adjective in the book. Instead, the best wordsmiths select their words carefully to convey expressive imagery as concisely as possible.
You'll often see this writing style in fiction and poetry, but great descriptive writing is compelling no matter the medium. Use it anytime you want to make your reader feel something.
Take this excerpt from Desolation Angels by Jack Kerouac. Can you visualize the scene?
Those afternoons, those lazy afternoons, when I used to sit, or lie down, on Desolation Peak, sometimes on the alpine grass, hundreds of miles of snowcovered rock all around, looming Mount Hozomeen on my north, vast snowy Jack to the south, the encharmed picture of the lake below to the west and the snowy hump of Mt. Baker beyond, and to the east the rilled and ridged monstrosities humping to the Cascade Ridge …
Narrative Writing Style
Narrative writing is the art of storytelling. Writers use plot, setting, theme, conflict, and characters to create a world and craft a tale.
Now, this story writing technique isn't exclusive to fiction. Anyone with a story to tell can utilize a narrative writing style. Common examples include:
Novels
Memoirs
Films and television series
Short stories
Plays and musicals
F. Scott Fitzgerald is largely considered one of the greatest authors of the 20th century. Let's take an expert from his time-honored novel The Great Gatsby for an example of the narrative storytelling writing style:
I spent my Saturday nights in New York because those gleaming, dazzling parties of his were with me so vividly that I could still hear the music and the laughter faint and incessant from his garden and the cars going up and down his drive.
Persuasive Writing Style
Persuasive style is as it sounds: the ability to influence your reader to think or feel a certain way.
Persuasion is essential to the definition of copywriting. Inspire your readers to take action, and you'll never have to worry about your income again. We have an entire community of writers using their persuasive skills to make money copywriting.
Expert persuasive writers don't just tell their readers what to think. Instead, they understand the proven persuasion formulas that will convince anyone of anything. They inspire action and successfully close the sale using the subtle art of persuasion.
Here's some good news:
Mastering persuasion techniques is surprisingly simple — if you know which tactics to use. This guide to persuasion is a smart place to start.
Now, let's take an example from our very own six-figure copywriting course:
Can You Write a Letter Like This One?

Answer "Yes," and you'll never have to worry about your job or rely on others for your livelihood …

Instead, you will be in big demand, earning great money, writing a few hours a day from anywhere in the world you choose to live.
Expository Writing Style
The expository writing style delivers information and ideas. Unlike persuasive writing, the author isn't trying to sway you one way or another; instead, the writer uses facts and knowledge to convey a concept or conclusion.
Every writer has biases, and even expository writing can skew towards personal preferences. However, the objective is to explain a topic using facts and evidence — and to leave your opinions at the editing table.
You'll find expository writing in:
Textbooks
Technical/scientific writing
News articles
How-to articles
Let's take a look at an expository writing sample from the BBC News:
The Queen has attended a rare royal double christening at Windsor, days after returning to public duties after a month of rest on doctors' advice.

Princess Eugenie and Zara Tindall, daughter of Princess Anne, hosted the joint baptism of their sons at the Royal Lodge in Windsor on Sunday.
Advanced Writing Techniques To Improve Any Content
We've covered the four writing styles and the purpose of each. Now, learn how to dramatically improve any content you write with these advanced writing techniques.
These are the tips that separate an adequate writer from a superior one. Use them for every word you choose, every sentence you write, and every paragraph you create.
1. Don't Waste Your Verbs
The verb "to be" is one of the weakest verbs in the English language. For stronger, more descriptive sentences, replace "to be" with verbs that do more.
Eliminate "to be," and your writing becomes more vibrant, more interesting, and more persuasive. Notice how much better sentence B is than sentence A:
The owner was in the doorway at the back of the bar.
The owner leaned in the doorway at the back of the bar.
Similarly, the verb "to have" doesn't gain you much ground. Try to eliminate it as well, and you'll find your sentences are more economical and active. Again, notice how much better sentence B is than sentence A:
A storm is brewing over banking-privacy laws, and it could have a significant impact on Caribbean economies in the year to come.
A storm is brewing over banking-privacy laws, and it could significantly impact Caribbean economies in the year to come.
2. Write To Express Rather Than To Impress
Always choose words that make reading easy for your reader. Don't let him get tangled up in your language. Instead, choose the words you'd use if you were speaking to your reader. Write the way you talk.
SHORTER words are better.
Instead of "assemble," use "meet."
Instead of "domesticate," use "tame."
Instead of "happenstance," use "fate."
SPECIFIC words are better.
Instead of "greenery," use "fern."
Instead of "large," use "329-pound."
Instead of "gem," use "diamond."
COMMON words are better.
Instead of "automobile," use "car."
Instead of "criminal," use "crook."
Instead of "dispatch," use "send."
3. Use Fewer Words
You should never use more words than you absolutely need to. Oops! What I mean to say is: Never use more words than you need. Simply put, use fewer words.
You may have a lot to say. Fine. Say it in more than one sentence.
Short sentences keep your copy moving forward. When your sentences are too long, your reader gets bogged down in the language and confused by what you're trying to say.
Your job is to make it easy for a reader. You do that by trimming words.
4. Express One Idea In One Sentence
When you include too many ideas in one sentence, you dilute the impact of the sentence. Your reader will give your ideas more attention when you make those ideas accessible.
To do that, use these writing techniques and limit your ideas to one per sentence.
This confusing sentence contains more than one idea:
Spring or fall weddings are in abundance on Saturday afternoons: wander the streets and observe crowds dressed in stunning, celebratory attire.
This version is better:
In the spring and fall, weddings are common on Saturday afternoons. You can wander the street and see crowds in celebratory dress.
5. Say What You Mean
Say something with every sentence you write. Don't pad your copy with high-minded "filler" or tiptoe around an issue by weaving a complicated web of words. Instead, get to the point.
But before you can do that … you have got to know what your point is. So,
Figure out what you really mean to say.
Say what you mean to say.
6. Write In a Conversational Tone
Read enough "A-lister" copy, and you'll notice a common thread: master copywriters write like they're having a conversation with someone — like they're chatting with a friend.
What's one easy way to write in a conversational tone?
Ask questions. (See what I did there?)
Questions invite your reader to become an active participant with your copy. They make your readers think and process your message more intensely.
Another tip is to record yourself talking, then transcribe and read it aloud. You'll start to detect natural pauses, word choices, and transitions — and learn how to incorporate these writing techniques into your content.
7. Use Storytelling Techniques
Stories are powerful. Whether you're writing a sales letter or a novel, good storytelling draws your reader in and leaves them feeling more satisfied, too.
Use storytelling anytime you want to:
Create empathy and connection between you and your reader
Make your writing effortless to read
Build tension and strong pacing, so your reader is never bored
Trigger activity in your reader's brain, so they want to read more
If you want to write good stories, then read good stories. Don't underestimate high-quality fiction as a tool to improve other styles of writing. Just a few minutes of reading a day can significantly improve any piece of content. This list of best books for copywriters will help, too.
8. Let Your Personality Shine Through
We've all been there:
You're reading an article. It started out okay until you hit a bland, tedious paragraph. Your eyes glaze over, and a yawn creeps across your face. You realize you have no idea who the author is — nor do you care to find out.
It's tempting to play it safe when it comes to your writing, but don't be scared to let your personality shine through. You'll banish boredom in your reader and keep them engaged until the last sentence.
9. Warm Up Before Writing
Experienced writers know that sometimes it takes a bit of typing and wordsmithing to hit their groove. Everything before that point is the warm-up — an essential part of the writing process, but not an author's best work.
So, watch for your warm-up and trim it away. You'll move past ho-hum ideas and present your reader with your most robust material.
10. Let Your Writing Sit Overnight
This fool-proof writing technique pays big rewards. Don't skip it, no matter how tempting it is to hit publish right away.
You might discover a typo that slipped past. You'll notice a sentence that feels a bit too long or a word that seems a touch too complicated.
I guarantee you'll make at least one edit the next day — and your writing will be better for it.
Superior writers revise their work again and again. Keep these writing styles and techniques on a handy copywriting checklist, and use it for each piece of content you craft. You'll soon find these proven author techniques become second nature.
And don't forget the basics. Check out this article writing template by Christina Gillick!

The AWAI Method™ for Becoming a Skilled, In-Demand Copywriter
The AWAI Method™ combines the most up-to-date strategies, insights, and teaching methods with the tried-and-true copywriting fundamentals so you can take on ANY project — not just sales letters. Learn More »

Published: January 11, 2022