Your Essential Copywriting Checklist: Win Over Clients with Persuasive, Professional Copy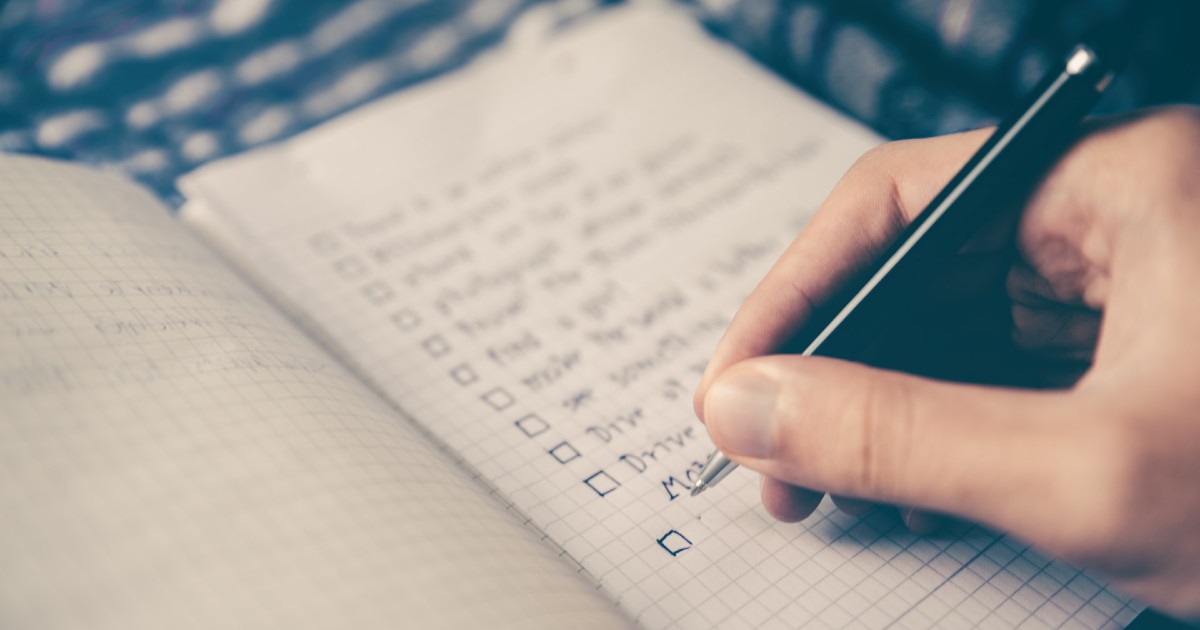 A copywriting checklist is your best tool for ensuring that every piece of content you write has maximum impact … and that every client is impressed by your professionalism.
How can a humble checklist accomplish all that?
Simple. It ensures you've covered all the steps to create and deliver professional content, from research to a polished draft.
And because every point of contact is an opportunity to impress … we've also included details like professional invoicing that show you take your copywriting business seriously.
When you check every box for persuasive copy and professionalism … you win repeat clients and build a thriving copywriting career.
Download this copywriting checklist PDF, and keep reading to learn why each of these items is essential for a highly effective, persuasive copywriting project.
1. Know the Marketing Strategy
I know you're excited to get started, but before you type a single word, it's important that you do some preliminary research.
The first part of your copywriting assignment is understanding the marketing context of the content you're creating. You need to know where your content fits in the grand scheme of things.
Let's say you're an email copywriter hired to put together a five-part series. These emails are part of a larger sales strategy. So, you would request any marketing materials that come before or afterthe emails, like landing pages, sales copy, and paid ads.
This helps you craft cohesive content that fits within the scope of the sales campaign, keeping the audience engaged and your clients happy.
2. Dig Deep on Background Research
Get the specifics, including your client's unique selling proposition (USP). When readers know exactly what they're getting, they're more likely to buy.
Ask your client these questions:
What makes their product or service one of a kind?
What are the features and benefits of their product or service?
How are they different from the competition?
Why should the customer care?
While doing your research, look for social proof and authority credentials to include in your copy. This is a great way to add credibility and authority.
3. Follow Style and Brand Guidelines
Most clients will have style and brand guides they use for copy. These guidelines are key for ensuring that the copy you submit aligns with their expectations.
A style guide should include
details about registered trademarks,
correct spelling and capitalization for product names, and
the tone of voice to use.
The brand guide focuses on the business's purpose — the why behind your client's business. These guides help you clearly communicate your client's identity, values, positioning, and mission statement.
Don't forget to ask for specifics related to your client's sales campaign!
These are the details you need to write engaging copy and convey the finer points of your client's product or service. They include
price point (including payment plans);
FAQs;
refund policies;
discount conditions;
additional features, packages, or bundles; and
anything else that conveys extra value.
4. Write Copy for the Reader — It's All About Benefits!
Many copywriters think they're writing for the companies who pay them.
In truth, you're writing for the reader — the person you want to take action.
The better you understand the reader, the easier it will be to craft compelling copy. The reader wants to know, "What's in it for me?"
To ensure your copy grabs the reader's attention, ensure it offers
a direct benefit,
an important benefit, and
a unique benefit.
So, how do you learn about the reader?
Start by asking your client for a customer persona (also called a buyer profile or customer avatar).
If the company doesn't have one, this is an excellent opportunity for you to demonstrate your sales knowledge and help them create one!
Start by inquiring about their audience's demographics and characteristics …
But don't stop there; go deeper.
Ask your client these questions:
What makes their readers feel important?
What are their challenges and motivations?
How do they make decisions?
Learn everything about prospective readers, and you'll create compelling marketing messages that speak directly to them!
And that means converting copy … and happy, higher-paying clients who hire you again and again.
5. Use Testimonials to Bring the Product to Life
Customer testimonials are a pillar of standout sales copy. Add testimonials to your checklist if you're writing a sales page, case study, or any sales-focused copywriting project.
They're an extremely effective tool for "showing" … not "telling" that your client's product or service is real and credible. They build trust with the audience and help make sales.
In fact, 88% of consumers trust online reviews as much as personal recommendations, and 72% of consumers say positive reviews and testimonials make them trust a business more.
If you want to persuade readers to buy, you don't just want any testimonial … you want testimonials that are detailed and engaging, and bring the benefit of the product or service you're writing about to life. The kind of testimonial that lets the reader see himself or herself enjoying the results of what's being offered.
Your client may have provided you with testimonials during your information-gathering steps. If not, ask for them.
Incorporate them into your copy — the more, the better! Use them to overcome common sales objections, and you'll replace reader skepticism with trust.
Testimonials should be meaningful, specific, and backed up with proof.
6. Format, Format, Format
Once you've written your first draft, be sure you format it so that the article is visually appealing, easy to read, and effective. (Even if your client is the one doing the final formatting and posting, you want it to be easy for them to read too.)
Top of the document:
Name of the project
Sub-headline
Body of the document:
Short sentences
Nicely spaced, small paragraphs
End of the document:
Bolded words,italicized phrases … and ellipses are ideal for drawing attention to key ideas and helping with the overall pacing of the piece.
They add clarity and emphasis to the point you'd like to bring to your reader's attention.
They improve cognitive fluency.
They make your copy easier to read and understand.
7. Take a Break Before Editing Your Copy
Once you finish your first draft, you'll be tempted to submit it.
Wait!
One of the rules of copywriting is never to send a rough draft to your client — ever.
Editing requires a clear and well-rested mind. You want to read it as if you're seeing it for the first time. And you want to catch every typo, awkward phrase, and mistake.
Double-check everything: facts, figures, dates, the spelling of proper names, products, titles, locations, and anything else.
Verify that the links you included work and that the articles they link to are from credible websites.
Finally, check that it meets the client's requirements.
Does it fall within the appropriate word count?
Did they request that the copy meet a specific reading score?
Does it have all the necessary elements?
Editing is where you trim the fat, refine what you've written, and enhance your copy.
8. Pay Attention to Detail When You Submit Your Copy
Now that your copy is written, polished, and edited, you're ready to submit it to your client!
Submission guidelines vary, so make sure to double-check their preferences.
If they want an email attachment, ensure you've named the file correctly and saved it in the format they wanted. If you've been discussing the project with your client in a single email thread, submit your article as part of that thread.
If not, you can send your copy in a separate email. Include your project's name in the subject line, so it's easy for your client to identify it.
If your client uses a content management system, follow the necessary guidelines while submitting.
If your client wants a Google Doc, include the link in your email and make sure that your sharing settings allow your client to view and edit the file.
Write a short message informing your client of what you attached. If you have any additional comments, include them as well.
9. Show Professionalism with Your Invoice
When billing your client, you need to make sure that your invoice looks like an invoice.
This means it should be in PDF format, not created in a Word doc or an email. I recommend WaveApps or PayPal, because both make it easy to process payments.
Make sure your invoice has your name and information, as well as your client's name and information. The total amount due, when it is due, and an itemized list of the services you provided should be easy to read.
You can send your invoice with your submitted copy or wait until the project is complete and you're confident the client has what they need.
10. Follow Up with Your Client for Repeat Business
This last point demonstrates to your client that you're not only a fantastic writer but that you care about results.
Contact your client to make sure they're happy with the copy and have everything they need. Let them know that you're happy to make any changes and edits if necessary.
Demonstrate that you're interested and invested in their success.
And when the project is complete … ask if they have another project they need help with.
Beyond the Copywriting Checklist
As a freelance writer, you want to operate a professional business that keeps clients coming back for more. So go above and beyond!
It'll be worth it.
Use this copywriting checklist to ensure your copy looks great, is easy to edit, and impresses your clients every time. It takes only a few extra minutes but can earn you repeat business and higher rates.
[Download Your Checklist Here]
To learn more about becoming a skilled, in-demand copywriter, check out The AWAI Method™.

The AWAI Method™ for Becoming a Skilled, In-Demand Copywriter
The AWAI Method™ combines the most up-to-date strategies, insights, and teaching methods with the tried-and-true copywriting fundamentals so you can take on ANY project — not just sales letters. Learn More »

Published: August 2, 2022