SEO Crash Course Primer: What Writers Need to Know Right Now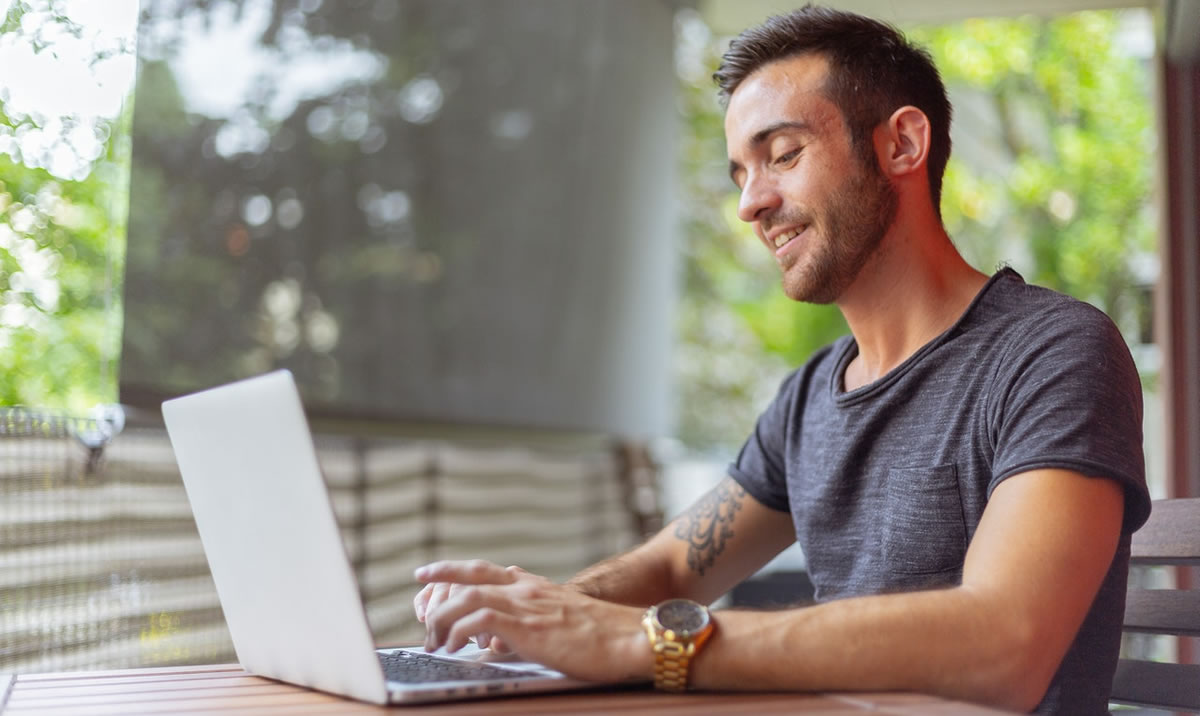 As the pandemic continues to create a massive shift in everyone's behavior, a record number of people are going online to do research, communicate, be entertained, and connect.
They're also going online — a lot! — to BUY. So millions of businesses are looking to draw those potential customers — and their trillions of dollars — to their websites.
And they need writers who know how to write quality SEO copy to attract the attention of those potential buyers.
According to digital marketing expert Russ Henneberry, tapping into this massive growth opportunity means SEO (Search Engine Optimization) writing is quickly becoming one of the hottest skills in the industry.
Which is why we asked Russ to give our members a "crash course" in what all writers need to know about SEO right now. Here's what Russ had to say:
What Is SEO?
SEO is short for Search Engine Optimization. Everybody has probably used a search engine like Google or Bing to find solutions to problems and to buy products online. So we go to a search engine and type in something that we're trying to solve, like "How do I paint my front door?" Then you get a list of search results. And those results are going be ranked 1, 2, 3, 4, 5 …
SEO is the discipline we use in marketing to make our web pages — the content, the products — more visible to search engines like Google. And when I say content, I mean things like articles, blog posts, or podcast episodes, or whatever it is we've created. SEO is what we use to affect those rankings, or where the content shows up in the list of search results. For instance, why is my website ranking number seven when my competitor is ranking number two? And how is this one ranking number one? It's because of the principles of Search Engine Optimization (SEO).
SEO today is about creating content — the actual written word, or the script that's used in the video, or whatever — to get eyeballs on to your stuff. Whatever you want to get attention for, we can use Search Engine Optimization to get more traffic to the web page it's on.
The Connection between Google and SEO
Think about what Google wants … to make money. Who doesn't? As a writer, you want to make money. And understanding how Google makes money is going to help you do that. Because Google makes money from the advertising they sell around the outside of the search experience.
So let's start with what happens when someone makes a search. For example, here's Jade, who wants to know how to paint her front door. She's looking for the best answers about how to do that. And Google wants Jade to find the best how-to from Home Depot or Lowe's or wherever, so Jade is satisfied with her search. Because if she's happy with what she finds in her search, that means she will use Google again tomorrow when she's got to figure out how to fix her leaky faucet or whatever, right? And the more times she uses Google, the more chances there are that she'll click on an ad and make Google some money.
Google has created really smart computer programs to track all of these searches and figure out what content satisfies the most people. And then they put those "best" results first on their list so they're easier to find. Easy searches make people happy, happy people come back and search more frequently, and more ads get clicked … so Google makes more money.
So it's not so much that Google cares about SEO, but more that SEO is what marketers use to figure out what Google wants. Or rather, how do these computer programs track web pages and clicks and then rank everything. Because when you understand that, then you can create the type of content that Google is going to rank higher. And when your content is ranked higher, more searchers will be able to find it, and ultimately, your clients will make more money.
The Difference between Technical SEO and What a Copywriter Does
SEO needs two different types of human beings. Engineers who are good with process and math and science. That's the person who goes on the technical side. They know how to write code, how servers work, all that kind of stuff.
But that's a completely separate discipline from the side of SEO where the writers are needed … which is the content production side of SEO.
These are the artists, the people who know how to write good stuff and make great experiences for people online. What we need more of out there in the SEO world is the artist side, because that's really where SEO lives today … in creating great content and great experiences for people on web pages.
So there's a lot of opportunity right now when it comes to the content side of SEO. You don't need to know anything about the technical side to do this.
The Big Shift in Search Engine Optimization
COVID has changed everything, including SEO. More and more people are turning online. We've seen this gigantic growth — a leap — in terms of the amount of people accessing the internet to solve problems and to buy products.
We were all locked in our houses, so we've just been less mobile — in terms of going to stores or going out and talking to each other. So we turned to the internet more. And so more and more content is needed.
We need more writers out there that can create good stuff. If you like to write, the opportunity just keeps getting bigger. Trained writers are in demand right now — and it's not going to stop.
The Escalating Demand for More Content
The demand isn't just for writers to create more content, it's for more good content. And that's why learning how to write good content and how SEO works is so important for writers now.
You see, back when Google started, the search engine was actually quite dumb. You could trick it into getting traffic onto your website. We used to be able to get terrible content to rank just because we knew some tricks.
But Google keeps getting smarter and taking away those manipulative tactics that can lead people to inferior content or pages. Now they're able to really determine whether the content is good. So if the page is not awesome, if it isn't the best content, then it won't rank as well anymore.
And this is why businesses need good writers. Because Google will continue to close those loopholes and reward solid content. So the best way to play this game of search is to create valuable, engaging, informative content, which is great news for you if you're a writer who is interested in learning these skills. Because if you can write great content, then you can get your clients ranked better and earn them more money.
The Markets that Need SEO Copy
There are no restrictions on who needs SEO because your clients are going to want everything they produce to be found. And that's really what SEO is about: increasing visibility for your clients' content. They're going to want people to be able to find it, and they're going to want high visibility for it, regardless of what "it" is. So it doesn't matter if you're selling Business-to-Consumer or Business-to-Business or what niche you're focused on, everybody wants their stuff found, so SEO applies across the board.
Ready to learn more how SEO writing can help you tap into this amazing growth opportunity for your writing career?
Start by downloading a free copy of AWAI's The Ultimate Guide to SEO Content Writing. It's the perfect introduction to this must-have skill.
Then, watch this free training with Russ: Simple "Research" Pays Writers Big Bucks. You'll discover more about how to help businesses appear at the top of Google's search results for different types of keywords. And businesses will gladly pay big bucks to copywriters who KNOW how to help them.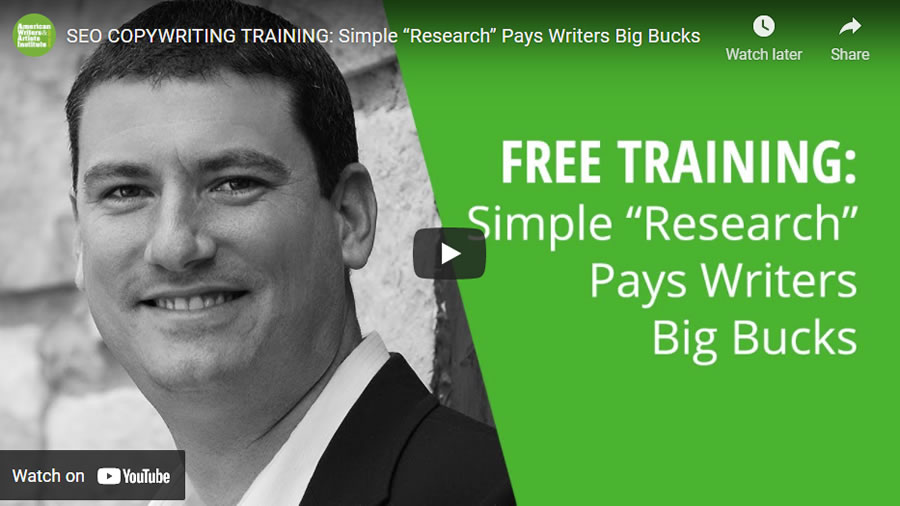 It doesn't matter if you are a brand-new writer or have been building your career for a few years …
SEO writing is the perfect skill to launch your career into an entirely new trajectory.
Do you have any questions about getting started in SEO copywriting? Let us know in the comments.

The AWAI Method™ for Becoming a Skilled, In-Demand Copywriter
The AWAI Method™ combines the most up-to-date strategies, insights, and teaching methods with the tried-and-true copywriting fundamentals so you can take on ANY project — not just sales letters. Learn More »

Published: September 16, 2021