How A-List Copywriters Form Big, Control-Beating Ideas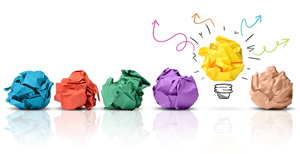 It's Julie Hassett here with you for the first Writer's Life series of 2015.
And I'm sharing the top five lessons I learned that took me to six figures in 12 months.
Yesterday we talked about never being the smartest person in the room and how crucial that is in order to keep getting better at what you do.
Today, I'll highlight something that every A-list copywriter I've ever met has in common … something that has also helped me advance my freelance career quicker than I originally planned.
You've heard the term "starving writer," right? While no one wants to be that, we should all want to be known as "hungry writers."
Hungry for what, you may ask?
For the world at large.
Lesson #2: The best copywriters in this industry have a deep-rooted hunger for learning, idea creation and information seeking.
If left to their own devices, they could spend all day, every day devouring books, journals, novels, newspapers, studies, you name it …
Pop culture. History. Psychology. Foreign affairs. Health and fitness. Spirituality.
They're hungry to know what's going on inside people's heads … to understand why they do what they do … buy what they buy … and say what they say (even if they don't mean it).
They are students of life. Perennial learners. The world is their classroom and laboratory.
That's because every bit of incoming information gets indexed in a big "potential copy ideas" library in the back of their brain.
When the time is right, these fragments of knowledge rearrange and connect in new ways – and that's how big, control-beating ideas are formed.
The beautiful thing about a freelance lifestyle is that you can work this exploration of the world into your daily schedule.
Personally, I used to struggle to sit down and read a book or watch a movie. I always thought I should be up and "doing something."
But now, I consider reading, listening and watching to be part of my job description. A really fun part!
If you're already a voracious reader and consumer of current and world events, good for you. You have a leg up in this business.
If you're at all like I was and you need a little structure to spur your hunger, then set reading goals for yourself and write them down.
Mine are to spend 30 minutes each day …
Reading daily news online
Reading for business (copywriting/marketing classics)
Reading for pleasure (more on the weekends!)
Listening to a podcast while walking the dogs
Every month, I choose three books to read – two copywriting-related books and one fiction or non-fiction that's purely for pleasure.
So, for January, what books are you putting on your must-read list? Does reading every day sound easy or challenging? Share your thoughts and help inspire others in the comments.
I'm looking forward to tomorrow when we'll talk about contracting your first employee – PLUS, how to get them to work for free! Don't miss it!

The AWAI Method™ for Becoming a Skilled, In-Demand Copywriter
The AWAI Method™ combines the most up-to-date strategies, insights, and teaching methods with the tried-and-true copywriting fundamentals so you can take on ANY project — not just sales letters. Learn More »

Published: January 6, 2015