This Week from AWAI …
WRITERS:


Get Paid to "Fill In the Blanks"…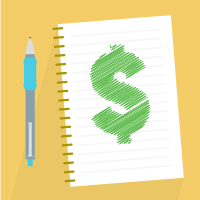 There's no selling involved. No need to persuade.
Instead, you write two pages. You get paid $1,500 (on average).
Better yet, you can master this one in just four weeks.
What is it?
Click the button below to find out more and see how you can take advantage of this high-paying assignment!
Learn More
Now Accepting New Writers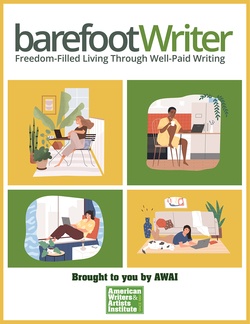 If you want…
high-paying gigs,
predictable writing income,
greater flexibility…
AND the satisfaction that comes with LOVING what you do for a living…
Then getting accepted into our influential club of Barefoot Writers can set you up for everything you're looking for in a writing career.
NOTE: Your acceptance window will be closing soon!
Apply Now
Browse Recent News
Join us online Friday, September 29, 3:00 p.m. ET for a free training with marketing mentor, Ilise Benun. She is one of our most popular AWAI speakers because she takes your top "getting clients" concerns and calmly breaks them down into simple, achievable tasks.
Membership in the Barefoot Writer Club for just $49 for a whole year closes down tonight! Join the club today!
If copyediting sounds like it might be the perfect fit for you, and you'd like to get paid very well just by "fine-tuning" someone else's copy so it's ready to be published… Check this out and don't miss out on this deal!
We know that paid writing is something you secretly want to do. We know that it can solve a lot of the things you're struggling with right now. And so we've arranged for a limited-time 80% discount for you to join our group and check out the reality of what it takes to succeed at paid writing.
You can start making money as a writer within a month — even if you have no experience. Check this out!
A wildly in-demand skill is needed in this industry to transform all kinds of projects submitted by writers from "good" to GREAT…
Join Rachael Kraft on her journey: Traveling from the ER to her first Bootcamp with a cast, she took the leap and broke free from teaching, embraced freelance writing, and found flexibility for the life she wanted. Learn her top three tips for building your own writing career!
Today is your last chance to join our online training program where you will once and for all master the simplest, most versatile, most in-demand writing skill... and have a shot at being published with a byline as well as earn a $400 cash payout!
This is your last chance to claim lifetime access to Infinity membership under today's low pricing and generous terms.
Right now is the perfect time to declare your independence and build a writer's life of freedom, flexibility, and control. Don't miss out on the "September Advantage." We'll help you launch a well-paid writing career in just five days.
Keith Trimels, a self-proclaimed "recovering engineer," is now a passionate copywriter who turned his life around. From a boat in Mexico, he is able to complete assignments, have client meetings, and live his dream writer's life. The path to his writer's life dream was not a solitary one. His secret? Find a mentor, soak up wisdom, and let your writer's ripples spread!
Rebekah Mays has a lesson to share about charting your own career path. After facing daily packed NYC subways and tough morning calls, she realized she had to make a change. Her mom's advice led her to explore the world and her options and set her on the path to freedom. Her journey teaches us that even if it takes trying, failing, and throwing things at the wall to see what sticks, you can find your way!
Just released, the September issue of Barefoot Writer!
Barefoot Writer magazine walks you through top answers to the biggest questions in starting a paid writer's life — and shows you pathways to a lucrative writing career. Today is the last chance to join for just $11.
Discover the surprising parallels between copywriting and playing a didgeridoo, and why gender stereotypes couldn't stop Pauline's rise. Learn to rewrite your own narrative, reshape your path, and find unwavering purpose amidst challenges.
Jon Stoltzfus was at the height of his career as an aerospace engineer, looking from the outside like he had it all: high-six-figure salary, prestige, and influence. But on the inside, he was miserable. He turned an eye toward writing but didn't take the plunge till a major life catalyst nudged him forward. But once he committed to copywriting, he committed fully. Discover how his writing career took shape and how he's made the most of it since.
From tough times to total triumph! Cindy Cyr's journey took her from a job that wouldn't give her a break to living her dream as a freelance copywriter. Find out how she cracked the "why" code and turned it all around. Get ready to be inspired!
Julia Borgini's work life always involved writing in some capacity, but it didn't take long for her to realize not all writing jobs are created equal. When life took a stressful turn and she needed a change, the appeal of more autonomy and creativity brought copywriting to the forefront. Read on to discover how she melded her previous career skills with freelancing, and how she's built a joyful writing life that's still going strong more than a decade later.
Discover how AI impacts everything and why returning to marketing fundamentals is crucial. Russ Henneberry shares beneficial advice for freelance writers. If you're worried about AI, this is a must-watch!
Grab access to AWAI's premier copywriting program for only $29 TODAY ONLY!