Heather Robson:
The Online Opportunity for Writers Just Keeps Growing
"I can't think of a better place to get started as a freelance writer today than in the online space. There are countless potential customers, unlimited opportunities, and the possibility for a writer to custom craft their freelance business to suit their personality, their passions, and their lifestyle.
"If you want to write short form copy for companies in the fashion industry, you can do that.
"If you want to write web sales letters for companies in the financial sector, you can do that.
"If you love the health and wellness industry, and love the idea of writing websites for business in that space, you can do that.
"And you can do it from the comfort of your home, working the hours that you want to work. Web writing really is the fastest, best way to achieve whatever writing dream you have."
—Heather Robson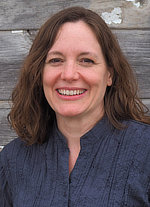 HEATHER ROBSON started off as a technical writer. In 1999 she changed gears to pursue freelance copywriting. She began her journey with AWAI's The Accelerated Program for Six-Figure Copywriting. That program opened up a new world of possibilities. The different industries. The different projects. It was exciting and thrilling.
It was also hard work, but work that she found immensely satisfying. In the course of her career Heather has worked with some of the top copywriters in the industry, including Clayton Makepeace, Mark Everett Johnson, and Don Mahoney.
In 2010, Rebecca Matter invited her to become the Managing Editor of Digital Copywriter. Since that time, Heather has had the privilege of working with a number of companies and clients on their content marketing and online marketing strategies. But one of her favorite things is working with the up-and-coming writers she meets through the site.
In her spare time, Heather writes fiction, goes backpacking with her family, and plays indoor soccer.
Books by Heather Robson
The Alchemists of Galena: Flight (novel)
The Alchemists of Galena: Rescue (novel)
Heather Robson Articles
More Articles By Heather Robson …
Digital Copywriter (Managing Editor)
The Tools and Connections You Need to Reach Your Web-Writing Goals
With more than 1 billion websites and thousands of new ones being added each day, the demand for qualified web writers is pretty much unlimited.
If you're looking for success on your own terms, web writing is where you want to be. It's a growing, lucrative field. And it's one of the fastest ways to start living the freelance lifestyle you've dreamed of.
Digital Copywriter will help you get there.
Our mission is simple:
To provide you with a roadmap for your online writing career. To educate, support, and guide you, every step of the way … to inspire and motivate you and provide you with the tools, resources, and ongoing education you need to excel and prosper in this exciting industry of ours.
When you join Digital Copywriter, you'll enjoy an array of powerful benefits. Platinum members have access to:
Strategic roadmaps that help guide you in your online career – roadmaps for launching your business, setting up your website, building a marketing plan, and more.
Articles, blogs, webinars and teleconferences from experts who specialize in a variety of web-writing fields. Through them, you'll learn what's working, what's not, and what' new in your niche.
Timely answers to all your questions. Need a fast answer to a web-writing question. The Digital Copywriter team will come to your aid through our Facebook group, through email, or through the article comments feature. Just ask and we'll find the answers you need.
A comprehensive pricing guide that gives you the insight you need to set your rates with confidence.
Monthly inspiration from Reality Bloggers Candice Lazar and Hayley Michaels. Follow along as each shares their goals and their progress to achieving them.
A place to meet, get to know, and talk shop with fellow web writers … the chance to engage with likeminded people sharing similar triumphs and setbacks is priceless when it comes to keeping the fires under your own motivation stoked.
And much more!
Digital Copywriter is a growing resource that will keep you on the cutting edge of your field whether you're a web copywriter, a budding SEO expert, a content development specialist, a social media expert, an established PPC marketing expert … or anything in between.
Digital Copywriter: $49.00 to sign up and just $49.00 a month for as long as you keep the subscription