Living the Writer's Life: Shameka Volkers
Determined Mom Takes Control of Her Days With Grit and Focus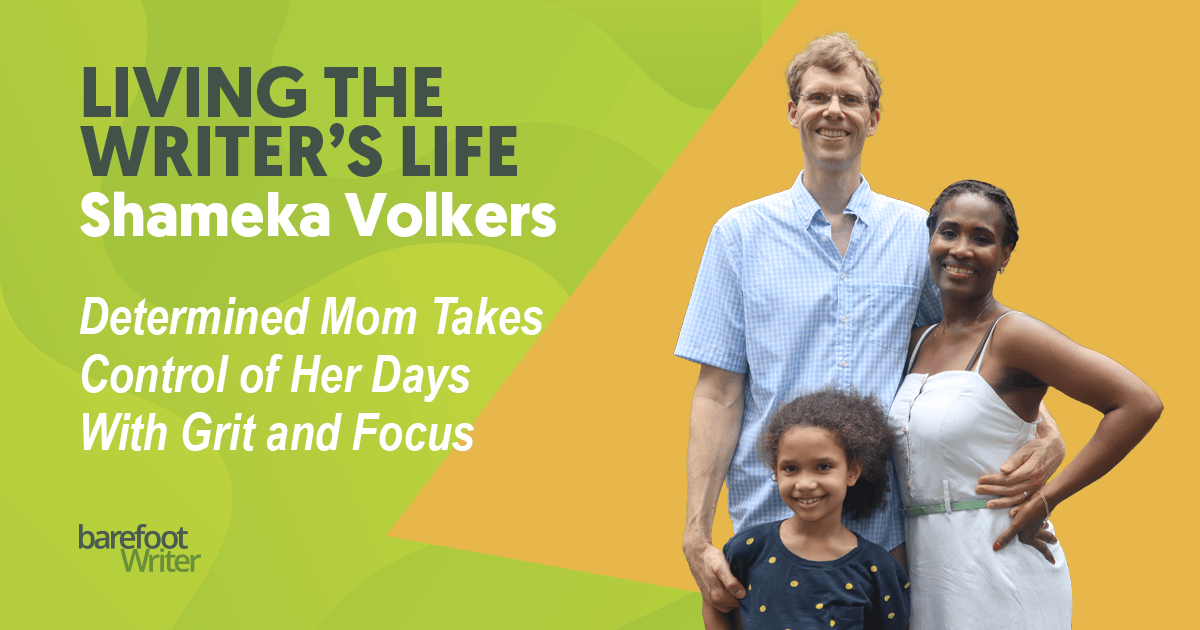 Shameka with her family at the Conservatory Garden in New York City
Shameka Volkers is a rising star in the world of writing with nowhere to go but up. Ever since deciding she needed a new path, she's taken on the task of launching her copywriting career with the kind of grace and speed that wins clients and grows income. Discover what led to her writing for a living and find out how she's excelling every step of the way.
What did you want to get away from that led you to writing?
It was a pivotal moment, and I didn't realize it until I was looking backward. One morning I was heading out the door toward the subway to go to work — we lived in New York City at the time — and my daughter, with tears in her eyes, came to me and said, "Mom, I miss you." And I just bawled all the way to the train. She was 4 at the time. From that point on, I was trying to figure out something I could do with any skill that I have so that I can spend more time with her.
How did you decide copywriting was the answer?
At first, I thought I was going to be a social media manager, and then I started doing ads, and then I quickly figured out that I didn't love that. I could do it, but I didn't love it. Then I found out about copywriting through a book. In the back where it has all the references, I found you and all the other people from AWAI, and I was just ecstatic.
I went to the website, and I was like, Oh my gosh, can I do this? And my husband said, "Just go." He was so supportive. That's how I got trained.
What did your path look like from there?
I was too scared to reach out to clients at first. I took the AWAI program, and I'm like, This is so good. I would miss things, so I'd go over it again. I think what finally gave me the confidence was going to AWAI's Writers' Conference last May, where I heard so many amazing speakers, and Marcella [Allison] was just like, "Go for it. What are you waiting for?" From then on I said, "Okay, there are plenty of people who are at different points in their journey, and I'm starting mine, so what's the first step?"
You and I met at that conference, and I remember you said you were committed to making this work.
I was. So I started writing. Now I write every day. I post a TikTok video almost every day about copywriting and my business. I post on LinkedIn from time to time, and I repurpose some of my videos onto YouTube and Instagram. And I can tell you, every time I'm about to hit "publish," my heart is in my mouth. Because it's the fear of being judged, and the fear of not being good enough — I always have that.
But then I read about a really successful copywriter and marketer who to this day is afraid of publishing, afraid of putting things out. And I thought to myself, If this person's afraid, I can do this scared. Every time I do it, I get a little bit less nervous, a little bit braver, because you know what? I put it out there and I didn't die.
And those daily efforts have led to projects! What have you taken on so far?
I've written webpages, mostly for financial companies. Also blog posts and social content. My industry of focus is financial, like personal finance coaches. But I've also been taking what's been coming in.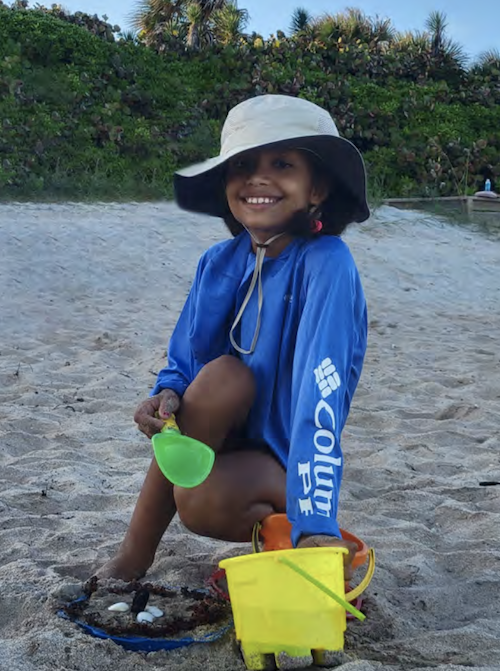 Shameka's daughter
plays in the sand in
Delray Beach, Florida.
How do you make the most out of life as a Barefoot Writer?
I get to see my daughter every single day. I don't have to leave home while she's sleeping and get home while she's sleeping. We get to go to the beach if we want to [having relocated to Florida]. The beach is 15 minutes away. We put a lot of good pressure on ourselves to do well. I can set the timer and write, then take a break to play with my daughter in the middle of the day when she comes to me. It's been really good. And I'm doing what I love.
Shameka's Living The Writer's Life story was originally published in Barefoot Writer. To learn more about how you can start living your dream writer's life too, click here.
What help do you need to move forward with your version of the writer's life? Let us know in the comments below so we can help guide you in the right direction.
Published: March 25, 2023