Living the Writer's Life: Latifat Abifarin
This Talented Nigerian Woman Proves That Writers Can Live Anywhere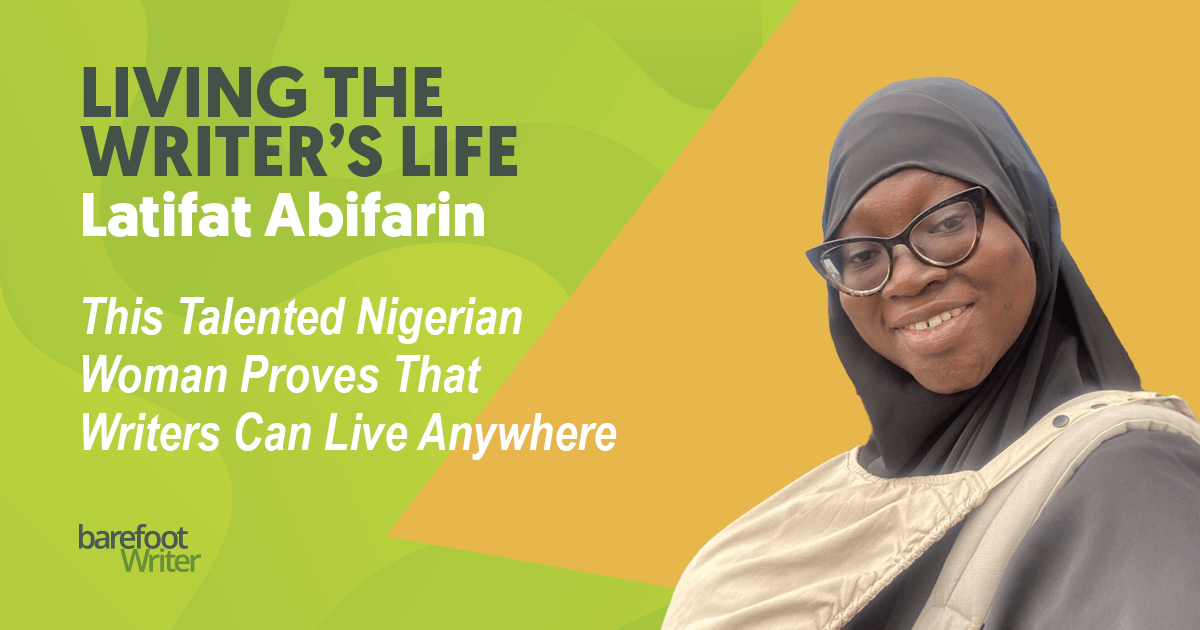 Latifat and her baby at a local bus terminal.
In Latifat Abifarin's words, "I'm one piece of evidence that there are talented and good people from Nigeria." Over the years, Latifat has struggled at times to connect with potential clients who judge her or assume she can't speak English. But, she's persevered and built a successful writer's life working as a content writer, ebook designer, and scriptwriter.
How did you first start work as a content writer?
I was always a good writer. I loved crafting stories and poems and was always posting on social media. I have always had a knack for words. I used to represent my school in debate competitions, but I never thought of writing as a career.
Then one day, a friend and colleague reached out to me with a project. He needed someone to help with a client's project because he couldn't handle the volume alone. And he thought I would be perfect for the job because of how I administered a group we both belong to and my social postings.
I was initially hesitant because I didn't know if I could do it. He assured me I could, so I gave it a shot. He loved what I came up with, and it blew up from there. Writing became my passion and my career. And it all started with that one project from my friend.
What kinds of clients and projects do you enjoy the most?
I love working with clients who appreciate my efforts and provide clear, detailed briefs. I especially enjoy recurring projects and retainers, but those are usually hard to come by. When I find a great project that I can sink my teeth into, it's like gold.
You have a fantastic website. Can you tell us about it?
It all started in late 2020 when I decided that one of my goals was to get my website up and running. I knew that if I wanted to be taken seriously as a freelance writer, I needed to have a professional online presence. So, I set to work, writing copy and gathering samples of my work.
My husband is a WordPress developer and designer. He took care of the design and technical aspects. We finally got the site up and running. It lends professionalism and authority to the proposals I submit.
Who was your first client?
I had just started my freelance writing business and was eager to get some clients under my belt. So, when the glass and mirror company approached me, I jumped at the chance. The pay wasn't great, but I was happy to be getting some work.
I wrote 2,000 words almost every day of the week for them. But then I increased my rates, and they bailed on me. That's when I learned that you can't always rely on your only client. I am grateful for the opportunity they gave me.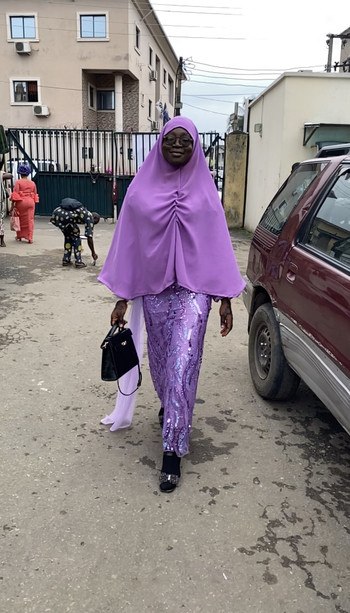 Latifat having fun
at a family member's
wedding in Nigeria.
Can you share a bit about your favorite project?
My favorite project would be a long-form piece I wrote about NFTs before they became mainstream. It was also my highest-paying gig. The client offered to pay me $1,500 for 2,500 words. I know other writers can charge more, but believe me, I danced for a bit when I read the message with the offer.
What has been the biggest challenge for you in building your business?
I think it is coming from a Third World country. When I cold-reach potential clients unfamiliar with how good freelance writers can be from other countries, they judge me and reject me based on where I come from. I'm one piece of evidence that there are talented and good people from Nigeria.
Others think I can't speak English or won't be able to express myself creatively. English is the official language and is the language of instruction at all levels of education in Nigeria. While we may not be able to attain native-like fluency, some Nigerians like myself have excellent command and use of the English language.
I usually ask for an interview or a test to show my skills. For prospects who have made up their minds, I simply let them go.
What's one Nigerian food that everyone should try?
I'm going to be biased because I'm Yoruba. Amala and Abula (a combination of ewedu and gbegiri) is a must-try. It will awaken all the senses in your taste buds and leave you yearning for more.
Latifat's Living The Writer's Life story was originally published in Barefoot Writer. To learn more about how you can start living your dream writer's life too, click here.
What help do you need to move forward with your version of the writer's life? Let us know in the comments below so we can help guide you in the right direction.
Published: February 18, 2023