How This Self-Proclaimed Freelance Writing "Tortoise" Hit Amazing Career Breakthroughs …
… and now this slow-and-steady achiever is poised to smash her goals at last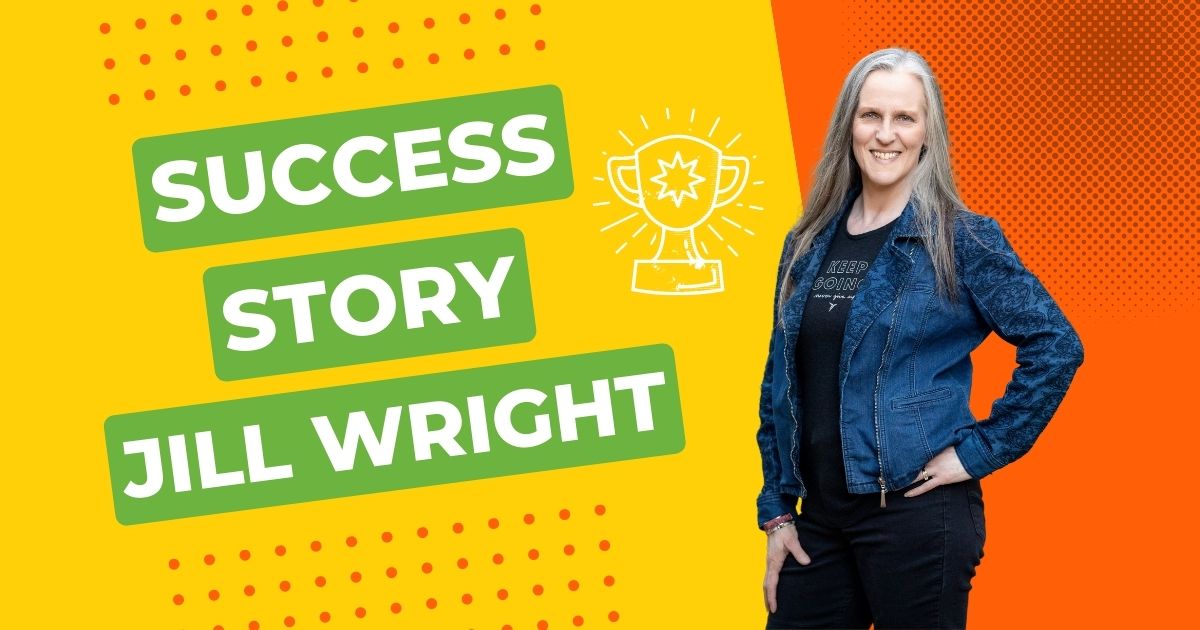 Headshot by Kristi Shirley Photography
Jill Wright, freelance copywriter and web content writer, was not an overnight success. But she found her own "slow and steady" path to growth by joining AWAI mentor-led programs, giving her the direction and support she needed to spring into action.
Jill told us, "I joined Ilise's GRO program, where I had some amazing mindset breakthroughs." (Ilise Benun leads the GRO Business Incubator, a small-group, all-in cohort with monthly meetings and tasks to make serious progress.)
Those breakthroughs sparked clarity and bold steps … paying off with a growing pipeline of freelance client work.
She told us, "Last July, I got my first client, a friend who needed a booklet arranged and edited, with some writing too. She referred me to a friend for whom I wrote a couple of pieces. I've also written a web page and a few blog posts for two other clients. They're locals — a web developer and a copywriting agency owner. They contact me whenever they need help.
"On December 1st, I started with a retainer client for monthly blog posts and SEO. I may also end up helping her with marketing strategy and emails."
Jill looks forward to upping her game this year with personal help from a Circle of Success (COS) mentor. "I know I'll benefit from his sales savvy, experience, enthusiasm, and motivation," she noted. "I have goals this year — I'm going to smash them!"
We asked Jill, what's your advice for writers interested in becoming well-paid freelancers?
She said, "Here are my favorite three words of advice.
"First of all, mindset. It's EVERYTHING! I love Henry Ford's quote, 'Whether you think you can, or you think you can't, you're right.' You have to let that one sink in.
"And, to go back to a kids' story, you have to be like the 'little engine that could.' Constantly tell yourself … 'I think I can! I think I can! I think I can!' until you believe it.
"When it comes to finding clients, at first, you HAVE to reach out. I took the easy path and told friends about my writing, which is where my first clients came from." (By the way, this is the number one way most AWAI members get their first clients … so give it a try!)
"Second: courage. I took my courage in both hands and joined a local women's networking group, signed up for a couple of time slots of booth space at local events, and had a blast. The networking group said they needed a representative for the local Chamber of Commerce, so I volunteered for that position, and I don't have to pay for Chamber membership. However, I can still talk about my own business. I also volunteered to write 'business spotlight blog posts' for networking group members. These go on the group website, so I get samples of my writing posted with a link to my site. I've only done two so far, but they loved them so much that I won some work from a web designer and an agency owner.
"Third: persistence. Don't give up! If you want this to work, you have to keep trying. If one way doesn't work, try another. If that doesn't work, try a different method, course, project, mentor, etc. You'll find a way to get there if you want something enough. It's like climbing a mountain — if you want to see the view from the top, you have to plan your route, prepare, and do the work to get there. Nobody can do it for you."
If you're excited about the idea of becoming a successful freelance writer — check out AWAI's program catalog to see which projects might spark your path.

The AWAI Method™ for Becoming a Skilled, In-Demand Copywriter
The AWAI Method™ combines the most up-to-date strategies, insights, and teaching methods with the tried-and-true copywriting fundamentals so you can take on ANY project — not just sales letters. Learn More »

Published: February 12, 2023