Free Webinar and Q&A:
Writing for Good: How to Thrive as a Freelance Writer for Nonprofits and Causes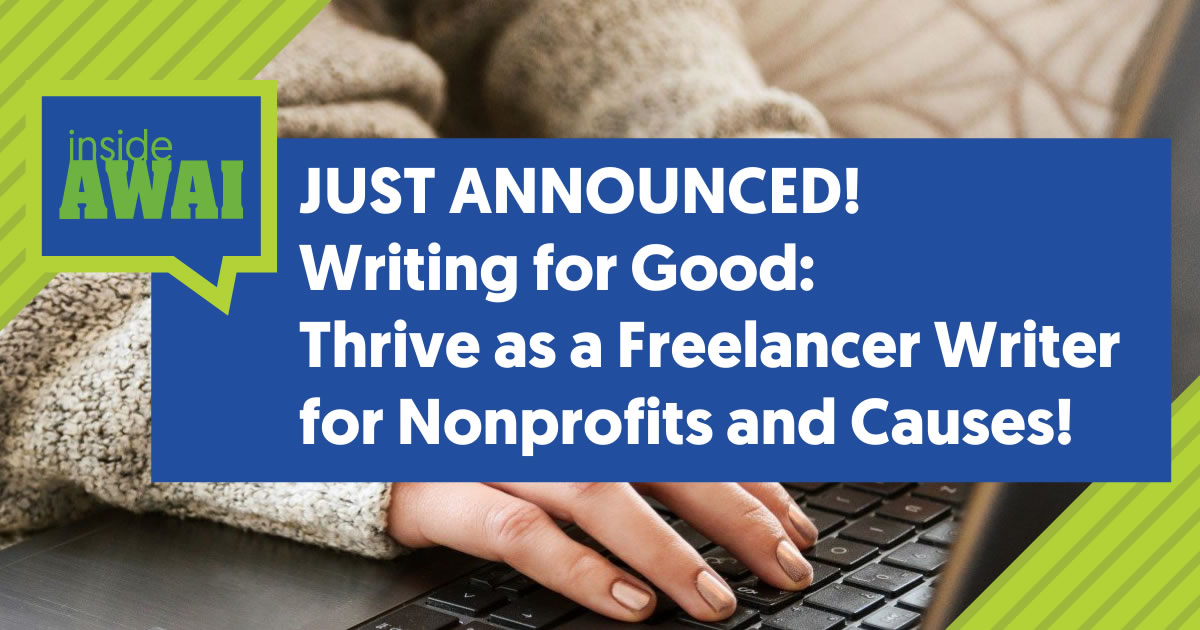 Interested in writing for nonprofits and worthy causes?
If so, join us on Thursday, January 13, 2022 at 6:00 p.m. ET for our next Inside AWAI session, Writing for Good: How to Thrive as a Freelance Writer for Nonprofits and Causes. You'll discover your many opportunities to make a great living AND make a massive difference writing for organizations you believe in — such as the environment, child safety, animal welfare, world health, equality, or other issues.
AWAI Learning Chief Pam Foster will be talking with three special guests who work in the "Writing for Good" world. Find out how rewarding it can be to write for various passion projects that support …
Nonprofit Orgs/Charities that rely heavily on donors for services, outreach, education, national/global initiatives
Industry/Trade Associations that rely heavily on sponsors, advertisers, exhibitors for professional events, conferences, journal/magazine, blog, podcast, summits, and more
Marketing Agencies that specialize in nonprofit/association communication needs
For-profit companies promoting causes they support (this is known as cause marketing)
As always, we'll include tips on how to break into this freelance writing specialty, and we'll have time to answer your questions.
Access Instructions
To join the online event (a Zoom meeting):
Click Here to join the meeting from a PC, MAC, iOS, or Android.

Allow the Zoom launcher to open on your computer.

Here is a Video Tutorial on how to join a Zoom meeting

Once you have launched Zoom, you can then connect your audio.

Choose the option to connect by phone or computer.
If ONLY listening by Phone:
Call-in toll number (US/Canada):
US: +1-646-876-9923 or +1-669-900-6833 or +1-408-638-0968
Meeting ID: 828 6300 5367
International numbers available: https://zoom.us/u/dJeGq7t9e
*If you are having trouble accessing the webinar*
Try switching browsers. You may want to use Firefox or Chrome.
If you have any questions in the meantime, please call our Member Success Team at 866-879-2924.

The AWAI Method™ for Becoming a Skilled, In-Demand Copywriter
The AWAI Method™ combines the most up-to-date strategies, insights, and teaching methods with the tried-and-true copywriting fundamentals so you can take on ANY project — not just sales letters. Learn More »

Published: January 8, 2022