Rebecca Matter:
Helping Writers Make a Very Good Living
"I consider myself lucky … I'm inspired every day by the AWAI members who are reinventing their lives, and achieving their dreams of financial security, independence, and the freedom to live and work where they choose.

It's exhilarating to know that even in today's economic climate, we provide a solution for people who want to escape the 9to5 cubicle lifestyle, and become in-demand professionals, running their own business – and their own life – on their own terms.

And I'm proud of what AWAI has become over the last 20 years … the industry's leading trainer of copywriters, and publisher of proven programs that help writers make a great living doing what they love most. We pride ourselves on not only giving writers the skills they need, but also the connections and roadmaps for getting and keeping great clients.
— Rebecca Matter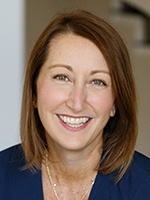 REBECCA MATTER is the President of American Writers & Artists Institute (AWAI), the world's leading trainer of direct-response copywriters. A marketer with two decades of experience in publishing and direct-marketing, Rebecca has spearheaded successful million-dollar campaigns for countless products, both online and off, and has spoken and written on topics ranging from getting and working with clients to successful web marketing strategies.
Rebecca recognizes the tremendous opportunities available to people who know how to write persuasively. She's dedicated herself to keeping AWAI members ahead of the curve … and in demand … by creating cutting-edge programs on the most marketable writing skills today.
Her latest ventures, Wealthy Web Writer and B2B Writing Success, give readers the tools, tips and techniques they need to write effective copy, identify new revenue streams for their businesses, find and work with new clients, and make a very good living as a professional copywriter..
Rebecca Matter Articles
More Articles By Rebecca Matter …
Connect With Rebecca