Living the Writer's Life: Ernst-Jan Buijs
Van Life Secrets from an Entrepreneur Turned Copywriter in the Netherlands!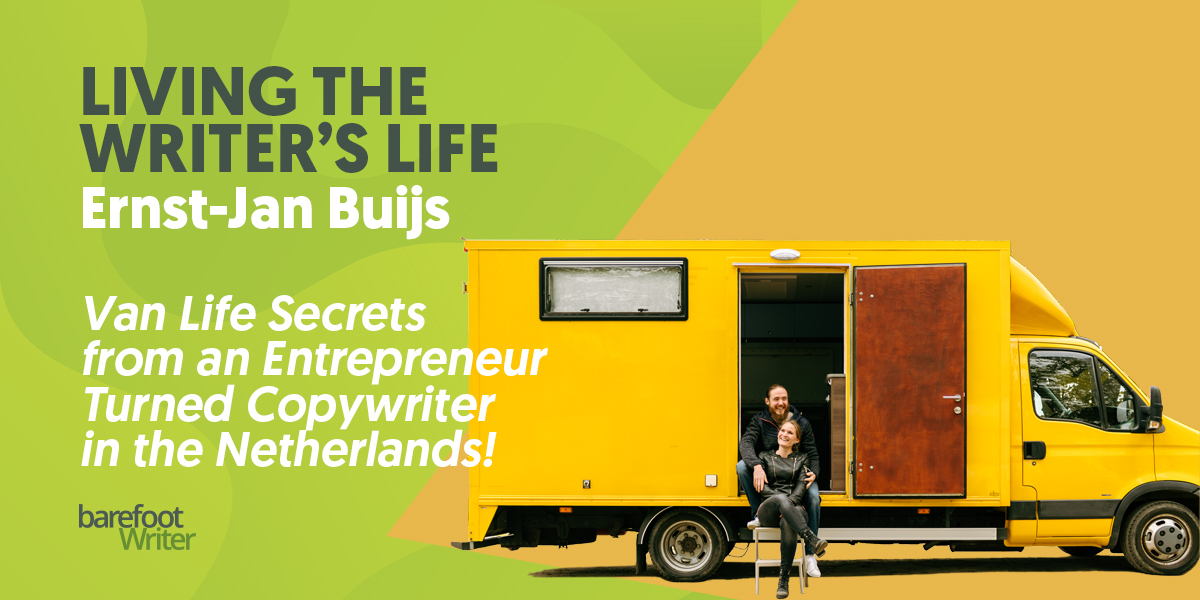 Ernst-Jan and his girlfriend with their converted van traveling through Europe.
Ernst-Jan Buijs grew up in a small city near Rotterdam, Netherlands. While still attending university, he was already thinking about the future. One thing was for sure … the typical 9–5 lifestyle just wasn't for him. So, Ernst-Jan began looking for opportunities to build his own business. What he was able to build — while traveling Europe in a camper with his girlfriend — is quite astounding! You'll love his advice for how to grow your own business when your heart longs for adventure.
How did you first build your writing business?
I started to research what successful internet entrepreneurs were doing and spent all my time reading blogs, following courses, and watching videos and webinars to find out how to make money on the internet.
I was on this schedule for a while, working from 9 to 5, eating dinner, going to the gym, and then working on my business from 7 to 11 p.m. every evening and on weekends. I often worked a couple of hours in the morning as well.
After a while I was pretty good at email marketing automation and building funnels. And I started to get some clients. I decided to quit my job to be an entrepreneur full-time.
And now you and your girlfriend travel through Europe in a van?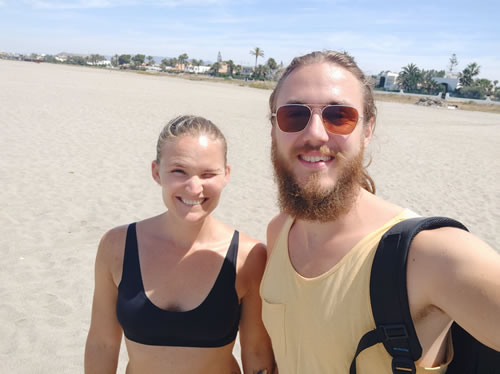 Ernst-Jan and his girlfriend on a
beach in Spain while his copy
is doing all the hard work
and getting sales.
We bought a box truck to convert it and travel Europe. It was also a way for me to have a deadline and to pressure myself to be able to work 100 percent online. The van was converted to a beautiful camper. We slow-traveled through Sweden, Germany, France, and Spain for about half a year.
Where does copywriting fit into the story?
I noticed that the outcome of all funnels/promotions is heavily dependent on the copy. So I started to get into copywriting more and more to be able to create winning funnels and promotions for my clients.
Focusing on copywriting paid off big-time for me. While I was still going through the AWAI Six-Figure program, I wrote a sales page and some ads for my girlfriend's new online dog training business, and she went from about €8,000 in 2019 to six figures in 2020!
Also, one of the most well-known business coaches in my country hired me on a retainer basis. Now, six months later I'm still working with this business coach and getting more well known as the go-to guy for funnels and copy. I now get multiple requests a week to write copy for awesome businesses.
What types of clients do you enjoy working with most?
I'm only writing copy in Dutch, and I mainly focus on coaches/trainers selling online courses or services. Writing for clients is a lot different in the Netherlands. We don't have the direct advertising history like you do in the U.S.
What advice would you give other non-native English-speaking copywriters?
Look for opportunities in your own country as well. It's probably a lot easier to get clients and make a name for yourself. The principles you learn in English can be applied 1:1 in your native language. It's also a lot easier to get your first clients via the network you already have.
What is one of the biggest challenges you've had to overcome?
Building a network with high-potential clients and going from clients with very small budgets to "the big fish."
This is what helped me succeed: Being visible and building relationships for the long term without asking for the sale right away. But I would tell others not to create a website and wait for clients to come to you. You have to be proactive.
What tips can you share for proactively landing clients?
Now that I'm "on the inside" working with awesome clients, I see a huge opportunity to get jobs quickly. This is what I would do: Make a list of 10 dream clients, connect with them and analyze what they're doing now, and send each dream client a piece of copy they can use right away.
Be more than a writer. You can be even more valuable if you can also do the technical side of online marketing.
What do you enjoy most about the freedom this career path allows you?
I can schedule the day the way I want. As online entrepreneurs (with a camper) we can go on a trip whenever we like. If we decide to leave for months right now, we can be on our way in a couple of hours and don't have to get permission from anyone.
Ernst-Jan's Living The Writer's Life story was originally published in Barefoot Writer. To learn more about how you can start living your dream writer's life too, click here.
What help do you need to move forward with your version of the writer's life? Let us know in the comments below so we can help guide you in the right direction.