Living the Writer's Life: Elias Christeas
Indiana Jones Inspired This Writer to Explore Life's Possibilities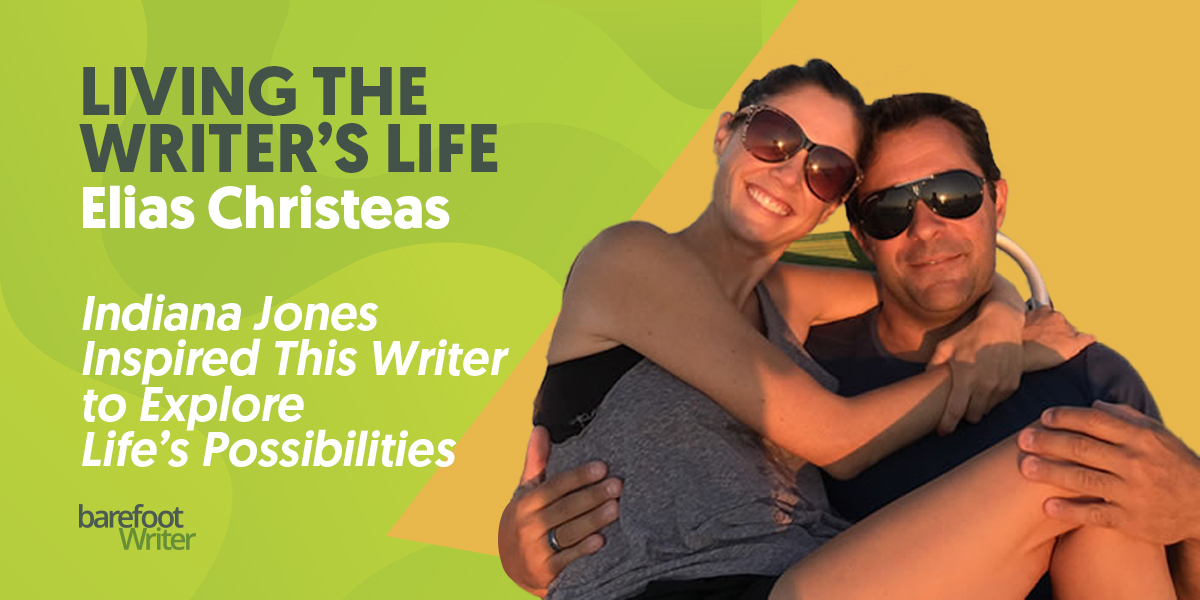 A lot of people are inspired by the movies. But Elias Christeas' fascination with Indiana Jones taught him to explore, engage with, and discover all that life has to offer. He leveraged his passion for automobiles into a copywriting career where he began breaking sales records within a matter of months. Today, he is happily living his dream writer's life in Florida with his family. Here is Elias' story …
Tell me how you got started in the world of copywriting.
Before I was "officially" a copywriter, I always wanted to travel and write. From my earliest memories as a boy, I wanted to be like Indiana Jones. Free to explore, engage, and discover — and then, of course, report back with some amazing stories.
Fast-forward to my adult life. I fell into running a business that started out as a side passion, and was doing all the internet marketing for it.
Restoring and selling vintage Land Rovers appealed to my sense of adventure and romantic notions of travel. I loved fixing them, writing about them, and connecting with people who really wanted them. Every Rover that I restored was a piece of history preserved and another set of adventures made possible.
And how were you able to redirect your passion for automobiles?
I'm currently a senior copywriter at an automotive SEO agency. I do landing pages, sales pages, service pages, PR pages, case studies, special reports, technical articles, and more.
Before that, I worked on enhancing internet presence for shops like the one I used to have. This involved brand messaging, content strategy, site creation, and social strategy. I've been lucky enough to work with guys just like me to major-enterprise-level clients.
I understand you joined Circle of Success with AWAI. Tell me about your experience.
Yes! I am so glad I joined Circle of Success. I was in a place this past spring where I wanted to boost my career in a new way. I didn't know exactly what I was looking for, but I felt it — and I had to chase it.
I needed the flexibility to explore every resource without restrictions. I wanted to run at my own pace, and it was a blessing to have AWAI's vast knowledge bank at my fingertips.
And what do you consider your greatest successes?
On a spiritual level, I've found success because what I do has enriched my own life and allows me to enrich the lives of others.
On a professional level, I've pleasantly blindsided the company I work for and have been developing material that is beyond their wildest expectations in terms of results for our clients. I get to train the new hires, too — and watching the lightbulb moments for them is particularly rewarding.
And personally, just proving to myself that I can do it, and take the steps necessary to learn, push, and grow means more than I can say.
What's your favorite thing about your writer's life?
I know I'm making a difference for people. I work in an industry that has many negative associations surrounding it, and I love being the line in the sand. Everything I write goes toward educating and empowering the customer, which in turn creates trust for the retailer.
The conversion rates are exceptional — not just click-through rates, but actual sales. And that makes me feel deeply satisfied. The pages we produced have outranked the OEM (original equipment manufacturer) pages in some cases, and that's just incredible.
Somewhere behind the scenes is a writer who cares, and that makes all the difference.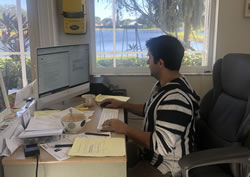 No shoes. No time card.
No problem.
What's your secret to achieving these goals so quickly?
It's all mindset. I spent the better part of 20 years developing my skills and becoming a dedicated specialist. But it was ultimately when I crystalized a vision and just put my foot on the gas to see it realized that amazing things started to happen.
And when you're not writing, what do you enjoy?
My family and I love to travel … from LA to Hawaii, to Australia, to Vermont, to Connecticut, and now Florida, of all places. Every day is an adventure, and I love seeing the kids wake up every morning with a no-holds-barred attitude toward life. Indiana Jones be damned. I think that's my greatest success.
Elias's Living The Writer's Life story was originally published in Barefoot Writer. To learn more about how you can start living your dream writer's life too, click here.
What help do you need to move forward with your version of the writer's life? Let us know in the comments below so we can help guide you in the right direction.