The Zeigarnik Effect: Finish What You Started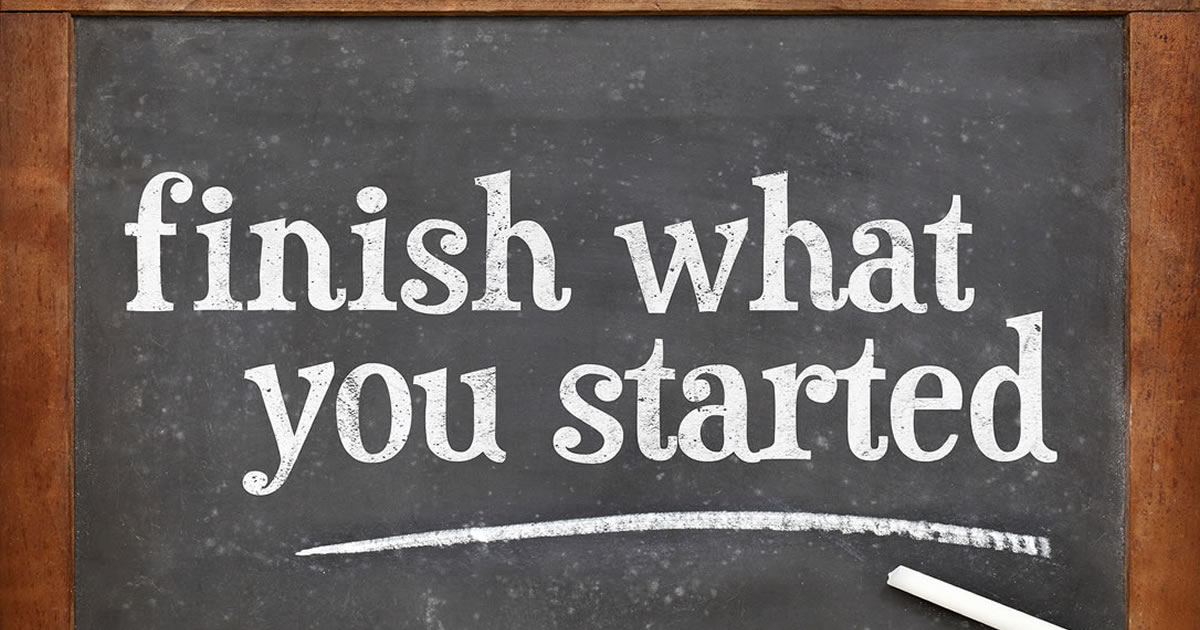 I have a fairly large walk-in closet in my office …
Half of it is packed with business books, binders, notebooks, old journals, AWAI programs, old laptops, and more.
But the other half …
It's filled with more books than I could ever read … workout programs still in the packaging … binders full of half-baked business ideas …
Every time I walk in, I'm reminded of all the things I've started — and never finished.
It's human nature …
We get excited about the next thing.
And if you're at all entrepreneurial like me … even just the slightest bit, you're filled with ideas … things you'd like to do … maybe you even take them as far as starting …
Any chance you can relate?
Don't get me wrong, I have accomplished plenty of things I set out to do …
I ran a half marathon, got my MBA, completely eliminated any debt, developed a web-writing division at AWAI … and then developed a B2B division …
But it's funny how the brain tends to forget those things — and focuses on the things we haven't completed.
According to "the Zeigarnik effect," you are more likely to remember the things you never completed, over the ones you did. The brain wants to finish what it started! And will keep reminding you over and over again.
Now, I'm not saying you shouldn't dream …
But it's time to finish what you started.
If your dream is to make a living as a writer, enjoying what we call the writer's life, I'm going to help you.
First, you need to answer the all-important question …
What's your end game?
The first step is defining what you are trying to achieve.
Now I will tell you, I don't believe in setting goals every year …
I believe in just "killing it" every day. By that I mean, you should strive to make every day better than the day before.
I also think when you're trying to accomplish something specific, it's good to identify what the accomplishment or the "end game" looks like so you know when you've reached it.
In other words, define the finish line so you know when you've crossed it.
It doesn't have to be the final long-term goal … I'm not asking you to name your income five years from now. But let's say you want to be a "working copywriter."
What does "working copywriter" mean to you?
First paid assignment? First $1,000? Three months of revenue exceeding $2,500 in a row?
That's your first finish line.
And now that you know where the finish line is …
How are you planning to get there?
Writing for the Web … for the Business-to-Business market … writing case studies … building a Money-Making Website …
If you've been around AWAI for a while, you know there are lots of ways you could get there — but the key is picking one to start and seeing it through.
This is the biggest obstacle for many aspiring writers. There are so many "bright shiny objects" around …
In the almost two decades I've been with AWAI, I've wanted to be a health copywriter, a grant writer, a B2B content writer, a travel writer, and more …
But I know from experience, you must pick a single path to start.
You'll move forward much faster with one path than trying to move forward with a lot of paths.
Momentum is crucial to achieving the writer's life … acquiring confidence, overcoming future doubts, building a business, and more.
So pick your path, and get moving. Remember, the goal here is to finish what you've started …
You can always set a new finish line after you reach this first one.
Once you've determined your path, you need a roadmap …
What are the steps you need to complete the journey? Acquire a skill, put up a website, put up your LinkedIn Profile, identify your ideal clients, attract well-paying clients … What's still left to be done?
(If you need help with your roadmap, I did a webinar where I show you how to create a success roadmap — no matter what your path. You can access it for free here.)
And then it's time to start doing …
That's probably the most important part of the entire process.
You and I both know there's a difference between reading about what it takes, and actually doing it.
So pick one thing from your roadmap today …
Whether it's to decide/define your niche …
Finally put up your website …
Finish a program you've started …
Keep going until you've reached your finish line …
Celebrate …
And then decide where you'll go next. ;)
You can and will cross many finish lines on your way to living the writer's life … you just can't cross them all at once!
Your takeaway: Whatever it is, commit to finishing it. And then when you're done, finish the next thing you need to do. Each step you finish brings you that much closer to the writer's life.
What have you started that you'll finish next? Share in the comments so we can cheer you on.

The AWAI Method™ for Becoming a Skilled, In-Demand Copywriter
The AWAI Method™ combines the most up-to-date strategies, insights, and teaching methods with the tried-and-true copywriting fundamentals so you can take on ANY project — not just sales letters. Learn More »

Published: January 3, 2022