Acquire the Skills Needed
to Make a Living as a Writer
To make money as a writer, you first need to acquire the skills to do the work, and then find clients who value and will pay you well for those skills.
For some writers, this means they become sales copywriters, writing sales messages in the form of letters, online sales pages, or emails. For others, who don't see themselves "selling," there are plenty of other writing opportunities, particularly online and in the Business-to-Business (B2B) industry.
Either way, if you want to make a significant income as a writer, you need to develop a writing skill that is in demand.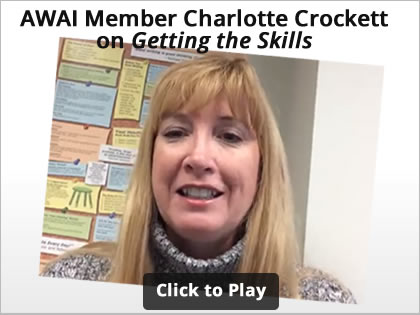 AWAI has dozens of programs and live training events that teach writers the skills they need to be successful in the hottest and highest paying areas today. Here are just a few of the core programs that have launched so many AWAI members into successful writing careers …
The first is the company's flagship program, and the foundation for all writing careers, AWAI's Accelerated Program for Six-Figure Copywriting.
If You Can Write a Simple Letter to a Friend,
You Can Make a Living Working for Yourself as a Copywriter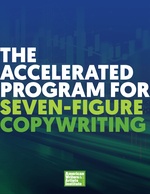 With the proven copywriting secrets you learn in AWAI's Accelerated Program for Six-Figure Copywriting, you can join the ranks of copywriters who earn $50,000, $75,000, $100,000, $200,000 or more a year, writing promotional letters for the $2.3 trillion direct-response industry.
These are the same letters you see in your mailbox and inbox every day. They do everything from persuade you to buy a product or service to convince you to donate to your favorite charity.
These letters earn millions of dollars for the companies that send them — and those companies pay handsomely for a skilled copywriter to write them.
Here are 10 great reasons you should consider AWAI's Accelerated Program for Six-Figure Copywriting:
It's jam-packed with proven secrets, tips, and techniques that have sold billions of dollars' worth of products.
It introduces you to all aspects of the industry — from what you need to know about the copywriting business … to writing powerful letters … to launching your new career.
Our Board of Copy Advisors is made up of some of the most successful copywriters, marketers, and direct-response company owners in the country. You couldn't be hooking up with a better group of people to guide you to success in this career.
The AWAI program is entirely hands-on. You actually "write while you learn" … so you can begin building a body of work you can use to break into the business quickly.
You can complete the program entirely at your own pace. You can take a year or finish in six weeks or less!
The $10,000 Challenge. Everyone who takes the program has the opportunity to compete in a letter-writing contest that could result in a $10,000 contract
Our reputation for producing top-notch writers is unsurpassed. That's why so many of the biggest direct-mail companies in the world are constantly coming to us looking for writers.
Everything we do is geared to helping you succeed and make a living as a writer. Because when you succeed — we succeed.
Even if you're not interested in becoming a professional copywriter, the selling and marketing knowledge you'll gain from this program will help you in any business you happen to be in.
A 100%, no-nonsense, no quibble guarantee. If you happen to decide copywriting is not for you, just let us know within the first 30 days. We'll refund every dime you've paid us.
Even if you don't consider yourself a writer … you can succeed with this program. If you can write like you talk and follow some simple, yet powerful techniques, you can create a life where you'll enjoy the kind of personal and financial freedom most people only dream about.
Learn more about AWAI's Accelerated Program for Six-Figure Copywriting …
One of the Biggest Opportunities and the Fastest Way for Copywriters to Make Money Writing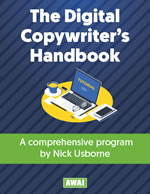 Once you have a foundation in copywriting, you can choose to apply those skills to one of the hottest opportunities for writers — the Web. And Copywriting 2.0: Your Complete Guide to Writing Web Copy that Converts helps you do just that …
The expert behind the program, Nick Usborne, has been a copywriter for 30 years now, 12 of which he dedicated solely to online copy. He's worked with and been a web-copy consultant to companies like Microsoft, Yahoo!, Disney, America Online, and The New York Times.
In this program, Nick shows you how to dramatically improve any web page, email campaign, or e-newsletter. In four clearly-written sections, Nick breaks down what it takes to write copy on the Web that will drive traffic, grab attention, and yield conversions. That all adds up to bigger success for your client and more money in your pocket.
Section 1 focuses on what it takes to be a successful online copywriter, as well as on the nuts and bolts of good web copywriting. This section gives you a solid foundation for becoming an in-demand, highly paid online copywriter.
Section 2 is where you learn Nick's proven strategies for creating web pages that sell. Master this section, and get ready to command fees of $1,500, $2,000, even $3,000 … just for writing a single 500-750 word web page!
Section 3 shows you how to earn even more money by writing materials your clients are going to keep on needing … the emails, e-newsletters, and blogs that help them stay in touch with their customers and prospects. With ongoing assignments like these from just a handful of clients, getting to six-figures can be a snap.
Section 4 gives you Nick's "million-dollar" tips, techniques, and insights for writing blockbuster web copy. This is the stuff Fortune 500s are looking for when they hire Nick — and now you'll be able to deliver it, too.
And, as part of Copywriting 2.0, you'll also get 16 training videos — all designed to get you up and running as a web copywriting specialist in no time flat.
This collection of training videos will show you the ropes, step-by-step. You'll learn about how to ensure your client's website has the best chance possible of getting seen by search engines like Google; free tools available to help strengthen your copy; how best to deliver your web copy ideas to your clients; and much, much more …
When you're done, you'll be able to confidently present yourself to any company, large or small, as an expert who can transform their online presence. Or, you might decide to make more money from your own online business than you ever thought possible.
Learn more about AWAI's Copywriting 2.0: Your Complete Guide to Writing Web Copy that Converts …
And last — but certainly not least — is AWAI's Secrets of Writing High-Performance B2B Copy.
The Surest Road to a Six-Figure Income from Writing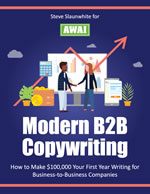 If you dream of writing for a market where the work is plentiful … the pay scales are generous … the assignments are fascinating … and the competition is scarce, B2B (otherwise known as the Business-to-Business industry), may be the perfect fit.
And it's huge — a $6.5 trillion industry.
B2B copywriters help businesses sell their products and services to other businesses, rather than to consumers. B2B companies are often desperate to find skilled copywriters who understand their needs and can give them clear, concise, compelling copy that motivates the business buyer.
If you want to break into this lucrative market — a market unlike anything you've seen or heard of before — you definitely want to check out AWAI's program tailored to the needs of the business copywriter. Secrets of Writing High-Performance B2B Copy was created by veteran B2B copywriter and acclaimed author, Steve Slaunwhite.
Steve covers every aspect of B2B copywriting in this program. It's brimming over with secrets you can use to land projects and then knock them out of the park … things like:
Why B2B companies need copywriters so badly … and what YOU need to know to get the work
How B2B companies market and sell their products and the most common types of B2B copywriting projects
How to get inside the mind of the B2B buyer and how to master the B2B writing style and tone
How to write copy for the four major B2B areas: Lead generation and direct sales, B2B "edu-marketing," sales force support, and brand awareness and publicity
How to write copy for all three B2B markets: Fortune 500 companies, midsize companies, and small businesses
Why you don't need any technical background or knowledge to handle B2B copywriting assignments with confidence and success
33 little-known techniques for writing more powerful — and more potent — B2B copy
How you can make $100,000 a year or more strictly from B2B work or as a complement to your other copywriting projects
That's just a taste of what Steve will teach you. From start to finish, this program lays out every step you need to take to succeed as a B2B copywriter. Just imagine what it would be like to write for prestigious Fortune 500 companies and have them pay YOU for your expertise. AWAI's Secrets of Writing High-Performance B2B Copy will help you make this dream of writing for a living a reality.
Learn more about AWAI's Secrets of Writing High-Performance B2B Copy …
These are just a few of the core programs that have launched so many AWAI members into successful writing careers …
To see the full collection of programs offered by AWAI, visit our catalog.
You can also browse our archives for free access to thousands of articles on copywriting, setting goals, getting clients, and more.
And feel free to contact our Member Services team if you have any questions about our programs, or need some direction on achieving your own personal writing goals.
Whatever living the writer's life means to you … AWAI can help you make it a reality.