Living the Writer's Life: Joey Lubelfeld
"Talent and Opportunity" Launched This Once Jobless Writer into a New Career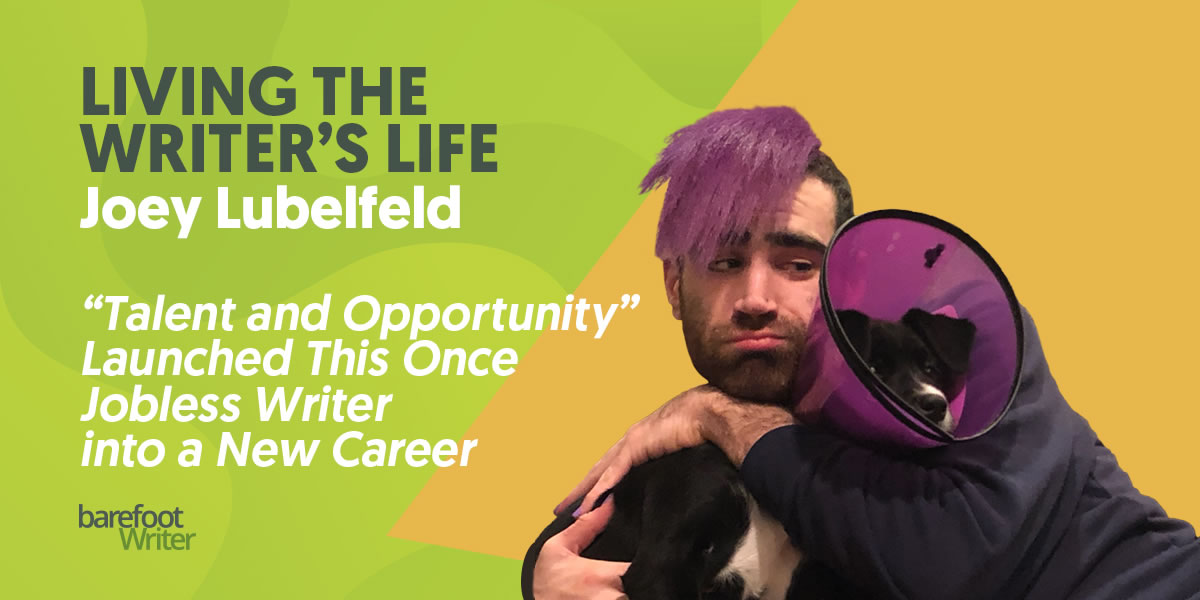 Joey cuddling with their new writing assistant!
The pandemic left Joey Lubelfeld jobless, so they started to look for new ways to make money doing something they loved … writing! So when AWAI's Launch Party dropped into their lap, things felt like they were meant to be. Joey took immediate action, using LinkedIn to land new clients, and writing web content and emails for them. Today, Joey is continuing to build a writing career in the mental health niche. This just goes to show that "talent and opportunity" can converge at the perfect time!
What were you doing before you decided to learn about copywriting?
I worked in theater. I worked in audience services selling tickets a lot. Writing has been something that I've done my entire life. It's always been a part of my life since I was a little kid and through college. So I thought that that would be a really great way to do something I love.
AWAI Launch Party sounded like a really great way to launch the business in a week. That's where things really started to blossom.
What were the best things about AWAI's Launch Party that helped you?
Having a space I could really devote to launching the business was a big thing. Then, the LinkedIn day was really big for me. I finally had somebody walking me through the ways to really do that in an effective way. It meant I was going to be able to market myself.
Choosing a niche is such an important step. What drew you specifically to the mental health niche?
I just have a lot of experience with mental health myself and with loved ones. So it's a world that I've been a part of. It's something that I'm passionate about. With my own struggles and with seeing people around me, it seems like a really good way to use my skills to give back.
I understand you started connecting with several clients through LinkedIn and blogging. Tell us about your strategy there.
I had somebody reach out to me through LinkedIn after I updated everything, and they saw that I was doing website-related content stuff. They reached out; they were looking for somebody to help. I used everything that I learned through the Launch Party and through AWAI to take that project on.
Another tip that I learned from AWAI was that anytime you blog about a product or a service, you want to link back to that product and service, and let those people know that you've linked to them.
I wrote a blog post about a service, and I said, "Hey, I'm including you in my blog. Just wanted to let you know. Feel free to check it out."
I did have somebody come back to me and say, "Hey, this is really great. Thanks for including us. We have this job that we think you'd be a great fit for. Would you be interested in applying?" That was sort of this form of momentum that I got.
You mentioned that you had "talent and opportunity converging at the right moment." Can you explain what you mean by that?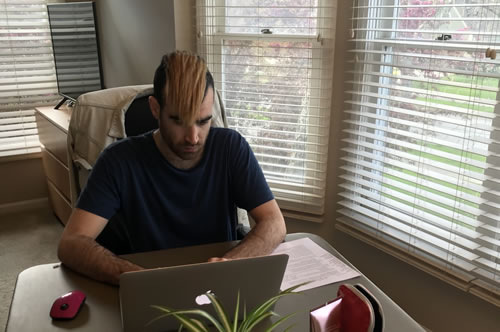 Joey working hard
from the comfort of home.
Yeah. The perfect example of that was getting asked to apply for the job. I have the talent. I have the skills. I happened to reach out to this organization and wrote this blog post at the exact time that they were hiring somebody to do digital communications.
So it was the fact that those things lined up perfectly. I think it's really easy to get bogged down in self-doubt and self-deprecation when things aren't working out. Sometimes it's just about the timing.
What do you think are the most important things for somebody who is brand new?
Well, I think the mindset is really key. Confidence and perseverance are key, too. I think setting expectations for yourself is always really important. My goal when I started doing the AWAI method was within 90 days to have my first client, and that happened.
Do you have any goals you can share with us?
My goals are to keep working and keep learning. I am in a job interview process for another full-time job that's in a development and marketing sphere. So that would be really exciting. I would also like to keep building up clients, and get to a point where I'm doing work for clients that I really want to be writing for in the mental health industry.
Joey's Living The Writer's Life story was originally published in Barefoot Writer. To learn more about how you can start living your dream writer's life too, click here.
What help do you need to move forward with your version of the writer's life? Let us know in the comments below so we can help guide you in the right direction.

The Barefoot Writer
Discover a lucrative style of writing that will give you as much freedom as you can have while earning a great income at the same time. Learn More »

Published: July 10, 2021