July Issue: Flip Those Worries to Happier Writing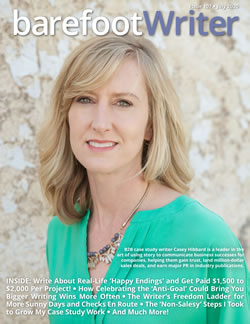 You hear it in the news a lot lately … on social media … from neighbors …
Times are hard. We just have to get through this. When all this is over, then we can [insert happy scene].
Well, you know what?
We're flipping those negative thoughts clean upside down here at Barefoot Writer this month!
Instead, we want to show you a different approach to navigating the second half of 2020.
It's a cheerier road. More of a relaxing road. A road paved with happy endings, freedom ladders, and becoming your best self.
And you'll find it all in the July issue of Barefoot Writer.
That includes learning
how to write about real-life happy endings and net as much as $2,000 each time,
the art of the "anti-goal" and why it could mean bigger writing wins for you,
tips on starting a writing business during the COVID crisis, and
why half a week of doing this could boost your writing output tenfold.
Plus, you'll love our interview with the marvelous Casey Hibbard, who reveals the total joy she found in charting her own writing path.
Click here to read your July issue of Barefoot Writer now.
Did you know several of our Barefoot Writing Challenge winners have gone on to write multiple paid articles for us? Submit an essay this month — not only might you win $100, but you could go on to be one of our regular contributors. See page 20.
I'd also like to extend a special invitation today for you to join the Barefoot Writer Club …
You'll become part of a world where you can:
Quickly connect with hiring clients
Reach out to high-earning writers for support and advice
Get discounts on guides to the hottest writing opportunities
Access reports that teach you shortcuts to massive success as a freelance writer
And so much more!
In short, you'll be welcomed into a very special group of people who can show you what it takes to earn a healthy income as a writer, while enjoying the kind of lifestyle most people only dream about.
Take the quickest route to life as a paid writer: Discover the Barefoot Writer Club today.