Living the Writer's Life: EG Orren
Hurricane 'Orren' Sweeps Through the World of Copywriting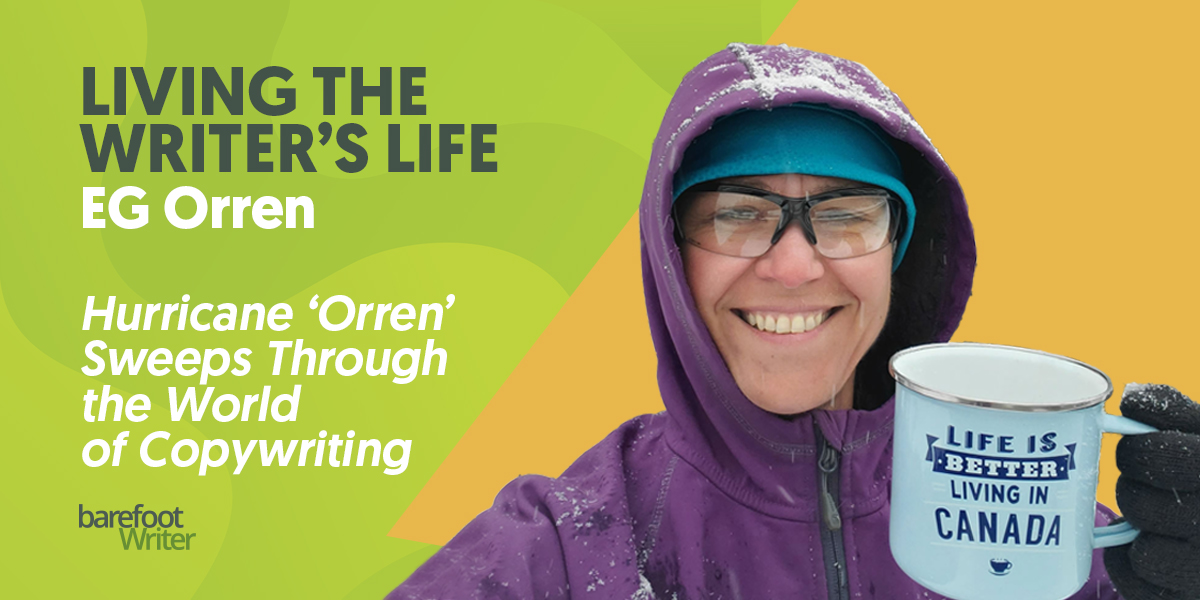 EG Orren says the only disaster she hasn't experienced is a hurricane … But her rise from green newbie to successful copywriter — earning more than $17K in just 10 weeks — feels a bit like one of those awe-inspiring storms. Leaving behind her former career as a concert photographer, EG travels the continent working with music industry clients across four different time zones. Today, she prides herself on being a "consultant" rather than just an "order taker." If only we had more space to share all of her fantastic adventures …
Tell us about your switch from concert photography to copywriting and going "all in."
The switch wasn't entirely by choice. The music industry — along with the rest of the world — came to a grinding halt last year!
Before copywriting, I was "asset rich and cash poor." I was hanging on … the emergency fund was depleted … I had to double-check to see if my credit card could even handle the $49 USD fee for AWAI's Professional Writer Launch Party when it came up.
Less than a year later, I've been able to pay bills, purchase new AWAI courses (including COS), and built my emergency savings back up.
I always go "all in" if I'm going to do something.
I don't have a choice in the matter. I have brain damage (double-digit concussions and two bouts of viral meningitis), which has created a learning disability. My memory is like Teflon … Good luck getting something to stick!
I discovered AWAI and copywriting through DigitalMarketer. They opened up their programs for free at the start of the pandemic in March 2020.
I still had time in the trial when I finished all the courses. There was one course left called Direct Response Copywriting. Turned out to be Pam Foster teaching it. I hadn't realized it was a career all in itself — and a much higher-paying one! That was my intro to AWAI and copywriting.
After that, the seed was planted. I checked out the AWAI website … Less than a week later came the promo for the first Launch Party.
What types of clients do you work with today?
I call them entrepreneurial creatives. People who have passions they want to turn into some form of paycheck — even if it's casual or part-time. I work with musicians, mostly, but anyone in the artistic space fits — photographers, writers, and so on.
I know I won't ever make a great deal of money staying in this niche. At some point — hopefully in the not-too-near future — I'll have to pivot away to better-paying projects to limit the workload and maintain the income to cover expenses … but until then, it's off-grid, bohemian vagabond living for me.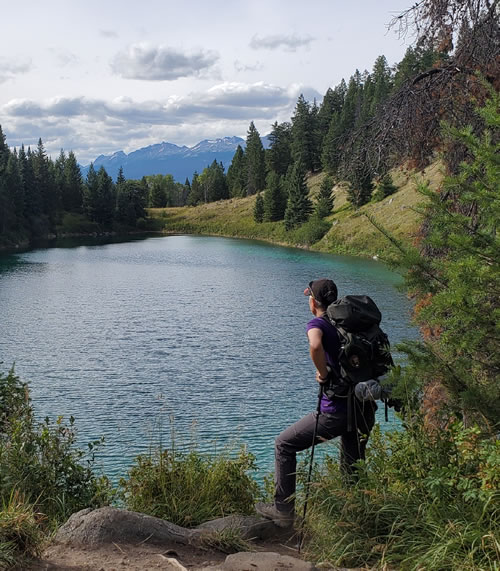 EG traveled to seven national parks
across three Canadian provinces
in 5½ weeks.
What's your favorite thing about your writer's life? You're a nomad, right?
My client calls, courses, deadlines, and so on revolve around where I want to be. I traveled to seven national parks across three Canadian provinces in 5½ weeks. I didn't miss one call or deadline despite snow, rain, and hail. I have clients pressing their faces into the screen at the start of calls asking, "Where are you today?"
What would you say to a new writer who is nervous about just "going for it"?
Speaking of nerves … I accidentally started my career before the end of the first Launch Party. I naively mentioned what I was doing, as instructed.
A few days later I got an email from someone who turned out to be my first client. The man has been in the music industry longer than I've been alive.
Talk about imposter syndrome rearing its ugly head! But when we spoke, I realized that as knowledgeable and experienced as he was, it wasn't in copywriting, or social media, or digital marketing.
Now he was independent, and he needed to figure out how to do that all on his own. That's where I was able to help. I didn't really know much of anything at that point. But what I did know was more than he did! That's the key.
What do you do for fun?
When I'm not shooting people (with my camera) or arguing with squirrels that break into my car to steal my nuts in the middle of the night, I'm volunteering at an animal rescue. I get along with animals better than I do people.
EG's Living The Writer's Life story was originally published in Barefoot Writer. To learn more about how you can start living your dream writer's life too, click here.
What help do you need to move forward with your version of the writer's life? Let us know in the comments below so we can help guide you in the right direction.

The Barefoot Writer
Discover a lucrative style of writing that will give you as much freedom as you can have while earning a great income at the same time. Learn More »

Published: April 10, 2021