How a Painted Baseball Transformed the Heart of a Town Through the Power of Story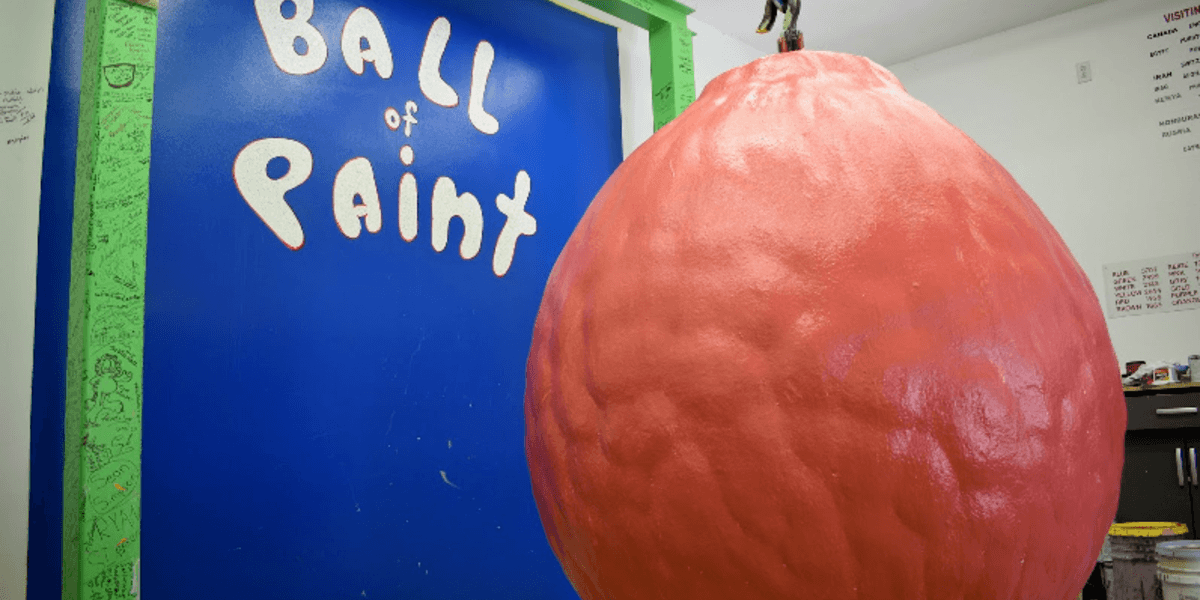 Have you ever seen potential in something that other people think is just plain weird?
Or have you taken an out-of-the-box path that at first seemed silly …
But ended up changing the lives of thousands of other people?
That's what Michael Carmichael of Alexandria, Indiana did, though he's only part of the story …
24,000+ Layers of Hope and Color
Picture a little boy with a baseball and a can of pastel blue paint.
At his father's urging, the little boy paints the baseball.
Not to be confused with simple arts-and-crafts, that first coat of paint, which happened back in 1977, has been followed by over 24,624 additional coats of paint.
And the tiny baseball is now the core of a behemoth that measures over 14 FEET in circumference and weighs 2.5 tons.
Michael Carmichael was the mastermind behind this Franken-paint creation, and has kept at it for over 40 years. He now holds the Guinness World Record for the most layers in a ball of paint.
If you think that's peculiar, or maybe fascinating, you're not alone. Author and motivational speaker Andrew Davis was so intrigued that he made an entire documentary about it.
But what started as a quest for the backstory on one man's funny, crazy goal quickly turned into a transformative story that brought people together.
Quirky Story Changes More Than Just the Record Books
The other half of this story is the role that Andrew played. Long fascinated by roadside attractions and anything published in the Guinness Book of World Records, Andrew, and a friend decided to make a documentary about the story behind Michael Carmichael's paint ball.
At the time, the town of Alexandria, Indiana, where the ball-painting went down, was facing a population crisis. Jobs were scarce following the closing of two nearby General Motors plants.
So Michael Carmichael took his beloved ball of paint and tried to convert it to an attention-grabbing roadside attraction that would attract tourists and reverse the economic downfall of his hometown.
Unbelievably, it did. For a time, anyway. Whereas fellow townspeople thought the idea was nuts at first, Carmichael's ball of paint drew national attention.
As Andrew said after filming the documentary, "The entire town rallied around it in a way that I never thought could happen, and I kind of reinstated it as this sense of pride and accomplishment and hope for the future that I never imagined was possible with something so trivial as a ball of paint."
The Genius Beneath the Paint
Did it work over the long-term?
"Unfortunately, the ball of paint didn't really save the town in the way Michael Carmichael envisioned," reported Andrew. "But for a brief moment in the long history of the small town, I think they saw hope for the future in a very different kind of town as an opportunity to build something special. That was really meaningful to me."
The town still struggles with unemployment and the flight of younger generations.
But even today, people still show up at random, often traveling hundreds or thousands of miles, to see this strange ball of paint and to give it another colorful topcoat themselves.
What's notable about this quirky, out-of-the-box story, is how something so unemotional as a big ball of paint can tug at your heartstrings, at least when you hear Andrew talk about it.
As a storyteller and video artist, Andrew has a history of weaving the two together in a way that prompts reactions — and makes you remember them. He's made a career from his storytelling, working with documentary filmmaker Ken Burns, producing for MTV and NBC, writing for journalist Charles Kuralt and Jim Henson's The Muppets.
Just like he did with the ball of paint, Andrew recognizes where stories will engage people.
And he uses video to tell those stories. It works as well as it does because we're wired to pay better attention — in fact, research shows viewers retain 95% of information from a video compared to only 10% from text.
Even more interesting, websites with video are 53 times more likely to hit the front page of Google — which may be why that ball of paint is still part of a national conversation. The story was told with words and video.
If you're wondering why I'm bringing this up to you, a writer, it's because there's a lot more to videos than just the visual.
Really, probably the single most important element of a video is its script.
And writers like you are needed to create those scripts.
If you write the kind of video scripts Andrew does, you can make good money writing everything from tutorials and how-to's to interviews to testimonials and product demos.
If you're curious about the money, picture a single short, five-minute script pulling in a fee between $1,250 and $2,500.
Incredible, right?
That's the kind of awesome writing work Andrew gets to do every day, and it marries his two passions: stories and video.
I had the privilege of interviewing Andrew a while back for Barefoot Writer magazine. If you'd like to know more about him, you can read his interview here. He's got a lot of great stories beyond crazy paint balls.
And if you have any questions about becoming a video scriptwriter, please let me know in the comments.

The AWAI Method™ for Becoming a Skilled, In-Demand Copywriter
The AWAI Method™ combines the most up-to-date strategies, insights, and teaching methods with the tried-and-true copywriting fundamentals so you can take on ANY project — not just sales letters. Learn More »

Published: March 16, 2021