30 Growing Niche Industries for B2B Copywriters in 2019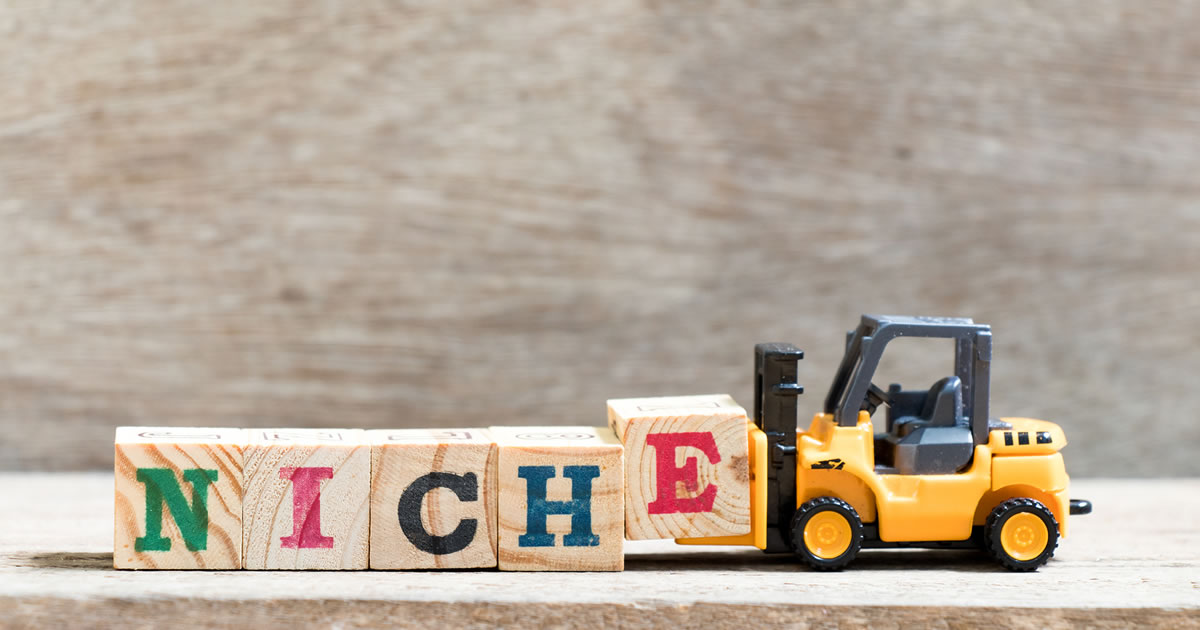 When it comes to getting clients as a B2B copywriter, there's an easy way, and a hard way …
If you'd prefer to find clients the easy way, you'll want to play to your strengths …
By this I mean, go with what you know!
By leveraging your knowledge and experience — and declaring a niche — you can present yourself as a specialist … develop a good rapport with clients in your industry … and of course, charge more for your work.
This is especially true in the world of B2B copywriting, where …
There's a ton of opportunity — with more than 5.7 million B2B companies in the U.S. alone!
Your prior experience means you don't need to do a lot of research — which makes you look like a superstar, and saves time for both you and your client …
Marketers are super busy, juggling a lot of tasks between different departments — which means they're happy to delegate tasks to someone like you …
Even for companies with in-house writers, there may be opportunities for freelancers to take on special projects, especially long-form content like white papers or e-books …
Your prior experience helps solve the "no samples" catch-22 for new copywriters — because often, your industry knowledge outweighs the need to have a whole portfolio full of writing samples …
A quick search under the Jobs section of LinkedIn will show you exactly what I mean about the value of industry knowledge …
When you search the phrase "B2B copywriter" or "B2B writer," the top search results include …
A company looking for a writer in the investment management field, asking for the following qualifications:
Comprehensive understanding of the investment management industry and a range of asset classes
Passion for investments and financial markets
MBA and/or CFA preferred
Knowledge of FactSet, Bloomberg a plus
Or, an advertising agency that lists the following requirements for a writing job:
Food/Beverage experience a major bonus
Passion for food, cooking, and coffee a major bonus
And a similar search on the job website Indeed reveals one company's preference for writers in the cloud technology field:
"Strong knowledge of the technology industry, players/trends in the cloud industry, and the role of the learning and development function within a large organization."
If you have experience in one of these niches, you could be a great fit for those clients … you would certainly stand out from the crowd of non-specialized copywriters!
Specifically for the software industry, as user experience becomes a key factor for any digital product, UX copywriting is growing in demand. Knowledge in that field may land you more work than you can imagine.
And even better — when your website and LinkedIn profile make it clear you have knowledge and experience and can speak the jargon of that niche … that's a good way to attract clients and get paid to write for their businesses.
That will save you time, and put you in a better position to negotiate your fees — and that's a great way to build your copywriting career.
How do you choose a niche?
Maybe you understand the value of a niche … but you're not sure how to choose one …
Or, maybe you're scared of locking yourself into the "wrong" niche …
But don't worry, the process doesn't have to be complicated — just create a list of your prior experience, and interests …
Think through your professional career — what industries have you worked in? And what education or training do you have?
I believe that your work history provides the best opportunity for a niche — your years of real-world knowledge are like an automatic voucher that pre-qualifies you to write for clients in that industry.
But, if you really want to write for a field outside of your work experience — or, if you don't have much work experience to speak of — remember to consider your hobbies and passions, too …
For example, if you're an avid traveler, you could consider writing for the travel industry …
If you've been a stay-at-home mom, there may be companies that could use your experience and knowledge for their marketing copy in the parenting industry …
Or, if you have a passion for cooking, you might be a great match for the advertising company I listed above …
So, make a long list of all your professional experience, and your self-taught hobbies and interests …
Then, see if any of your specialized knowledge fits into one of the categories below …
Here are the top niches I found that are expected to grow in 2019, and have potential for B2B copywriters to grow with them:
Accounting, Tax Preparation, Payroll, and Bookkeeping Services
AI in Healthcare
Biotechnology
Building Services and Construction
Corporate Wellness Services
Cryptocurrency
Data Security
Digital Therapeutics
Drones and Drone-related Businesses
E-commerce
Elder Care Companies
Family and Parenting
Gaming and Virtual Reality
Green Energy
Healthcare
Influencer Agencies
Internet Publishing and Broadcasting
Mobile Businesses
Online Education
Personal Coaching
Personal Finance
Pet Care
Real Estate
SaaS (Software as a Service)
Sharing Economy Businesses
Speech and Video Scripts
Technical Writing
Technology and IT Companies
Translation and Interpretation Services
Travel and Adventure
There's certainly a lot of opportunity here, for a variety of different backgrounds and experiences!
But don't worry if you don't see something here that catches your eye … there are plenty of other opportunities out there, too — far too many to cover in one article.
This list can help to spark some ideas, but no matter which niche you choose, you'll want to do some research and be sure it's a good fit for you …
How to evaluate a potential niche
Start by doing a general search online for your potential niche. Search for phrases such as:
"[niche] companies"
"[niche] marketing association"
"[niche] trade publication"
"[niche] conferences 2019"
"[niche] white papers"
You can even search directly for a phrase such as "[niche] freelance writing job," just to see if there is an obvious opportunity …
But, your main goal here is to get an idea of the size of the industry, and how much copy they need …
B2B copywriting expert Steve Slaunwhite recommends that a niche should contain at least 200 fair-sized companies, ideally more than that … and that any niche where you have trouble finding at least 20 companies easily should be considered a red flag.
If your initial search reveals there are plenty of companies, next look at their websites and marketing materials, and see if they use a lot of content.
Look closely for the type of copy you want to write, whether that's white papers … a newsletter or email updates to sign up for … landing and sales pages … a blog … product information sheets … videos with transcripts … and so on …
If you find this content easily for the companies you're researching, then there's a good chance they may need a writer such as yourself to help them with their content needs.
Also consider looking for networking groups with other writers, marketers, businesses, and freelancers in your niche — often, these groups are available on Facebook or LinkedIn.
And no matter what niche you choose, remember to have fun and always continue to learn how to copywrite and improve your skills …
That way you can take on new opportunities as they arise — and you'll be in for an exciting and profitable B2B copywriting career!
Do you have any questions about finding the right B2B niche for you to start with? Share with us in the comments below.

Modern B2B Copywriting
Learn everything you need to know to succeed as a B2B copywriter from marketing your services to writing copy and everything in between. Learn More »

Published: March 20, 2019