The 4 Pillars of Success for Your Freelance Copywriting Career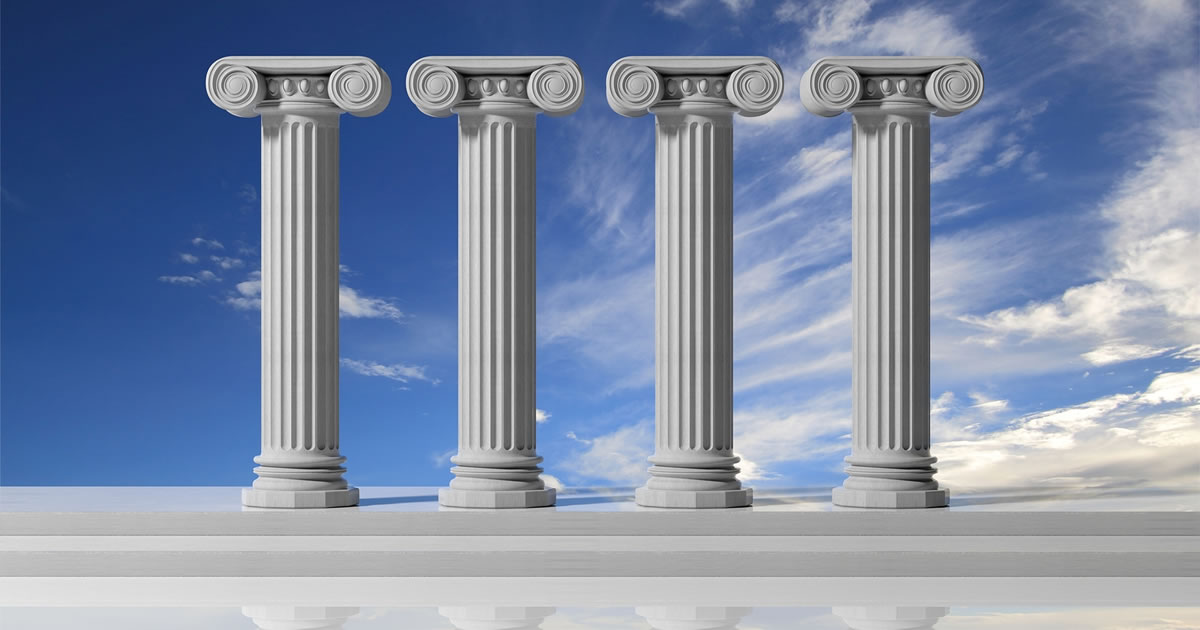 Whether you're just starting out as a copywriter or you've been running a freelance business for a while now, you may be operating on several levels at this point.
For instance, you may be working on your skills, searching for that dream client, trying to figure out how to send proposals, watching free presentations about the opportunity, asking for help in social media, and more … all while trying to manage many other tasks, a full-time job (if you're not a full-time freelancer yet), plus children, social commitments, or more. Phew!
In short, it might feel like you're spinning your wheels in a hamster cage.
But you don't have to struggle through this endless wheel approach. You don't have to worry so much about not gaining traction.
Let's make this journey much easier for you!
We'd like to help you compartmentalize your daily tasks so you can focus, make real progress, and see the rewards.
Here, we've broken down all the freelance copywriting "must do's" into the following four pillars of success.
Tackle each pillar in bite-size, achievable actions, perhaps with just one small step each day or week, and you'll quickly build momentum that's going somewhere!
1. Learn your craft
Skill is number one. When you have the skills to write effective, persuasive copy, you can make a major difference to clients … which of course, brings you ongoing success!
We can assume you've got solid skills — or you're learning them now — if you're serious about making a great living as a copywriter.
But if you're just starting out, we recommend you begin with AWAI's Accelerated Program for Six-Figure Copywriting because it covers the basic principles companies have been using with great success, for all kinds of products.
To master those skills, consider focusing on small daily actions like these:
Complete the next chapter in your current training program.
Study a successful sample and make notes about why it's strong.
Practice what you're learning by writing 10 new headlines.
Get feedback from a peer and/or a mentor.
Find 30 minutes each morning or evening to establish a daily writing routine. Great writers write! That's how they get better.
From this list of actions (remember, keep them small and achievable), you can continue growing your abilities and expertise.
That's where the next pillar comes in.
2. Hone your writing skills
Learning is never "done" in the copywriting world — and that's what makes it so much fun.
Once you've studied the basics and you have a solid grasp on copywriting that works, what's next?
Now you can identify the kind of services you'll offer.
You see, there are so many different types of marketing approaches available today — from websites to Facebook marketing to blog writing and even direct mail (still quite strong) — you'll want to get focused so you can become known as a great resource in certain areas.
You can choose from three main copywriting areas:
Classic direct-response copywriting mastery. This includes long-form sales letters (mailed and/or online), plus paid ads, advertorials, email landing-page campaigns, Video Sales Letters (VSLs), and many other materials.
Online copywriting mastery, which mainly means writing for websites/SEO (Search Engine Optimization), emails, e-newsletters, social media, blog posts, demo and "explainer" videos; anything online.
Business-to-Business (B2B) copywriting mastery, which involves writing lead-generation and sales copy for businesses that sell products and services to other businesses. This also involves online copy, but white papers, case studies, trade show materials, and more too.
As you can see, you have plenty of options. To stay focused and keep your momentum going, we recommend choosing one path at a time and learning all you can along that path.
For instance, I focus mainly on web copy and SEO for the pet industry. I spend my time strengthening my skills in those areas.
Which main path will you choose to start with? Write it down and take small steps to make progress.
3. Attract clients
If you're looking for your first client, more clients, or better-paying clients — what can you do each day to get closer to your goals?
First, identify a specific goal.
For instance, whom do you want to write for? What industry are they in? What type of company is it (consumer, B2B, etc.)?
Make sure you have a clear goal … and then try these different small actions to achieve that goal.
Come up with a new tagline for your LinkedIn page.
Reach out to 10 colleagues (from your former jobs) and let them know you're a copywriter.
Take another look at your website's homepage and tweak some of the copy so it's more about the benefits you offer clients.
Identify one company you'd like to write for, and reach out to them.
4. Grow your business
Always be marketing. This is a very important pillar to help you sustain and expand the success of your writing career.
When you land a couple of projects, you may be tempted to focus only on getting them done. But when they're done, where's the NEXT project?
You'll need to create a steady pipeline.
Your mission here is to carve out time, each day, to tackle an action related to these important business-growth tasks:
Evaluate your revenue streams: which clients bring you 80% of your business? Can you expand your role with them?
Renegotiate deals with clients — perhaps create a retainer agreement for add-on services each month (e-newsletter issues, articles).
Set up or polish your company "systems" so you become more efficient. For instance, establish a proposal template you can re-use with each new client or project instead of starting from scratch.
Add in other revenue streams to balance out your paid-for-hire work, such as creating your own Money-Making Website.
Find a network of peers who become your business-building "A" team where you can share ideas and perhaps even referrals with each other.
You can try this 4 Pillars approach on your own, assuming you have the discipline and drive to do this.
Or, you can form a buddy group where you establish your goals and report on your tasks together each week, or join a group of people like Circle of Success who will help you make sure all four of your pillars are always strong.
No matter what, we hope you'll be off that hamster wheel very soon.
Is there a pillar that you struggle with the most? Let us know in the comments below so we can help.
Editorial Note: Today's your last chance to join Circle of Success.
Check out all the details of what's waiting for you inside before the doors close on this opportunity for good.

The AWAI Method™ for Becoming a Skilled, In-Demand Copywriter
The AWAI Method™ combines the most up-to-date strategies, insights, and teaching methods with the tried-and-true copywriting fundamentals so you can take on ANY project — not just sales letters. Learn More »

Published: November 3, 2017