5 Reasons to Get Started As a Social Media Writer Right Now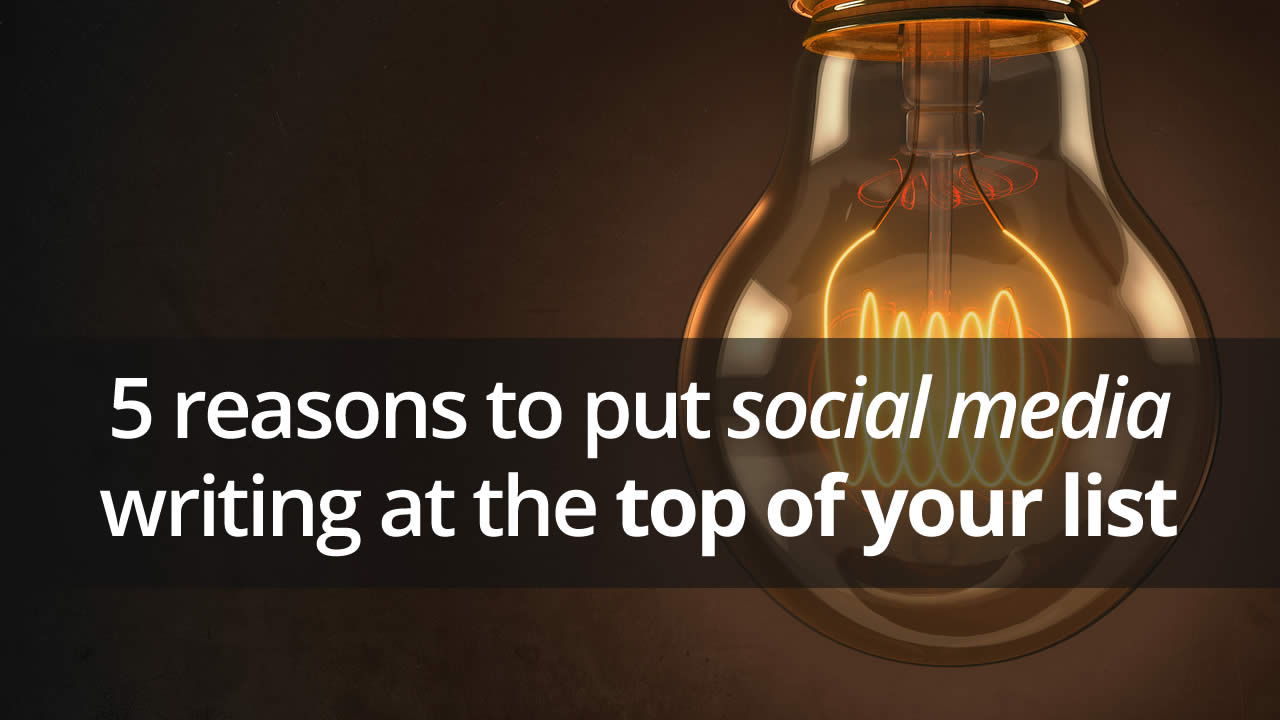 It's Nick Usborne, back with you again for day 5 of my series for The Writer's Life focused on social media writing and marketing.
In today's article I'm going to list 5 reasons to put social media writing at the top of your "to-do" list right now.
1. Social media writing is something you already know how to do.
This is the best part of getting started as a social media writer. There isn't a steep, technical learning curve required. Sure, it makes sense to spend a few days on study. You have to get a handle on the different social media platforms, and understand a few best practices. But, it's a WHOLE LOT EASIER than learning other, more technically demanding online writing and copywriting skills.
And, as I mentioned in the first article in this series, the skill companies find hardest to master is to write in a personal and natural voice. Well, that's something you ALREADY know how to do, from your own experience with your personal social media channels.
2. Compared to other types of paid writing work, it's much easier to pick up social media projects.
When companies hire an online copywriter to write or rewrite a key sales page, they naturally feel pretty nervous about it. It's a big commitment for them, and a huge leap of faith.
Not so much with social media. Clients don't feel they're taking the same level of risk. And that means, as a freelancer, it's a whole lot easier to get to YES!
3. Social media writing is a fast pathway to other freelance writing and copywriting work.
Like I just said, picking up social media work is relatively easy. But, once you have that first gig and you're building a solid relationship with your client, it then becomes much easier to suggest to them that you take on some of their other writing and copywriting work.
By then, they'll know you pretty well, trust you more, and feel a whole lot more confident about trying you out on other projects.
4. The demand for social media writers is growing at a rate that far outstrips supply.
According to a survey conducted by Salesforce.com, 70% of companies – across all categories – intend to increase their social media marketing budgets this year.
That increase translates into BILLIONS of additional dollars flowing into the market.
In other words, this is a fast-expanding market. And, that makes it a great market to jump into. Companies NEED outside freelancers to help them keep up with the extra social media marketing they're planning right now.
5. Social media writing is a fantastic confidence-booster, whether you're just starting out or have been freelancing for years.
I have spoken with hundreds of freelance writers and copywriters over the past few years. I have personally coached dozens of them.
And, the biggest barrier to success, I have found, is almost always a lack of self-confidence.
This is where I think social media writing can really, really help you.
Like I said, it's easy to get the gigs, it's easy to impress your clients, it's easy to cross-sell your services … and so on.
The bottom line? Working in social media is a great way to achieve fast success, build solid relationships with your clients, and boost your level of self-confidence.
Okay … that's it for this week's series. I really hope you found these articles useful, and I hope they tempt you to learn more about social media and add it to the lineup of services you offer.

How to Make Money as a Social Media Marketing Expert
Everything you need to know to become a social media marketing expert, as well as four different ways to make money using that expertise. Learn More »

Published: May 29, 2015