Nick Usborne: Master Online Copywriter
"Few copywriters are as experienced in web copy as my friend Nick Usborne, and certainly no one teaches how to write for business websites better. You should study Nick's AWAI Web 2.0 Copywriting Program as if it were the 'Bible' of website copywriting … which it is."

— Bob Bly

"Nick knows how to write a website that will do what you want it to do. Thanks to his excellent teaching skills, now I can write one too."

— Mike Minicucci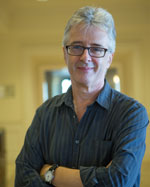 NICK USBORNE is an online copywriter and site optimization expert with over 20 years of experience online.
During a career spanning 35 years in the marketing industry – offline and then online – he has worked with dozens of major companies.
As a direct-response copywriter, Nick wrote for companies like Franklin Mint, TV Guide, Apple, Chrysler, Citibank and others. In all, he won 15 awards for his direct-response work, both in Europe and North America. All the awards were based on the performance and results of his copywriting.
Since 1997, he has been working exclusively on marketing online and is internationally recognized as a leading expert on the subject of writing for the Web.
The list of companies for which he has written online copy includes MSN, The Getty Trust, Wells Fargo Bank, the U.S. Navy, The New York Times, Encyclopedia Britannica, Disney, Intuit and America Online.
Nick is also a much-sought-after speaker and trainer. He has spoken at dozens of online marketing conferences, both in the U.S. and Europe. He has also conducted in-house web copywriting training seminars for companies as diverse as Yahoo!, John Deere, Novartis Pharma, the Association of American Publishers, the National Cancer Institute, Merck & Co., Inc., the Public Radio Internet Station Alliance and many other companies and organizations.
He is a widely read columnist, with his articles being published by ClickZ, iMediaConnection, AListApart, Business 2.0, MarketingProfs and many other professional sites and publications.
He is also the author of the critically acclaimed book on writing for the web, Net Words: Creating High-Impact Online Copy, published by McGraw-Hill.
Nick publishes his own blog at NickUsborne.com
Nick Usborne Articles
More Articles By Nick Usborne …
Connect With Nick
AWAI Program by Nick Usborne
A Surefire Way to Create a "Passive" Secondary Income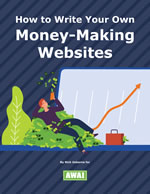 The Internet is ideal for creating passive income. A website never sleeps. It has the potential to earn you money 24 hours a day, 7 days a week.
How to Write Your Own Money-Making Websites is a step-by-step system for creating content-rich, money-making websites. It's a way to make money in your spare time doing something you love that can bring you in a substantial income no matter where you are or what you're doing.
There's No Better Time to Get Started Than Right Now
Someone once said, "The best time to launch your new website is five years ago. The second best time is now."
How true that is.
There's no better time than right now to take advantage of the incredible power and potential of the Internet.
Every day thousands and thousands of people, who share the same passion you do, search the Internet for more information about it. And every day somebody makes money from them.
Why not you?
Once you get your first website up and running smoothly – it's easy to start another … and another … and another. If you spend only four or five hours a week on them you may be able to receive checks totaling a few thousand dollars a month.
How to Write Your Own Money-Making Websites will teach you EVERYTHING you need to know to get your website up, running, attracting visitors, and making money:
You'll know the quickest, easiest, and cheapest way to set up a professional-looking website.
You'll know how to choose the best, most traffic-friendly topic for your site.
You'll know how to pick a domain name for your website that will attract the most visitors.
You'll know what each page on your site needs to do to maximize your profits.
You'll know how to write copy search engines (and your readers) love.
You'll know how to write and structure a home page that grab's people's interest and puts them in a "buying mood."
You'll know how to attract and keep "loyal customers" by keeping your website fresh and exciting.
You'll know how to use internal site links to dramatically improve your search engine rankings.
You'll know where to find the best and highest-paying affiliates. (These guys are looking for websites like yours to list their ads on!)
You'll know how to make even more money with Google Adsense and other forms of site advertising.
You'll know the seven things experts do within 48 hours of publishing their website to bring more visitors to their site faster.
You'll know how to track your site's performance and how to use the information to make your site better.
And much, much more …
How to Build, Write, and Grow Your Own Money-Making Websites: $497.00
For more information, click here …
---
"Copywriting 2.0"
The Fastest Way to Break Into the HIGHLY LUCRATIVE World of Web Copywriting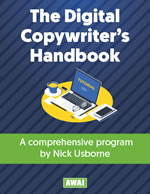 Writing copy for the web is NOT the same as writing traditional direct mail copy. There are marked differences, and that is precisely the reason companies are willing to pay so much for a Web copywriter … and why some websites convert visitors into cash, while others do not.
That's why AWAI teamed up with web copywriting expert Nick Usborne to create Copywriting 2.0: Your Complete Guide to Writing Web Copy that Converts.
Nick's been a copywriter for 30 years now, 11 of which he's dedicated solely to online copy. He's worked with, and has been a Web-copy consultant to, companies like Microsoft, Yahoo, Disney, America Online, and The New York Times.
In this program, Nick shows you how to dramatically improve any web page, email campaign, or e-newsletter.
Section 1 focuses on what it takes to be a successful online copywriter, as well as on the nuts and bolts of good Web copywriting. This section will give you a solid foundation for becoming an in-demand, highly paid online copywriter.
Section 2 is where you learn Nick's proven strategies for creating Web pages that sell. Master this section, and get ready to command fees of $1,500, $2,000, even $3,000 … just for writing a single 500-750 word Web page!
Section 3 shows you how to earn even more money by writing materials your clients are going to keep on needing … not only a constant stream of copy that they can test, but also emails, e-newsletters, and blogs to help them stay in touch with their customers and prospects. With ongoing assignments like these from just a handful of clients, getting to six figures can be a snap.
Section 4 gives you Nick's "million-dollar" tips, techniques, and insights for writing blockbuster Web copy – the edge Fortune 500s are looking for when they hire Nick.
And when you're done –you'll be able to confidently present yourself to any company, large or small, as an expert who can transform their online presence, or make money from your own online business than you ever thought possible.
The Digital Copywriter's Handbook: $597.00
For more information, click here …