5 Key Questions to Ask When Landing Your Next Social Media Client
By Nick Usborne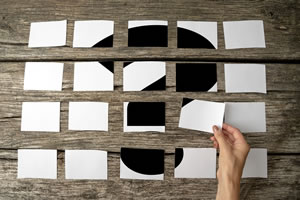 Landing a new social media gig can put a smile on your face for months. Years even.
How come? Because when you're hired to do social media work for a company or organization, they'll need your help on an ongoing basis. Day after day, month after month, year after year.
That means they'll almost always pay you a monthly retainer. A fixed fee, paid into your bank on the same day every month.
It doesn't get much better than that.
But as with any long-term relationship, it's important both parties are clear about expectations.
What does your client expect from you? And what can you reasonably expect from your client?
A lot of freelancers assume their prospective clients will have already figured all this out. But that's often not the case.
As a savvy freelancer, you can increase your own perceived value from day one by bringing these five key questions to the table. Asking these questions will make you look good. They'll also keep things moving along smoothly, and avoid any misunderstandings or crossed wires along the way.
Question #1: What's your client's primary purpose for social media?
What are they hoping to achieve? More specifically, what is their primary objective? To increase their reach? To engage more with their prospects and customers? To create and establish their brand? To provide a platform for customer service?
Social media can be used to achieve all these objectives, and more. But it makes sense for a company to have one primary objective.
Question #2: What's your client's current experience level?
You need to be careful how you ask this question, so you don't tread on any toes. But before you get into bed with a new client, you need to know what you're getting into.
If they have plenty of experience with social media marketing already, that's great. You'll be working alongside fellow professionals.
If they don't have much experience, that's OK, too. But it will mean a lot more work for you. And you need to make sure the extra time you'll need is reflected in your original estimate, and in the retainer fee they pay you.
Question #3: What's your client's overall level of commitment?
Again, this can be a tricky question to ask. But it's an important one.
A while back, I became involved with a company and their social media marketing.
In early conversations I outlined what I had in mind, and explained in detail what I would need from them in order to bring my vision to reality. They loved my plan and agreed to do everything possible to make it happen.
Except they didn't. Not even close.
The outcome was that I couldn't execute on my plan, and they felt let down.
In hindsight I should have taken a more formal approach. In addition to getting them to agree to the plan verbally during a meeting, I should have followed up with a written document, and then asked for them to confirm their agreement, also in writing.
Lesson learned.
Question #4: What resources does you client have available?
Getting a handle on a client's level of commitment is one thing. Knowing if they have the resources to follow through is quite another.
When you're in discussions about what they expect you to do for your monthly fee, you should ask them what kind of resources they can bring to the table.
Do they have any employees dedicated full-time to social media? If not, how many of their marketing people spend time on social media? And how much time?
And what kinds of tools do they have available? Do they already subscribe to services that enable them to track and measure their social media metrics? Will you have access to those tools?
Question #5: What kind of process will work best for you?
How's the relationship going to work on a practical level? Who are you going to report to? Who are you going to work with on a daily basis? The same person, or someone different?
Also, are you going to be "fed" the stories, topics and promotions that need social media exposure each day or week? Or does the client expect you to do all that "discovery" work on your own?
What kind of reporting are they looking for? Do they want a weekly update on what you've done and the results achieved? Or bi-weekly? Or monthly? And in what kind of format do they want those reports?
Is all this really necessary?
I know, it sounds like a lot of work.
But there's a big upside to addressing all five questions.
First, you won't run into the kinds of problems I talked about under Question #3.
Second, you'll come across as super-professional in the eyes of your new or prospective clients. They'll see they're working with a true pro from day one.
Third, you'll have a much smoother work relationship with your clients, because there'll be no unpleasant surprises along the way.
And fourth, you'll be able to make efficient use of your time, maximizing the value of your monthly fee.
So yes, I think it is necessary — or at least advisable — to ask all these questions when working to land your next social media client.
Remember, you'll almost always be getting a monthly retainer fee … so it's worth getting everything done right from day one.
This article, 5 Questions to Ask When Landing Your Next Social Media Client, was originally published by Wealthy Web Writer.

The AWAI Method™ for Becoming a Skilled, In-Demand Copywriter
The AWAI Method™ combines the most up-to-date strategies, insights, and teaching methods with the tried-and-true copywriting fundamentals so you can take on ANY project — not just sales letters. Learn More »

Published: September 14, 2016