26 Proven Ways to Land Freelance Writing Jobs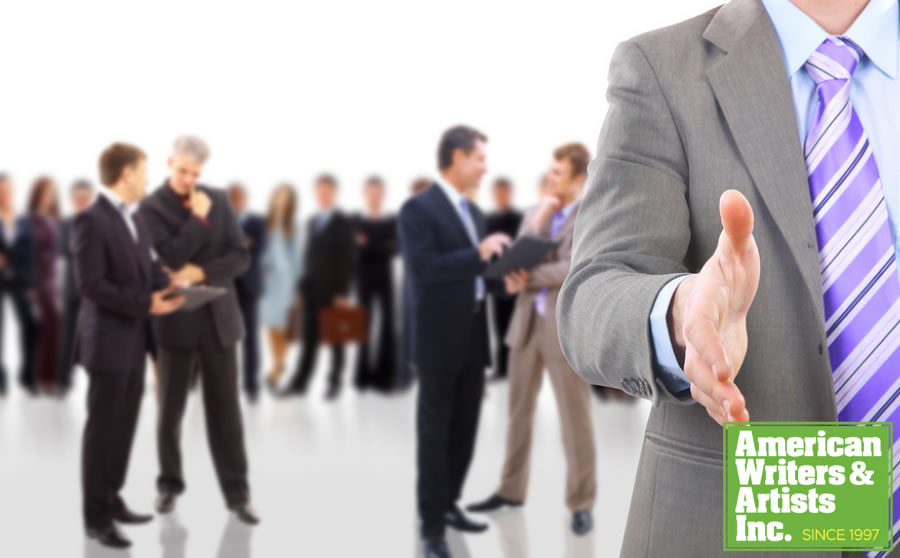 We've asked some of the busiest, most successful copywriters in the business to help us compile this list of 26 ways to land freelance writing jobs. Look over the list and try the ones that are the best fit for you.
Do you want to get more — or better-paying — freelance writing jobs?
Or, are you just starting out and in need of your first paid assignment?
Either way, there are an endless number of ways you can land great-paying freelance writing jobs …
Whether you're looking to get paid to write content, sales letters, emails, advertorials, or any one of the 75 writing projects we've identified in our annual State of the Industry Report: Copywriting Pricing Guide, the list below will give you 26 unique methods used by some of the best and busiest copywriters in the world to fill their calendars.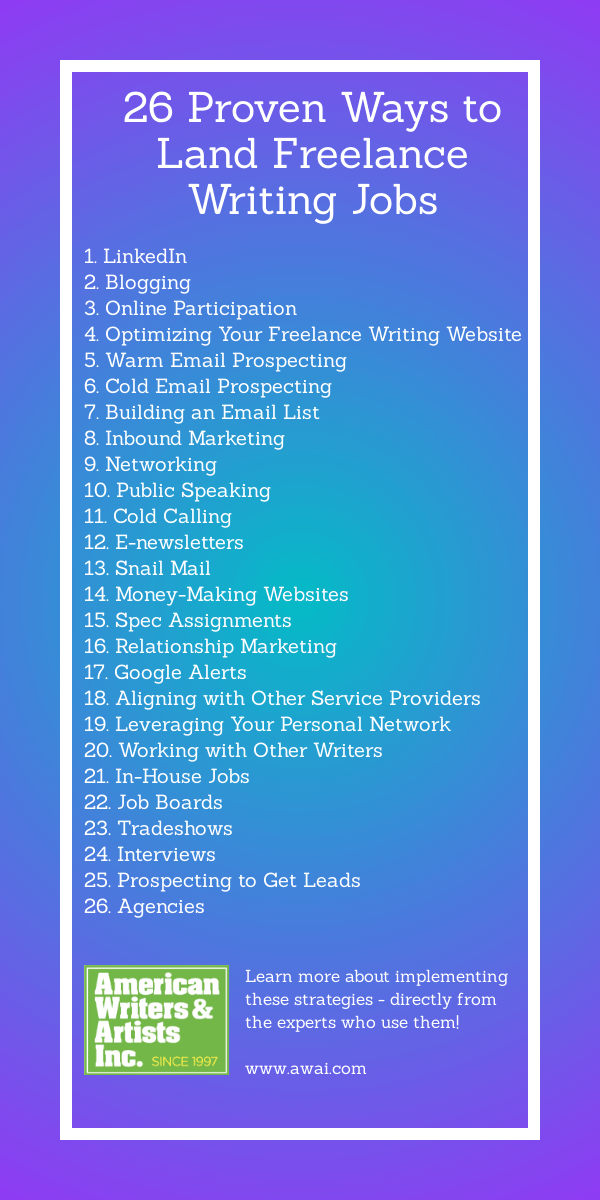 1. LinkedIn
With over 500 million professionals using the platform, LinkedIn has become a major tool for landing freelance writing clients.
For starters, the internal search engine makes it easy for you to connect with your ideal clients. Once you find a company you'd like to work with, it's easy to find and connect with the right person within the organization.
But, what's often more exciting to freelance writers, is that it's easy for potential clients to find you, too.
It all starts with a powerful profile with strong keywords that target your ideal prospects.
That way, clients will find you when they're searching for a copywriter who is familiar with their industry.
Check out our free webinar on how to write a professional LinkedIn profile here.
2. Blogging
A blog can double as your portfolio.
You can write high-quality posts about topics that are meaningful to the clients you want to work with …
And then optimize and promote your blog to drive traffic to those posts.
This will showcase your writing skills while building an audience that trusts your expertise and authority. You'll become the logical choice to hire for their writing jobs.
3. Online Participation

Being active on company and industry
forums can be a great way of getting
noticed by potential clients.
Clients are kind of like "Big Brother" — they're always watching.
They carefully watch their blog comments, social media feeds, and group forums. They'll notice if you post regularly …
Especially if you're helpful, write clearly, and show you have expertise in their industry.
This is a smart approach to try to get writing jobs from a dream client …
And, if there's an industry forum where multiple prospects could discover you, even better. It just increases your odds of landing writing gigs.
4. Optimizing Your Freelance Writing Website
Every day there are clients searching online for copywriters in their industry.
And when they do, you want YOUR website to show up in the search results.
The key is to think like a client — what words will they search when they need a copywriter with your industry expertise?
These are the words you want to weave into your copy.
Remember, clients won't search for the term "general copywriter." Clients want a copywriter who understands their industry and knows how to talk to their audience.
When you have a defined niche and an optimized website, you'll be super-easy to find — and more likely to get hired.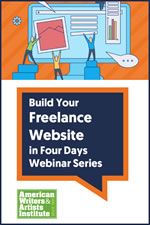 Don't have a freelance website?
We can help you build one in just 4 days!
With the
Build Your Own Freelance Website in Four Days Webinar Series
, you go through the whole process step-by-step — no technical knowledge needed.
5. Warm Email Prospecting
Warm email prospecting is the art of contacting prospects with short, personalized messages …
It's one of the quickest, most cost-effective ways to attract and land high-quality clients.
Once you've identified the clients you want to write for, send them an email selling your services, focusing on what you can do for them. Personalize each message so you get the prospect's attention right away.
Sure, it's a little extra work …
But these emails are short and to-the-point. They take a little research up front … but you'll distinguish yourself as a professional that understands the client, their industry, and their copy needs. It's a simple, easy way to create a meaningful connection.
6. Cold Email Prospecting

Cold email prospecting is an easy,
inexpensive way to reach a large
number of potential clients.
Not loving the extra work of personalizing?
Then here's another way to reach out to prospects with email that doesn't require you to research each company and personalize every message.
Instead, you'll write one message that's tailored to the industry — which will let you make a lot of contacts at once.
But, to avoid being generic and easy to dismiss, it's critical that you know the industry.
The amount of copywriting experience you have doesn't matter …
Clients are most interested in writers who understand their industry and the customers they serve.
And, this method works for all kinds of niches. It can be as wide as the health niche, or as obscure as doll-making. As long as the niche contains businesses that are selling something — whether it's to consumers like you or other businesses — it's a niche you can target.
7. Building an Email List
Every time a potential client visits your website, you have the chance to land a new writing job.
But in reality, only 1%-2% will contact you on their first visit. And many will never return to your site once they leave. Marketers and business leaders are notoriously busy!
So, put the power in your own hands by capturing the contact information of your website visitors.
In exchange for their contact details, you'll give them something of value … like an ebook or special report on a topic of interest to them.
And the free ebook or report makes for an excellent writing sample. It's a great method for getting clients because it can show your writing ability out of the gate.
So, along with building your list, you're guaranteed an "audition" to show them what you can do.
With a long, healthy email list, you'll never have to worry about getting your next client again.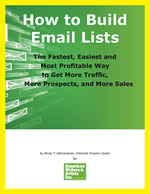 Learn to build your own email list!
Let one of the industry's best list builders help you build one from scratch. And once it's built you'll learn how to hone it into a hyper-responsive revenue stream.
8. Inbound Marketing
Inbound marketing is a great long-term strategy for picking up freelance writing jobs.
You begin by positioning yourself as an authority in your niche. You can do this by writing e-books … speaking … and getting your content published on high-profile websites.
When your name and your work are out there clients will come calling. And since they come to you, you'll have the leverage in the relationship.
Of course, you can't build authority overnight …
But done right, this strategy has the potential to bring you clients for years to come.
9. Networking
Extroverts tend to gravitate toward networking. But, it can be a great strategy for introverts, too.
The key is surrounding yourself with people who could be a potential client or could connect you to potential clients. Conferences, trade shows and other business events are great places to make contacts.
To make sure you're effective — and take the pressure off if you're more of an introvert … try connecting with other attendees or speakers online before an event.
You'll find it much easier to talk with them, once you're in the same room. And, you may be able to eliminate those people who aren't worth your time.
Even if you can't connect with anyone ahead of time, make sure you know who you want to meet at a networking event …
And come prepared with questions, which will take the pressure off of you to talk about yourself.
Go here for more on talking to potential clients with ease.
10. Public Speaking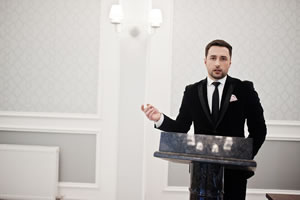 Public speaking appearances give
you instant credibility as an expert
in your field.
When most people think of public speaking, they picture talking on stage to a big group of people.
That's one option … but it's not the only one. There doesn't even have to be a live audience.
You can get interviewed on a podcast or webinar … take part in a Q&A panel … even go on stage to introduce another speaker.
And any of these options will give you instant credibility, even if you don't have a ton of experience.
It doesn't matter if you're talking to 10,000 conference attendees or to 15 people from your local Chamber of Commerce.
Any speaking engagement in front of potential clients will position you as an expert … an expert that has solutions to their writing problems.
11. Cold Calling
If you need to land a writing job fast, cold calling might be your best bet, because it's so direct.
The key is to create an effective script, so you know what to say before you even get on the phone.
This way, the prospect will understand exactly how you can help them.
Remember, the initial call is all about making a connection …
You don't need to close anyone on the first call. Just focus on demonstrating your value and set yourself up for another call — or, even a simple follow-up email.
From there the relationship begins, and your chances of turning the connection into a client improve.
12. E-newsletters
When you build an audience and email them a newsletter consistently, you'll stay "top of mind."
So, even while you're working on your projects, your marketing won't slow down — and your pipeline for new work will stay open.
Your e-newsletter will also help you tap into the "Know/Like/Trust" factor …
Once you've earned a prospect's trust, it's a no-brainer that they should hire you for their next project.
The more you rely on your e-newsletter to develop relationships and get clients, the easier it'll be to set your work calendar in advance.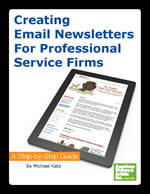 Writing email newsletters are fast, simple and easy to learn!
Michael Katz is known in the industry as "The E-mail Newsletter Expert" and he's the perfect person to help you get started. He's boiled down his 18 years of experience to create an AWAI exclusive program: Creating Email Newsletters for Professional Services Firms. In it he'll not only teach you how to create your own e-newsletter, but show you how you can make a very good living writing them for your clients.
13. Snail Mail
Nobody gets "real" mail anymore, right?
That's what makes snail mail such an effective way to market yourself!
Physical mail stands out and is not as easy to dismiss as email.
It also gives you the chance to personalize a message and impress your client with the time and effort you put in.
In fact, a simple handwritten note might just be the world's greatest relationship-building tool.
When you stay in touch with current clients this way and show them you genuinely care about them and their business, they're going to want to continue working with you.
14. Money-Making Websites
Let's say you create a fitness website that teaches skinny guys how to build muscle …
You write articles about the most effective workouts, the best diets and the right supplements …
Now, let's say this is just a side project …
Because, you're a full-time freelance copywriter in the fitness niche.
Your money-making website is now more than just an extra income stream.
It's filled with samples of your content. And, it proves you're an expert who already understands the industry and knows how to talk to this audience.
This checks pretty much all the boxes clients are looking for. They'll know you're a copywriter they can trust for their freelance writing jobs.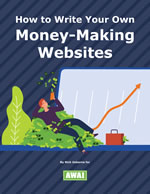 Web copywriting expert Nick Usborne will teach you EVERYTHING you need to know to get your website up, running, attracting visitors, and making money. It will also serve as the perfect writing sample to demonstrate your knowledge and writing ability to prospective clients.
15. Spec Assignments
If you're a brand-new writer, spec assignments are a great way to get your foot in the door.
Or, if you have experience but are looking to work with a specific client — or even change your niche — specs will help.
They're low-risk for the client, because they'll pay for your copy only if they use it.
Of course, that means you could end up writing specs for free. But, they can still be worthwhile, because they'll build your portfolio.
Now, here's the thing …
Eventually, you'll want to outgrow specs. Once you have a track record of success, testimonials, and referrals, you won't need to take on specs to prove yourself.
But early on, they're a great tool.
And, even if you submit a spec assignment that doesn't get used, you've made a connection with a potential client. You can follow up down the road and leverage into paid work.
Go here for more information about writing on spec.
16. Relationship Marketing
In our word-of-mouth society, you can keep landing freelance writing jobs by becoming a "likeable expert."
There are all kinds of steps you can take. Try using personal stories and pictures in your communications that will help them get to know you. Or email a client months after finishing a project just to see how they're doing. You can even take a client out for coffee or lunch, if they're local.
When clients and prospects know and like you they will be happy to hear from you. If you're likable, easy to work with and can add value to their business they will look forward to your calls and emails.
This is the competitive advantage that will help you compete with bigger companies and more established freelancers.
17. Google Alerts
Google Alerts can help you take advantage of the one thing that causes the most rejections and unanswered queries- timing.
When you set up a Google Alert for an industry or business, you'll get emails with related newsworthy items.
Not everything will be relevant, of course. But, you'll find plenty of opportunities where a business is at "peak need" and most likely to look for a freelancer's help.
It's like having Google deliver potential paid projects straight to your inbox!
This might be the most overlooked marketing secret to get freelance writing jobs.
And, it's so quick and easy to get started …
It takes about a minute up front to set up your Google Alert. And then another minute or two a day to scan your results.
That's it!
Until, that is, you uncover a great opportunity to pounce on …
18. Aligning with Other Service Providers
An overlooked way to get freelance writing jobs is to link up with other service providers. Graphic designers, web companies, printers, and consultants are all great sources of referrals.
These professionals each have their own skill set — but they're not copywriters.
When you partner with one of them, you'll write the copy while they perform their service.
And, if they already have their clients in place, then you don't even have to market yourself!
19. Leveraging Your Personal Network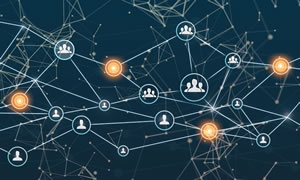 You might be surprised at how many of
your friends and acquaintances need
(or knows someone who needs) your
copywriting expertise.
This is a networking opportunity that isn't really networking.
Simply reach out to everyone in your circle. Family members, friends, old classmates, coworkers, employers, members of your church or social group … even people you used to know but have lost touch with …
And let them know about your copywriting career.
A lot of the people you contact won't need a copywriter themselves. But, they might know someone who does. It's a matter of finding out which people are in a position to introduce you to a potential client, or hire you themselves.
And, since you're talking to people you already know … you won't get that uncomfortable feeling that comes from reaching out to strangers.
20. Working with Other Writers
Experienced writers sometimes sub-contract work when their schedules fill up. Or, they'll look for help if they take on a project that requires specialized knowledge they don't have.
This can be the perfect opportunity for you to get on their radar and take on some of their overflow work.
You won't work directly with the client but with a senior writer, which is great on-the-job training in a low-pressure situation.
If you and the hiring writer are a good fit, this can be an easy, low-maintenance income stream for you. You can build your portfolio without doing any more self-marketing.
21. In-House Jobs
Working as an in-house copywriter gives you the security of a full-time job, including a steady salary (and possibly benefits) …
And a ton of experience that will make you more marketable to clients, if you decide to leave your job in the future.
You will learn faster because you'll be immersed in copy. It's like learning another language by staying in a foreign country — you'll be forced to adapt quickly.
You'll get consistent feedback on your writing and will get to work with experts.
Your work will also get tested, which will build a track record of results.
Working as an in-house copywriter is the ultimate "apprenticeship" and will make it easier for you to land freelance writing jobs later on.
22. Job Boards
Job boards are a low-stress way to get writing gigs from clients who are actively looking for help.
They're perfect if you're the type of person who's not comfortable reaching out to clients and talking about yourself. These clients are asking for your information.
And, job boards are a "renewable resource" — you can go back to the same boards again and again. New jobs are always being posted. And, you can focus on the jobs that interest you while ignoring the rest.
23. Tradeshows
Every industry hosts at least one annual tradeshow. It's an event where companies show off their new products and meet to discuss new trends in the industry.
When you go to a tradeshow, all the companies there have money to burn on marketing. Otherwise, they never would've sprung for the attendance and booth fee.
And, they're there to make connections. They wouldn't be marketing in this way if they didn't need help with some aspect of their business. So, they'll be ready to meet you.
Tradeshows also level the playing field and give you the chance to prove your expertise. You're an industry insider, just like everyone else there, so you have a lot of value, too.
Being in the same room as these companies puts you in a great position to start conversations and begin building relationships. Relationships that may likely turn into writing jobs.
24. Interviews
Another way you can position yourself as an expert is by writing a special report in your niche.
You'll interview people within your niche — who are also your prospects — and find out what's working and not working with their marketing and copywriting efforts.
It's a total win-win …
They'll get a valuable resource once you've completed it, as well as free publicity as an expert in their field …
And as you conduct the interview, demonstrate your own expertise in that niche, and position yourself as a problem-solver.
You'll also have the exact list of things they need help with, which you can turn into the perfect customized proposal.
Here are some pro tips on how to write an exciting interview, and check out this practice exercise to brush up on your interviewing skills.
25. Prospecting to Get Leads
Here's an old-school method of getting freelance writing jobs that still works.
You'll use direct mail, which will cost a little bit of money. But, you'll stand out, because so few people use this channel.
And, you'll be able to track your results, just like any direct-mail marketing campaign.
Just send prospects a brochure, one-page sales letter, or postcard about how you can help them, along with a reply card.
Those who reply haven't committed to anything yet, but they're your leads.
Follow up by sending more information about yourself or by reaching out to see what kind of projects they need completed.
26. Agencies
Agencies are companies that help other businesses with their marketing. Many of them have a network of trusted freelancers. These are the writers they'll hire to do their clients' work.
When you develop a relationship with an agency in your area, you can get steady work and income without having to get the clients yourself.
Everything is handled through the agency. You're handed the assignments and get the fees when you're done.
You can get a lot of great experience this way, sometimes working with clients you'd never work with otherwise. And, because you don't have to find your own clients, it's one of the lowest-stress ways to get freelance work.
Now, it's time to get started!
There you have it … 26 unique ways to get freelance writing jobs!
That's enough for anyone to land their first clients — or to ramp up their self-marketing and start landing more clients.
Maybe one method is all it will take … or, maybe you'll need a blend of methods to fill your schedule.
But, whatever your style and personality this list has all the proven strategies you'll need to build your freelance writing business.
So, what are you waiting for? Start using the methods right away and let us know how it goes!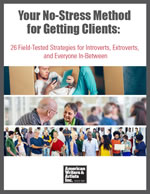 AWAI's program Your No-Stress Method for Getting Clients: 26 Field-Tested Strategies for Introverts, Extroverts, and Everyone In-Between will walk you through, step-by-step, each of the 26 strategies introduced above. Each one is taught by an expert who uses the strategy to keep their personal writing calendars full. No matter what your personality, introvert, extrovert, or somewhere in between - there are numerous methods in this program that will work for you.