B2B Copywriting:
A Comprehensive Guide to Writing for the B2B Industry
Are you looking for a writing opportunity that's easy to break into, has lots of variety, and pays well?
Look no further than B2B copywriting!
This writing specialty is perfect for both new and established writers because you can quickly master the skills you'll need to start earning a great living from day one.
You'll become part of an in-demand group of writers whose knowledge and skills are highly sought-after and respected by the companies who hire you.
At AWAI, we've been publishing world-class copywriting training courses since 1997. And many of these programs focus exclusively on B2B copywriting opportunities.
Our courses are taught by some of the best B2B copywriters working in the industry today, like Steve Slaunwhite, Bob Bly, and Casey Hibbard.
In B2B Copywriting: A Comprehensive Guide, we share all our insider knowledge to help fast-track your career as a B2B copywriter.
Get ready to jump into one of the most exciting and lucrative opportunities for writers today!
Introduction to the B2B Industry
The term "B2B" stands for business-to-business. In other words, businesses that sell their products and services to other businesses (rather than to consumers).
Some examples of B2B companies are industrial shelving manufacturers that sell directly to warehouses, medical records software developers who sell to hospitals and medical clinics, and marketing agencies that provide services to other businesses.
These are typically "behind the scenes" products and services that most of us don't notice.
But the B2B industry is massive.
The United States alone has over 2.5 million B2B companies…
And according to a recent report by Statista, the entire B2B industry in the United States is valued at more than $6.7 trillion.
One reason for the sheer size of the B2B industry is the fact that many B2B products are more expensive than regular consumer products. For example, a human resource management software service could easily cost a large company over six figures per year.
High-ticket products and services like these also require more complex marketing efforts, which is why the B2B industry in the United States alone is expected to spend over $30 billion on advertising in 2023.
And a portion of that hefty budget will go directly to the copywriters who write the collateral for all those advertising campaigns.
Another key factor in B2B marketing is the long sales cycle that's often involved in selling more expensive or complex products and services. Buyers will naturally take much longer to evaluate these types of purchases — and in the B2B industry, this process can easily take weeks or months.
It's also vital that B2B companies provide potential customers with all the supporting information they need to make an informed purchase decision. And that supporting documentation all needs to be written by professional writers like you.
What Is B2B Copywriting?
B2B copywriting is the art of writing persuasive advertising, marketing, and sales materials that are targeted toward other businesses.
Businesses of all kinds need to create a vast range of marketing materials on an ongoing basis. Think of all the marketing materials you see every day… like webpages, emails, blogs, e-newsletters, social media content, sales promotions, and printed materials like brochures and catalogs.
These are all part of the copywriting industry in general — which we explore in our guide called What Is Copywriting? AWAI's Essential Introduction to the Copywriting Industry.
However, B2B copywriting is a unique branch of the greater copywriting industry.
As we mentioned earlier, B2B products and services are typically more complicated and specialized than regular consumer products. To market them effectively, B2B copywriting often requires more detailed research into the products and services themselves, as well as the industry a company serves.
For example, if you're writing for an industrial plumbing equipment manufacturer, you'll need a good understanding of their products and how they're used, as well as what's important to the customers who will be using them.
This deeper level of research helps B2B copywriters create higher quality materials that speak directly to a company's target audience.
Kuhn, an agricultural machinery manufacturer, shows a good understanding of their audience on their commercial hay and forage equipment main page: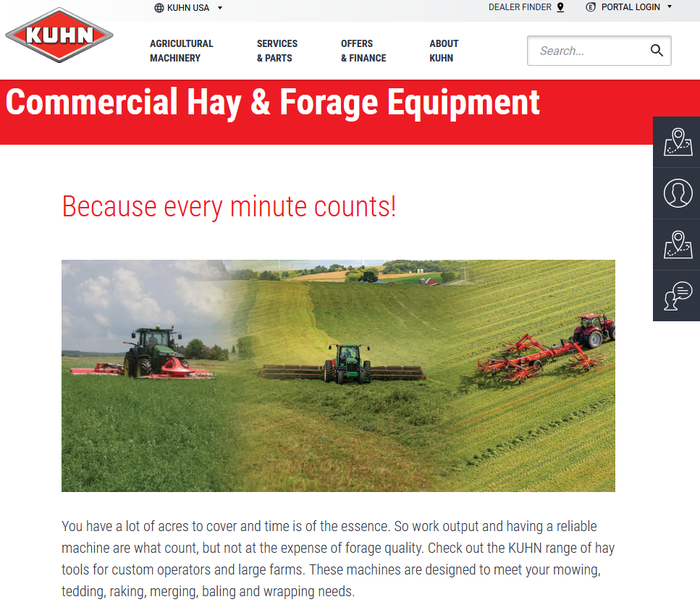 Kuhn's page is fairly simple, but the headline and short description address issues that are relevant to farm owners and managers — such as getting their crops harvested quickly and in good condition. The images also clearly show their equipment in action.
This shows how writing for the B2B industry isn't necessarily difficult; it just takes some specialized knowledge to be able to speak to a company's ideal customers effectively.
Another factor that makes B2B copywriting unique is the individual projects you'll be working on. The B2B industry uses very specific types of marketing materials to assist with their sales process, which B2B copywriters need to know how to create.
And we'll be discussing these essential B2B projects in much more detail throughout this guide.
However, what they all have in common is the fact that they tend to be written in an informational or editorial style, rather than being directly sales focused.
The primary goal of B2B copywriting is to provide informative content that helps build relationships between a company and their customers over time — rather than writing promotional materials that push for an immediate sale.
B2B materials will help to indirectly sell a company's products by supporting the overall sales process, but their tone is typically not "salesy."
If you prefer to work on more matter-of-fact projects that require deeper research and knowledge of an industry — as opposed to promotional or sales copy — then B2B writing would be a perfect match for you.
Why Is B2B Copywriting Such a Great Opportunity?
You now know that the B2B industry is huge, and spans nearly every sector or profession you could think of.
Despite its size, the B2B industry often stays out of the public eye, so many copywriters don't think of specializing in this field…
Which means you have almost no competition when it comes to finding B2B copywriting clients.
In fact, many B2B companies struggle to find copywriters who know their industry and how to write the individual projects they need.
Not only that, but they need more materials than ever before. Historically, B2B copywriting consisted primarily of creating printed materials like ads, direct-mail packages, and brochures.
Now, according to the research firm Gartner, 80% of B2B sales transactions will occur via digital channels by 2025. And all those channels require content… and lots of it.
This is excellent news for B2B copywriters.
The demand for your services will only keep growing, and there aren't enough B2B copywriters to go around already.
As long as you have the copywriting skills that B2B businesses need, you can expect an abundance of clients willing to pay you high fees for a long time to come.
FREE TRAINING:
Discover Why B2B Copywriting is the Absolute Best Niche for New Writers!
Sign up below to hear from the expert who's helped hundreds of writers launch lucrative careers in this niche where skilled writers are needed and respected.
What Do B2B Copywriters Do?
B2B copywriters create a variety of different written materials used in B2B marketing and sales.
We've compiled the projects we think are the best opportunities for both new and established B2B copywriters below.
As you'll see, one of the best parts of B2B copywriting is the diversity of projects available to writers.
Whether you prefer writing short-form content or more lengthy, detailed assignments, B2B has many different projects you would enjoy.
And because of the high demand for all these types of projects, you can expect to earn top fees for any of them — even when you're first starting out.
1. Lead Generation
"Lead generation" refers to the act of collecting a list of prospective customers who may buy from a company at some point. This process can also be called lead-gen.
Lead generation is done online or by mail. And once a lead — or a potential customer — has been found, the company may contact them via email, a sales call, a mailed information package, or other means.
Finding potential customers is vital for any business, but it's especially important for many B2B businesses, which often have a small target market because of their specialized products.
2. Blogs
Blogs are a great way to attract potential customers to a company's website. When done well, blog posts should answer questions a company's target audience is asking or explain how to solve a problem they're facing.
So, when a potential customer types their question or problem into a search engine, it will bring up the company's blog post on that topic. In this way, individual blog posts are often the first point of contact a prospect has with a company. And that's why they're so vital for B2B marketing.
Blog posts can demonstrate a company's expertise in their field and show that they value their customers by sharing useful information. This goes a long way toward establishing a lasting relationship with their readers and potentially converting them into customers.
3. Social Media
Social media has become a major player in the marketing world, and B2B businesses are no exception. Social media allows B2B companies to reach potentially millions of people with just a few clicks of a button.
However, many businesses don't know how to use social media to get more sales, rather than simply social exposure. That's where B2B copywriters come in.
Copywriters can create a social media strategy that not only helps a B2B company reach their target audience but also helps them convert these leads into customers.
4. White Papers
White papers are in-depth reports on specific topics. They're often less than 20 pages long, but they're meant to provide useful information or insights into industry-related subjects or issues.
For example, this is a white paper from Philips, a company that produces lighting products: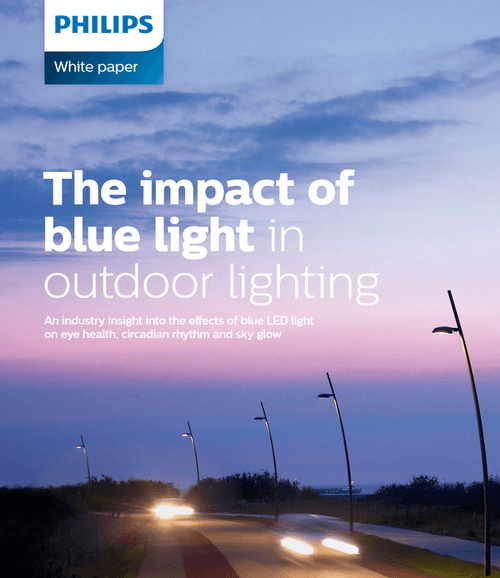 Here, Philips shares their research into the effects of blue light from outdoor lighting on people's health and the environment. And this white paper was almost certainly written by a professional B2B copywriter.
White papers are a great way to demonstrate a company's authority on a particular topic. But many B2B companies also produce white papers as lead magnets, which are free resources that are given away in exchange for a prospect's email address.
5. Case Studies
Case studies tell the story of how a customer used a company's product or service and the kind of results they got from it.
Most of us can't resist a good story, which is why case studies are so popular in B2B marketing.
They provide proof that a company's products or services are effective. Plus, they allow B2B businesses to showcase their customers' successes in an engaging way.
If you enjoy crafting stories, case studies can be a really fun — and lucrative — project.
6. Newsletters
Newsletters, or e-newsletters, are sent out on a regular basis to current and prospective customers who have agreed to receive them. They often contain useful information about industry-related topics, as well as any news and updates about the company or its products and services.
Newsletters are a meaningful way to keep customers informed and engaged with a brand, rather than bombarding them with constant sales emails.
Ideally, newsletters can help B2B companies build and maintain relationships with both potential and existing customers over time, which helps increase sales in the long run.
7. Sales Enablement
Sales enablement copywriting is the process of creating materials to help a company's sales team close more deals. This could include writing emails, call scripts, sales decks, or any other materials a sales team may use to engage and educate prospects about a company's products or services.
Sales enablement copywriters need to have a good understanding of the sales process and how their written projects will be used. However, most sales enablement materials are not written in a "salesy" style.
Like most B2B projects, their main focus is on providing helpful information that will help a customer make a purchase decision and foster a long-term relationship.
What is the Role of AI in B2B Copywriting?
One question on the minds of many writers is: Will the rise of artificial intelligence (AI) writing software replace the need for human writers?
A similar concern was raised when computers first started becoming mainstream. Were computers going to replace tons of jobs? Arguably, the exact opposite happened and computers created even more work for people!
It's no different with the introduction of AI writing. The demand for B2B copywriters is not going away anytime soon. However, the skill set you'll need to excel as a B2B copywriter is evolving with the introduction of AI.
AI can be an amazing tool to improve the quality and speed of your writing process, so it's well worth learning the basics of using AI writing assistance.
Many writers who have embraced AI are finding that it can make the production of B2B content faster and easier. But — and this is a big but — AI is not currently able to strategize. And that's where your value as a B2B copywriter shines.
A skilled B2B copywriter understands the bigger picture of the B2B sales cycle and how each piece of content fits within that.
You can help your B2B clients immensely by providing content marketing strategy services, either exclusively or in addition to your writing, rather than simply being an "order taker."
About B2B Copywriting: A Comprehensive Guide
Whether you're exploring copywriting as a career for the first time… or you're well established in the field and looking for ways to grow… this guide is for you.
We wrote B2B Copywriting: A Comprehensive Guide to give you a thorough understanding of the B2B copywriting industry and the abundance of opportunities it holds for writers.
You don't need to have any previous experience writing professionally to excel as a B2B copywriter.
All you need is a basic understanding of how B2B marketing works and the types of written materials used to support it.
And that's exactly what this guide will teach you.
What You'll Learn
B2B Copywriting: A Comprehensive Guide includes seven individual sections or chapters. Each one details a specific B2B copywriting opportunity.
They're presented in a specific order to show how they might be used through the natural progression of the B2B sales cycle. You can read them in this order if you wish, or if you'd prefer to read about a certain topic, you can skip right to that section.
If you have any questions while you're going through this guide, don't hesitate to contact us. We'll be happy to provide any further information and help you explore your options as a potential B2B copywriter.
Many AWAI members have made the leap into B2B copywriting and say it was the best choice they ever made.
We hope this guide helps you make your own decision about becoming a B2B copywriter!

B2B Writers International: World-Class Training and Support for a Well-Paid Writing Career in B2B
The business-to-business industry is desperate for trained, professional writers. Learn to write solid B2B copy, land more clients, and be constantly in demand. For beginning and advanced writers. Learn More »