Living the Writer's Life: Jerry Bures
Engineer and Family Man Finds Autonomy in Writing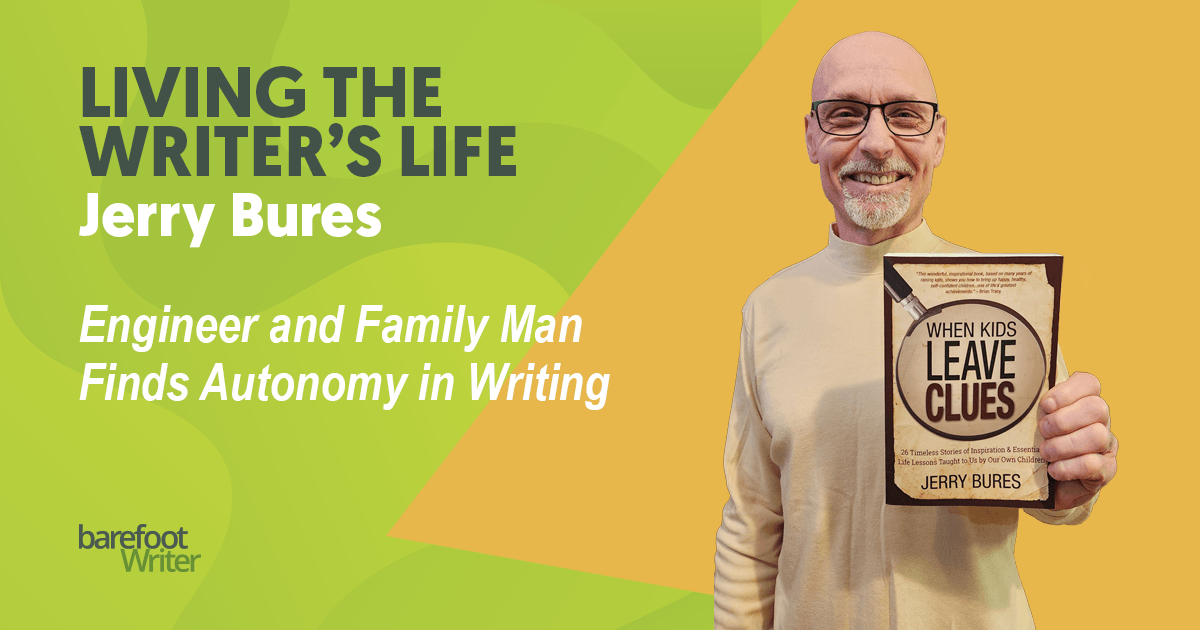 Jerry holds his first book, When Kids Leave Clues: 26 Timeless Stories of Inspiration & Essential Life Lessons Taught to Us by Our Own Children
Jerry Bures didn't hate his job in engineering, but the lack of control when it came to work hours and the time away from his family grew taxing. He was ripe for change the day a letter showed up in his mailbox that completely redirected his trajectory. On the other side, he found joy, freedom, and a revived ability to be there for the people who mattered most to him.
Tell me about your life before writing.
Before writing, I was basically working in engineering. I did like doing mechanical design, drawing up mechanical components on a computer. I also did a fair amount of writing at work as well with just different kinds of communications and technical writing, so it was all familiar. And I was doing that writing in the field of engineering, and enjoyed that.
But basically, before writing, I was engineering, raising a family. I had several kids and one with special needs.
What led you into copywriting from there?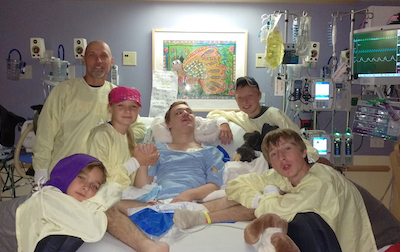 Jerry and his kids spend time
with his oldest son, who needed
treatment in the hospital.
I received a physical letter from AWAI, something about, "Can you write a letter like this one?" Of all the junk mail a person gets nowadays, I think at that point in time I was looking for something to motivate me or to attract me into a profession that involved writing. I was never really disgruntled with my engineering. I really did like my work. But on the home front, I was looking for some flexibility. We had a special-needs son who had a lot of medical crises along the way, and it was getting very hard to be at work or tell work, "Hey, I need a week off here," and that kind of thing. So it just was evolving in that regard for me.
I'm hearing that just having basic control over your time and your schedule was of key importance. Tell me about what kind of copywriting you do now.
I worked in the natural-health field for a number of years doing copywriting. That fit our lifestyle and our family as well, because natural health — we're huge on that. We apply a lot of it to our family, especially to our special-needs son. I really enjoyed all that research and writing I did there. We took away some great tidbits of knowledge that we apply here.
And then, along the way, I thought, What do I really want to do? Because of the stressful environment at home, I found myself having to shift gears again. Because I liked the idea of maybe influencing the world for the better by building better kids, I thought I would try to figure out how to apply writing to maybe speaking with and coaching parents. So I started developing an online parent coaching organization, kind of an information publishing organization. I call it the Institute for Confident Parenting.
The only copywriting I'm doing right now is for my own website for that particular business. And in the meantime, I was writing a book as well. But, largely, it's writing for parents' information more than copywriting.
You've essentially started with what you knew, which is what we teach a lot of writers to do. And then you segued into what you're doing now, which sounds like a passion.
I attribute a lot of my success and my courage to my experiences with AWAI, because they don't just train in copywriting. They've got a long list of different programs that a person can use, especially if they join Circle of Success like I did. Just having that in your back pocket is enormous.
How has this shift to writing for a living affected the people around you, your family, and your friends?
Oh, so much better. My wife stresses a lot less because I'm home helping her now because I'm in the same building.
But everybody in our family's benefited in so many ways from just me being available — even the other kids as they were becoming teenagers. You know how teenagers are, right? Sometimes they have this attitude or this idea that Mom and Dad aren't cool, but the reality is that when you're around more, and you engage with them, they're glad you did that. I can say my family benefited, but I certainly did too. I have really good relationships with my adult kids now.
If you could go back and talk to Jerry before you started writing, what would you tell him?
I would say jump in much quicker. I see so many adults that just aren't brave in following their passions and their dreams. And while I agree you've got to pay the bills, I wish I would've jumped in quicker. It would've sped things up a lot.
Jerry's Living The Writer's Life story was originally published in Barefoot Writer. To learn more about how you can start living your dream writer's life too, click here.
What help do you need to move forward with your version of the writer's life? Let us know in the comments below so we can help guide you in the right direction.
Published: April 29, 2023