True Story of the $80-Million
Missing Hyphen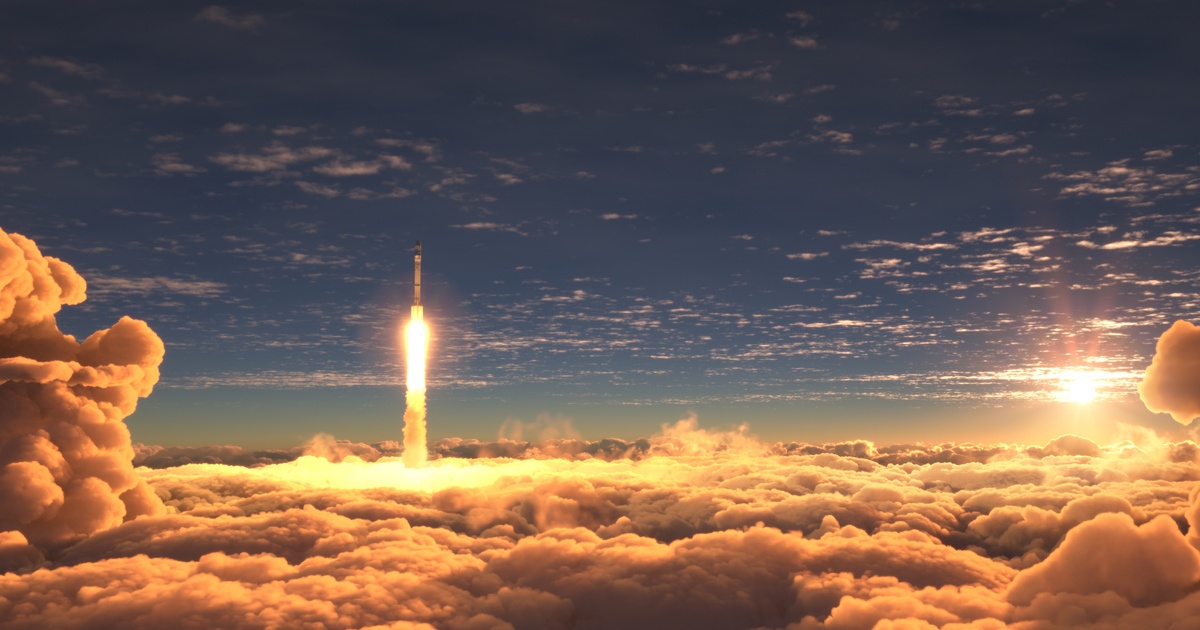 It was NASA's first planetary mission.
One that had been in the planning stage for quite some time. And it was something NASA scientists were anxious to see succeed.
That's because at the time, the U.S. was in a Space Race with Russia, which had already been attempting to send rockets into space.
So on July 22, 1962, at 9:21 in the morning, Mariner 1 launched from its Cape Canaveral pad in Florida.
Mariner 1 was launched with a specific mission in mind: A flyby over Venus.
Yet that wasn't the spacecraft's only purpose.
Nope, Mariner 1 was also collecting data so scientists and astronomers could better understand our solar system.
The very tip of the craft contained several different types of instruments, including particle and cosmic ray detectors, a cosmic dust sampler, a microwave radiometer, and two infrared optical sensors.
This information not only would tell us a little more about the universe but help NASA refine construction for the other spacecraft designated for similar missions.
Unfortunately, the scientists eagerly waiting to receive the data collected by Mariner 1 would soon be standing at the Mission Control Center in utter disappointment and disbelief.
Just seconds after takeoff, Mariner 1 began to veer off course. The craft tilted in a northeastern direction, which meant it was now heading away from its projected course toward Venus.
No matter what they did, they could not re-direct the craft. None of their ground attempts to reposition it worked. In fact, they had lost complete control of the rocket.
This was a real-life "Houston, we have a problem" situation.
Realizing the craft was flying on its own, the flight engineers quickly scrambled to calculate Mariner 1's new route.
Then panic set it in as they realized the spacecraft's new flight path meant it would crash in the northern part of the Atlantic Ocean, right in the middle of the heavily trafficked shipping lanes.
The safety flight officer had no other choice but to hit the destruct command button on his computer panel.
At 9:26 a.m., just six seconds before the destruction of the rocket would have been impossible, Mariner 1 was deliberately destroyed in space.
So what went wrong? Well, it turns out there was a simple coding error in the spacecraft's programming.
And I'll tell you exactly what that error was in just a minute, but first let's talk about a unique way for you to work behind-the-scenes with top-notch writers and marketers and make $300 or so per day.
As I've just shown you, every organization, no matter how big or small is prone to mistakes and mishaps. In this instance, the error cost NASA millions.
Knowing something could go wrong, they built Mariner 2 as a back-up rocket. And on August 27, 1962, it took off to Venus. It was the first robotic space probe to conduct a successful flyby of the distant planet.
But not all companies have millions on hand for a do-over. They have to get things right the first time, especially with the content and copy they use to attract customers.
So they hire copyeditors to make their written content read and look professional. In other words, editors get hired to turn good copy into great copy by finding and fixing typos, grammar errors … even re-writing sentences or paragraphs so they flow more naturally.
It's similar to how a movie editor cuts the film at just the right places so each scene flows effortlessly and logically to the next.
Copywriters and content writers love working with editors who make what they write stronger.
And clients love it too because you're the one making sure everything is perfect, which often translates into more money for them and a better experience for the customer.
Something else to consider too is that editing another person's work is much easier than writing copy from scratch. It's also fulfilling work to do because in the end, you wind up helping out another writer.
And all the while you still get to use your creativity … your attention to detail … and what you already know about writing to take a writer's copy to the next level.
Plus, it also increases your writing skills and knowledge. In many instances, you aren't just working with the writer, you are also working alongside the entire marketing team.
You might sit in on initial brainstorming meetings, so you understand the full scope of the project and how each part relates to the other. And you often see results of marketing campaigns, which means you know the latest trends of what's working (and not) in your particular niche or industry.
A good copyeditor is indispensable and in huge demand. Here at AWAI, I work with one of the best in the business. She copyedits what I write, which gives me confidence knowing what I've produced is the best it can be when I share it with you.
Once you establish yourself as a skilled copyeditor, clients rely on you. And the fees a copyeditor makes … you could make $300 or more per day simply fixing another writer's work. Salary(dot)com shows the average copyeditor makes a little over $76,400 a year.
Remember, we're talking about reviewing and editing what someone else wrote, which probably won't take you more than a few hours. You could turn copyediting into a service you provide when you're not writing copy full-time.
This way, you'd have two income streams … one from writing copy and one from editing it.
And since clients are just about everywhere, getting started is easy. But if you want to make sure you know all the ins and outs of copyediting, let me recommend you get a copy of AWAI's first-ever copyediting home study program.
The program walks you through examples of common mistakes you're likely to run into, and how to fix them …
Core principles that will help you ensure the clarity of the message …
Proven strategies for finding and landing copyediting clients …
Practice exercises to help you master the material …
And so much more … The full details on the program are here.
What was the coding blunder that cost NASA $80 million? Mariner 1, which weighed 447 pounds and was made up of 54,000 different components, cost NASA $80 million to manufacture. But as it turns out, the omission of a hyphen-shaped symbol from one of the guidance program characters caused the rocket's trajectory to be off — way off — and it had to be deliberately destroyed.
Mariner 1's failure has often been called "the most expensive hyphen in history."

How to Use Copyediting for Career Advancement and Side Profit: Simple Techniques to Elevate Your Writing Value and Your Income
Be the "secret weapon" behind great copywriters as a skilled copy editor. You can make a very good living editing other writers' copy — and transforming "good" copy into GREAT copy. Learn More »

Published: July 18, 2022