Living the Writer's Life: Jim Abbey
Why Barefoot Writer Jim Abbey 'Laughs His Way to the Bank'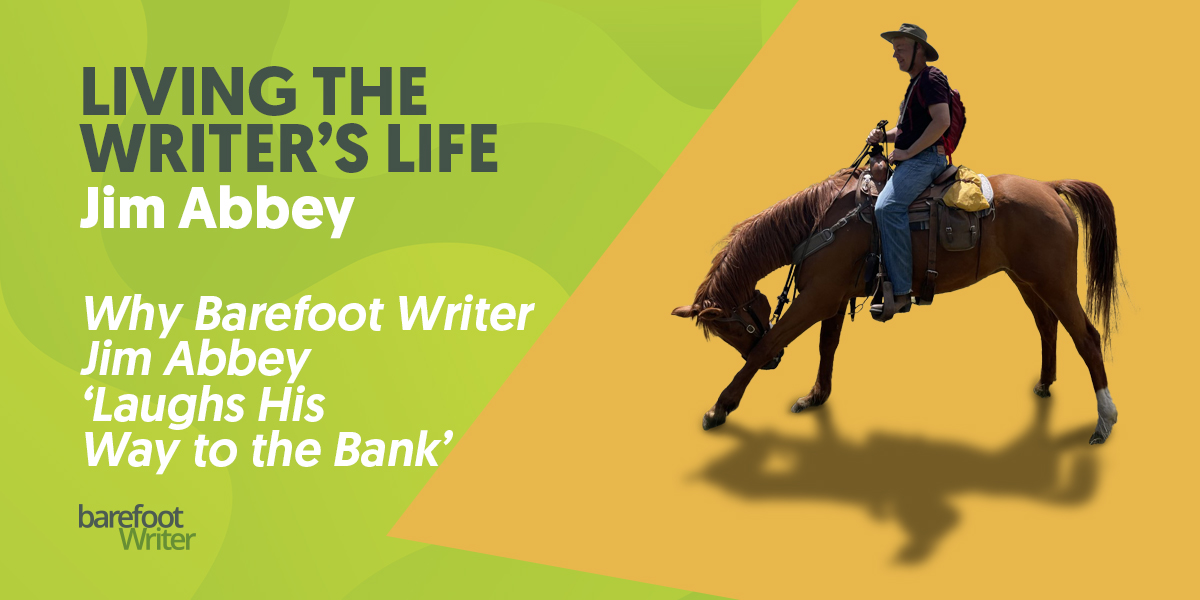 Jim enjoys a writing and riding retreat in Wyoming.
Jim Abbey once asked a client why they had chosen to hire him. Much to his surprise, they mentioned an attraction to the way he laughed at an event they had attended together. Jim decided to take this as a lesson and now "laughs his way to the bank." He uses the resources from the AWAI community and Circle of Success to build a writing career focused on writing in the sustainability industry. You'll love the "aha moments" Jim shares that led to his life as a Barefoot Writer.
How did you get started in copywriting?
My copywriter journey had many twists on the path through the land of ahas. The AWAI staff and community drew back the curtain and showed what levers to pull to be "seen" as a successful writer.
Aha: A temporary job with internet start-up Road Runner led to a position as a content curator. Time-travel back to 1999, and we were blazing a trail where no one had traveled before. My task was to create and maintain a site on fun events to attend in Portland and Denver.
Aha: At a small retreat, we had a "come as you will be" party — acting as if your future vision had come true. I remember the power of sharing about my recent trip to Hawaii as part of a book tour — the power of acting as if and interacting as a peer.
Aha: Random connections can create a lifelong impact. I was attending a meditation workshop in Boulder, Colorado. On a break I chatted with a former Harvard lawyer who had quit her job to become a writer.
Aha: Take inspired action. Just for fun I sent a book review to a magazine. I was ecstatic to receive a letter accepting the review for publication and a check. It felt like a fantasy, being paid to do something I love.
Aha: AWAI letter stating I can earn as much as a doctor and there is a clear path to achieve it. True confession: A part of me was saying, At last, a chance to show all the doctors in my family that you don't have to be a starving artist.
Aha: My experience as a wellness teacher gives me a unique insight into pain points and the nuance of using language to create changes in behavior.
The final line in the sand was in 2020 when all my income disappeared because of COVID and the pandemic eliminating live events. It was a perfect time to join the Circle of Success and create a strong foundation for a copywriting business.
What kinds of clients and projects do you enjoy the most these days?
I love blogs, newsletters, and email series. What makes me come alive are moonshot projects — nonprofits or corporations with a big vision. Examples: Transforming the way beverages are packaged to be sustainable (Ball Corporation). Eliminating human trafficking with education programs (Global Orphan Prevention).
Why is sustainability such an important area of companies to consider?
The future of business and creating sustainable businesses requires a vision for the future. A shift is taking place as more consumers are demanding transparency in the way products and services are created and delivered. Consumers will vote with their dollars, and more organizations will adapt operating as part of the circular economy.
What advice would you give to new writers who are just starting out?
Tip One: Get crystal clear on the vision for your writer's life. A clear vision will provide laser focus for who you want to work with and how to schedule your time.
Tip Two: Practice C.A.N.-I — the art of constant and never-ending improvement.
Tip Three: Fail fast, frequently, and get feedback.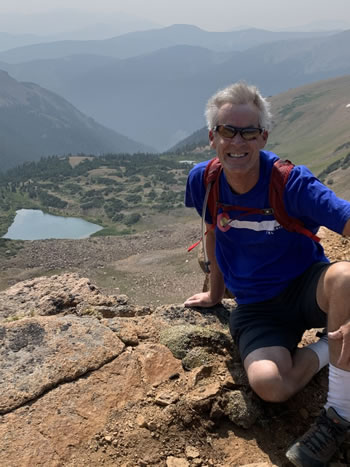 In an effort to escape
the smoke from summer
wildfires, Jim hikes the
high country in Colorado.
What's your favorite part of your writer's life?
I am grateful for the time and money freedom. The ability to choose hiking in the middle of the week, volunteering in my spiritual community, or taking the time to attend events with nephews or nieces. I love the expansive space created by the ability to work remotely and choose environments that optimize my productivity.
Do you have any writing superstitions or rituals that help you do your best work?
My morning starts at 6 a.m. with prayer and meditation for 30 minutes.
I commute to Café Ole, order a Spanish mocha served in a colorful ceramic cup, and sit down in my favorite chair. Phone off, placing pen on paper … my morning date with the muse begins.
Jim's Living The Writer's Life story was originally published in Barefoot Writer. To learn more about how you can start living your dream writer's life too, click here.
What help do you need to move forward with your version of the writer's life? Let us know in the comments below so we can help guide you in the right direction.

The Barefoot Writer
Discover a lucrative style of writing that will give you as much freedom as you can have while earning a great income at the same time. Learn More »

Published: July 2, 2022