Living the Writer's Life: Peggy Stankiewicz
Copywriter Leverages Fiverr to Connect with Long-Term Clients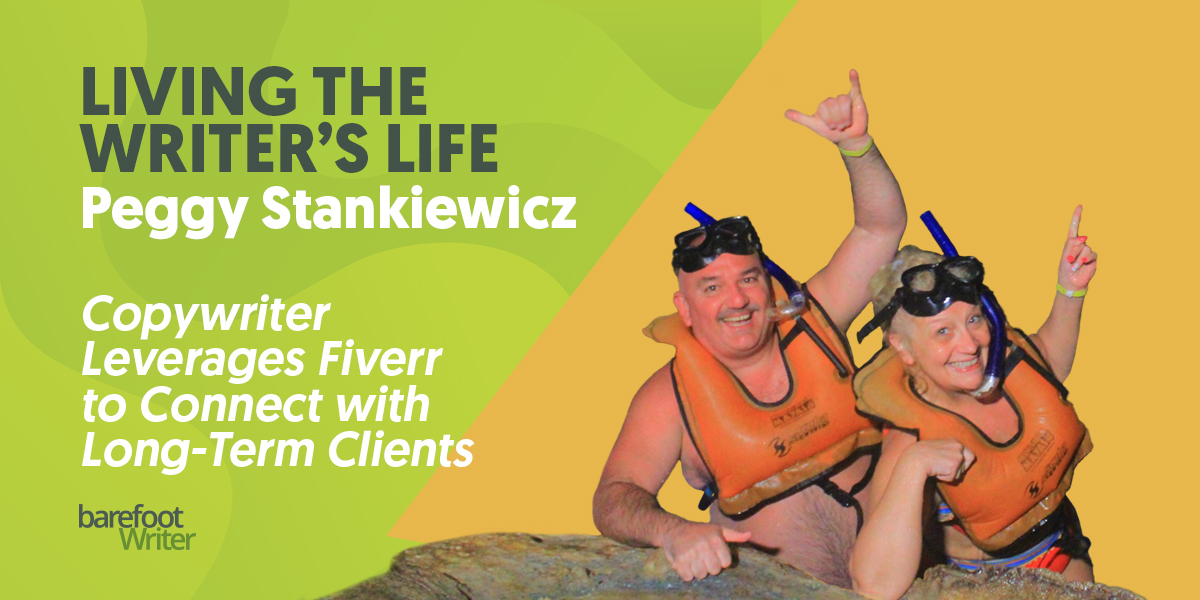 Peggy used money she earned from Fiverr clients to pay for a vacation in Playa Del Carmen, Mexico.
Here, she's snorkeling in a cenote cave.
When Peggy Stankiewicz added copywriting as a side gig, she was hoping to complete 100 projects that first year. Combine her ambitious goal with her steady determination to learn all she could, and it's no surprise she reached her goal early … three months early! In this interview, you'll learn how Peggy combines copywriting with her love of fiction writing. She also shares her tips for how to get started with Fiverr when first connecting with clients.
Did you always know you wanted to become a writer?
At first, I wanted to be an artist. Since I was a child, I've enjoyed the arts, but I always had my nose in a book. I wrote a play for my history class in the seventh grade, and my teacher was pretty impressed. I wrote so much that my parents bought me my first and only Brother typewriter. My senior year in high school, I remember wanting to write a novel. Unfortunately, life took over, and I didn't write that first novel until I was 48.
You've written eight novels. What are they about?
So far, I've only published historical fiction. I write under the pen name P.S. Bartlett. I've always been a history buff, having spent my childhood near two historical national parks — Fort McHenry and Federal Hill. They were my playgrounds.
My first two novels are a series about an Irish immigrant family in the late 1800s. It's a family drama with a paranormal twist. The other six are The Razor's Adventures Pirate Tales. These are female-driven stories told from deep within the authentic realities of pirate life, not the Disney version by far! The research was exhausting, but I loved it!
How did you get started in copywriting?
Seventeen years ago, I took a job working in sales for an office machine company. The company needed someone to take over the marketing duties and the website. I raised my hand.
A couple of years ago, I started taking online classes to improve my writing skills and stumbled on copywriting. I thought, I already do that! However, I didn't pursue it independently until COVID hit. We were furloughed at work. I needed money, so I drew on my work and life experience and joined Fiverr.
What kinds of clients do you work with?
I've worked with clients from almost every continent on an array of subjects. My goal was to complete 100 jobs in a year. I did it within nine months. For now, I still work full-time as a marketing director, so I'm well stocked on coffee and midnight oil!
I enjoy writing blogs and telling company stories the most. I avoid technical or medical writing. Pretty much everything else is measured job by job. I won't take a job that doesn't interest or inspire me. I tried once and regretted it.
What were the most significant factors that helped you be successful?
Mostly, I write a lot. I'd have to say dedication, reading, and learning as much as I can. I use Skillshare, YouTube, books, and follow several successful copywriters online. I spend at least two–four hours a night, four–five nights a week either writing or learning something about copywriting. I've also taken on editing novels for other authors.
Let's talk about getting clients. How do you get well-paying jobs on Fiverr?
Almost all of my steady clients have jumped from Fiverr. They needed someone to work with on assignments that went beyond my Fiverr offerings. However, Fiverr's been a great place to learn as you earn. I get to work with people from around the world, build my portfolio, and make money in the process.
Unless you work on Fiverr full-time, making a lot of money isn't going to happen, but it has helped, especially when I was furloughed. It also paid for my vacation in Playa del Carmen this year.
What's your favorite thing about your writer's life?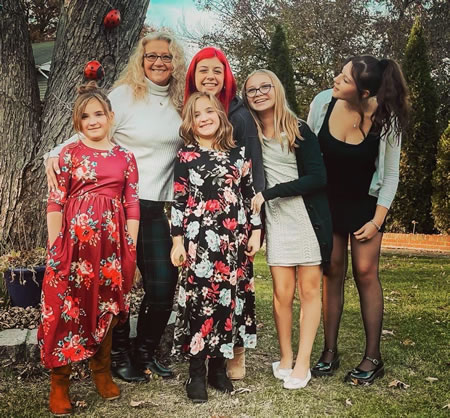 Peggy with "her girls"
(five of her six granddaughters)
Since copywriting is currently my second job, it takes up a lot of my time, but it doesn't feel like a job to me. I have plenty of time for fun and my English dart league. I've taken three vacations this year, partly thanks to my copywriting income. But I don't work when I have my granddaughters. They are my fun time!
What is your favorite novel, author, or genre? Why?
Oh, by far George R.R. Martin's Song of Ice and Fire series. Historical fiction is my favorite genre. The dragons, zombies, and incredible characters are just the cherry on top!
Peggy's Living The Writer's Life story was originally published in Barefoot Writer. To learn more about how you can start living your dream writer's life too, click here.
What help do you need to move forward with your version of the writer's life? Let us know in the comments below so we can help guide you in the right direction.

The Barefoot Writer
Discover a lucrative style of writing that will give you as much freedom as you can have while earning a great income at the same time. Learn More »

Published: January 29, 2022