Living the Writer's Life: Julia Schaller
Flexibility and Motherhood Entwine to Make the Perfect Writer's Life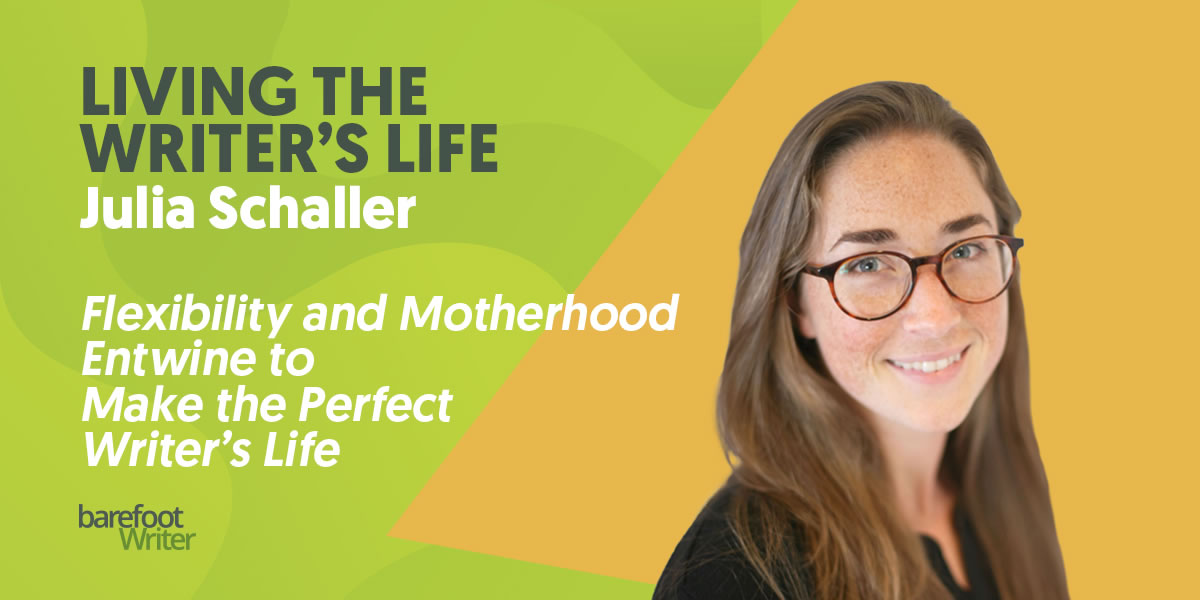 Julia is one of AWAI's in-house copywriters. She calls working for AWAI her "dream job!"
Julia Schaller may be a new mother, but that hasn't kept her from her dream job of copywriting. She works as an in-house writer for AWAI and is the one behind many of the email campaigns, articles, sales letters, and video scripts you see on our site. Even while she's writing, she's keeping an ear tuned to her baby daughter sleeping nearby. We hope you enjoy this sneak peek into the writer's life of one of our favorite AWAI team members.
How did you get started with your copywriting career?
I pretty much tripped and fell into copywriting. The first copywriting job I applied for I'd never even heard of copywriting. Lucky for me, they also needed an assistant marketer, so they agreed to hire me for that position instead and said I could do some writing for them on the side if I wanted to try it.
I had to unlearn a lot of bad writing habits … rewrite articles four or five times (so much red ink!) … and dive headfirst into peer reviews where my work got torn apart over and over again … until finally I got good enough. The day I got to move my desk into the room with the other writers, I was walking on air.
What's it like working in-house for AWAI?
Writing for AWAI has turned out to be my dream job. The entire team is so open and genuine — just the best people you could ever hope to work with. And I feel like the luckiest person ever, because I'm a writer writing for a writing training company! I work on all kinds of different writing projects, which keeps things fresh and interesting.
What kinds of productivity tools do you use to keep on task?
I've tried all kinds of productivity tools, but at the end of the day I'm totally an analog person. I use a bullet journal to keep track of my deadlines and to break big projects into smaller pieces (otherwise I'll wind up procrastinating to avoid it!) and sticky notes on the wall above my desk as reminders for webinars and meetings.
What advice would you give to a new writer who is trying to decide between an in-house writing job and a freelance setup?
I'm a big fan of being an in-house writer. When writing is your 9-to-5 job, you don't have the luxury of "writer's block" — it forces you to keep writing every day even when you don't feel like it, which is fantastic for writers like me who have shiny-object syndrome and are prone to procrastination.
But for writers who are going freelance, my advice would be to still approach your writing like you would any "office" job. Sit down and start writing at the same time every day, even if you don't feel like it. Your brain will play all kinds of tricks to get you to do anything BUT write — so don't give it the option!
What is your favorite thing about your writer's life?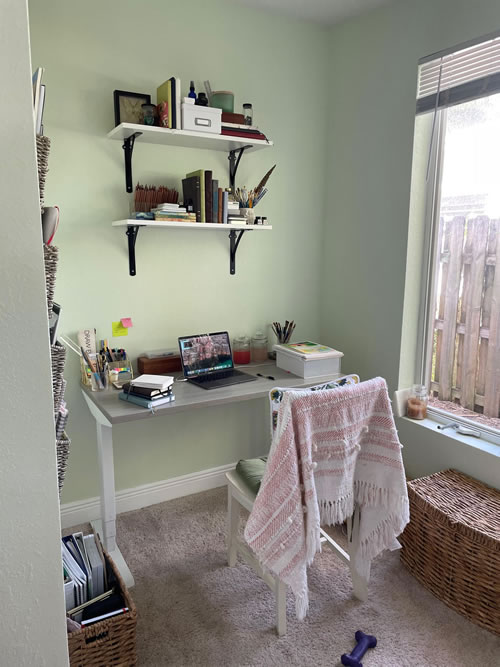 As a mom, Julia works in her
home office with one ear
listening for her baby
at all times.
I have to admit, I absolutely love the flexibility that being a writer has given me — being able to write while baby is sleeping at 5 a.m. … or finishing up that last assignment after dinner if she's had a rough day … It's been such a blessing.
But my favorite thing about my writer's life is just enjoying the beginning and ending stages of every project I write. I love that part of my job is just to sit there and brainstorm ideas and strategize the best way to frame a subject … That mental gymnastics are super satisfying for me.
Do you have any top resources that you recommend to new writers who are just starting out?
There are so many great free resources on the AWAI site for anyone who's thinking about becoming a writer, but my advice to anyone who's serious about making it happen is to take the Accelerated Program for Six-Figure Copywriting and absorb every word of it. That's where I started my writing education, and every single day, I use the tools and techniques outlined in the program.
What children's book are you most excited to show your daughter?
Oh my goodness, I have a whole bookshelf of childhood favorites that I can't wait to read with her! Curious George, Matilda, and The Velveteen Rabbit are on the short list.
Julia's Living The Writer's Life story was originally published in Barefoot Writer. To learn more about how you can start living your dream writer's life too, click here.
What help do you need to move forward with your version of the writer's life? Let us know in the comments below so we can help guide you in the right direction.

The Barefoot Writer
Discover a lucrative style of writing that will give you as much freedom as you can have while earning a great income at the same time. Learn More »

Published: July 24, 2021